The countdown to graduation at SJC Brooklyn has begun.
The Class of 2020 gathered in the Tuohy Hall auditorium last Thursday to celebrate 101 Nights — an event that kickstarts commencement season. The annual tradition celebrates the class' hard work and marks the countdown of "101 nights" until graduation May 20.
"It's my honor to be congratulating you for making it this far — it's certainly something to be celebrated," said Stephanie McCoy, assistant director of alumni engagement. "This celebration has been going on for the past 50 years, thanks to the Class of 1969. They were the first class to host this celebration and it has been part of the St. Joseph's College tradition ever since."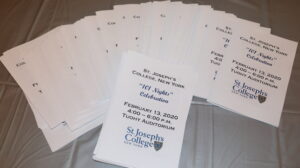 The Office of Alumni Engagement, whom hosted the event with the Office of Student Involvement and Leadership and the Senior Class Representatives, gifted each student in attendance a commemorative champagne glass to celebrate their hard work.
Senior Class Representatives Lauren Quesada and Valentina Velez Valencia led the attendees with a toast of sparkling apple cider, sharing their excitement for graduation day.
"We just wanted to say congratulations," Quesada said. " If you're a transfer or if you've been here for the entirety of your college education, this is a really big day. Graduation is a really big deal, but we made it and we should celebrate it."
Important Dates Announced During 101 Nights:
Feb. 13, April 8 and May 7: Jostens Ring Company will be on campus for those interested in purchasing class rings.
Feb. 29-March 7: Senior Week
March 5, 6, 7: A photographer will be on campus to take Class of 2020 portraits.
March 23: Deadline to order academic attire.
April 25: Student leaders brunch.
May 7: Pick up your academic attire and attend the graduation reception.
May 14: Attend the annual SGA Dinner Dance.
May 20: Graduation day!
Check your email box and check out this packet for more graduation information.