Fear. Sadness. Stress.
They're among the many emotions felt by the nurses who gave — and continue to give — their all on the frontline as COVID-19 ravaged New York, overwhelming many hospitals across New York City and Long Island.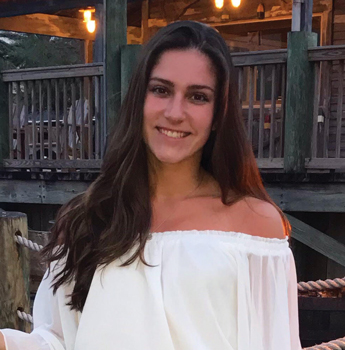 "Never did I think I would work through a pandemic like this, especially as a new nurse," said Danielle Monteverde '19, who works at Northwell's Mather Hospital in Port Jefferson. "It is heartbreaking to see these patients in these conditions. Knowing you are doing everything possible for these people, but still being unsure of the outcome is the hardest part of all this."
Ms. Monteverde, a 2019 SJC Long Island graduate, spent her first months on the job working in a step down/telemetry unit. She began spending her 12.5-hour shifts in an ICU unit in March looking after critical care COVID-19 patients.
"This has been a scary change, seeing as how we have only had a few months of training in the ICU, but I must say, my unit has been absolutely amazing during these times and we are handling every situation the best we can," Ms. Monteverde added. "Every single nurse has risen to the challenge in front of them, and we are learning more every single shift."
Supervising During Uncertain Times
Nique'la Durham kept herself busy during the pandemic, working not one, not two, but three nursing jobs across Long Island.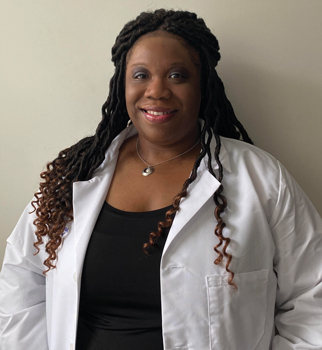 Ms. Durham's primary role is administrative supervisor at St. Francis Hospital in Roslyn, where she manages the daily nursing operations. She also serves as a per diem emergency department nurse at St. Joseph's Hospital in Bethpage and at Peconic Bay Medical Center in Riverhead.
"The hardest part as a supervisor was wondering if I was enough," said Ms. Durham, who graduated from SJC Long Island in 2015 with an MBA in Health Care Management. "I'm very supportive of the staff, but I knew this pandemic would require more, and how would I give them more? As an emergency department nurse, the hardest part of my job was connecting with patients on a deeper level as they were away from their families."
But through all the hard times, Ms. Durham kept trying to see the glass as half full and to keep her smile shining.
"The most rewarding part was each hospital played a song when a patient was discharged, and I stopped to dance for each one of them — even if I was in my office," she said.
Growing as a Team
Amy Loeb, the deputy executive director at Peconic Bay Medical Center, learned more than ever how important it is to work as a team.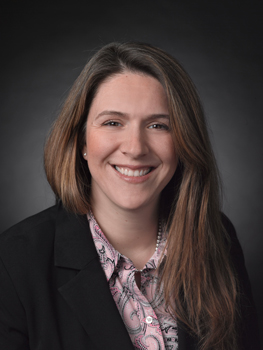 "Being labelled a team does not by default create a team in reality," explained Ms. Loeb, who earned a B.S. in Nursing from SJC Long Island in 2006, and her MBA in Health Care Management in 2012.
"But, when we are united for a common purpose and value the input of different perspectives and skill sets, one can witness magic happening, and we can truly accomplish anything, as a team."
An example of this teamwork, Ms. Loeb said, was when members of the hospital worked together to turn a shell-space into an emergency department surge capacity space — in a matter of 96 hours.
"Watching different groups working together to manage this event in real time was absolutely amazing," said Ms. Loeb, who is responsible for the overall operations and strategy at Peconic Bay. "Everything was amplified, every win and every mistake. But we were nimble, adaptable and innovative. I've never been so proud of where I work, and most importantly, who I work with."
Ms. Loeb, former chief of nursing at Peconic Bay, knew just how important the role of a nurse was throughout this pandemic.
"Nurses are, and always have been, the frontline in hospitals," she said. "Nurses are directly responsible for ensuring patient safety, and monitoring and facilitating the plan of care 24/7 in the hospital. During the pandemic … they donned their personal protective equipment and did the important work that they were called to do."
A Scary Two-Month Ride He Will Never Forget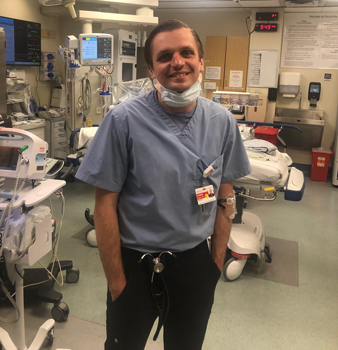 Like riding a roller coaster. That's how SJC Brooklyn alumnus Lukasz Cygan describes his experience working as an attending physician in the emergency department and assistant residency director at New York-Presbyterian Brooklyn Methodist Hospital during the coronavirus pandemic.
"March and April really will stand out for the rest of my career," said Dr. Cygan, DO, who graduated from SJC Brooklyn in 2007 with a degree in psychology. "It was a surreal experience. As adaptable as emergency physicians are, we were truly tested. The unknown of what was about to happen, the unknown of a new disease and how to best treat it, was difficult to handle."
Throughout the surge of the pandemic, Dr. Cygan, like many other health care workers, dealt with the highs and lows, from having patients make a full recovery to watching others take a turn for the worse — and to he and his wife both getting sick with the virus.
"Thankfully, we both had a mild course of the illness and recovered very quickly," Dr. Cygan said. "But what kept me going was seeing the strength of my co-workers showing up every day… We all showed up daily and went through the struggle together."
EMTs: Running Into Danger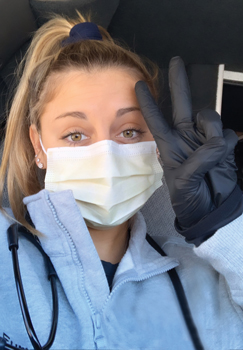 Then-SJC Long Island freshman Sydney Furno and SJC Brooklyn junior Artem Pinkhasov worried constantly about bringing coronavirus home to their families while working as emergency medical technicians (EMTs).
"The hardest part of my job was knowing who was actually infected and who wasn't," said Ms. Furno, now a sophomore, who served as an EMT for the West Babylon Fire Department and Bay Shore-Brightwaters Rescue Ambulance during the pandemic. "But the most rewarding thing was still getting to help people and be there for them during this time," the criminal justice major added.
Mr. Pinkhasov, a nursing major who served as an EMT in New York City's 911 system during COVID-19, agreed.
"When I felt down, I always thought back to what my dad used to tell me as a kid: 'Tough times never last, but
tough people do,'" said Mr. Pinkhasov, now a senior, whose brother and father were sick with COVID-19 in April. "That kept my spirits high, knowing that these times will pass and there is a bright light at the end of the tunnel. It really helps me ground down and feel optimistic about the future."