For Alondra Caba '20, the start to her teaching and graduate school career is off to a most unexpected start.
Teaching math, reading and writing as a general education teacher to third graders learning fully remote at Zeta Charter School, Caba is meeting the challenges of her first year in the classroom and navigating remote learning environments, all while pursuing a graduate degree at SJC Brooklyn.
"From these first days, I've learned the importance of connecting with each students and building a relationship with them," she said.
And those work days start early. Six-thirty a.m. early.
That's when Caba grades assignments from the day prior and posts the coming day's work and documents into the school's content management system. At 7:30 a.m., her students log in, and the school day begins.
Zeta requires students to have their cameras on for the duration of the day, pausing only for a 45-minute for lunch break.
Keeping Her Students Engaged in Learning
"It's very hard at times – sometimes students can't connect to the internet, sometimes their microphones don't work, and of course, some have a difficult time learning without the social component of school," Caba said. "I try to make my lessons as engaging as possible and allow for students to go into discussion groups and engage in think-pair-share where they talk to one another."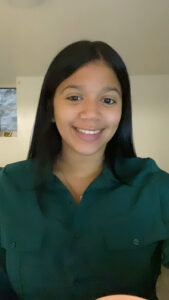 Reaching every student in this environment also has its own challenges.
"I've had some very good days and many very challenging days. I have to use different strategies constantly to ensure that I reach every student, regardless of where they are in relationship to grade level," she said.
Feeling 'Truly Blessed' at SJC Brooklyn
One of the places that she's able to draw strength from is her graduate courses at SJC Brooklyn, where she and her peers discuss and help each other navigate the myriad of issues that come up daily during remote teaching.
"Everyday in my graduate classes, I get to reflect on my teaching and talk about the week's challenges," Caba said. "During my time working toward my undergraduate degree and especially now as I pursue my master's, SJC taught me that no matter how hard the road gets, support and assistance will always be there for me.
"I am truly blessed to be part of such an amazing community where my feelings, worries and concerns are valued," she added.
Despite the hardships she faces each day in the virtual classroom and balancing the rigors of graduate school, Caba finds inspiration and a silver lining in what she is doing.
"I'm so thankful to have engaging and interested students for my first year in teaching," she said. "I believe my experiences this year will help make me a better teacher and into the amazing teacher I aspire to be in the future."