Francis W. Antonawich long held a passion for environmental science. He graduated from Roger Williams University in Rhode Island in May 2014 with a major in Biology and a double minor in environmental science and history. And when he started at SJC Long Island, this time pursuing a B.S. in Nursing, his enthusiasm for environmental science continued.
When Antonawich passed away earlier this year after battling cancer, Konstantine J. Rountos, Ph.D., assistant professor of biology, decided to create the Francis W. Antonawich Memorial Award for Environmental Stewardship in his honor. The award is the first of its kind at St. Joseph's College.
"Francis W. Antonawich exhibited leadership, environmental stewardship, academic integrity and warm collegiality with classmates at SJC, and that's something that will stick with me for the rest of my life," Dr. Rountos said. "He was truly a special student who embodied the SJC goals and spirit of volunteerism and action. In honor of Frankie's academic excellence and sincere passion for the environment, an annual award will be given in his name by the Department of Biology at SJC Long Island."
Inspired by Antonawich's passion for biology and environmental science, Dr. Rountos developed the award because Antonawich was one of the first students to take his BIO 279 Local Field Ecology course at SJC.
Antonawich's father Francis Antonawich, Ph.D., professor and chair of biology at SJC Long Island, was moved by this.
"I was very touched that Dr. Rountos wanted to create this annual award in honor of Frank's memory," Dr. Antonawich said. "Frank really loved the environment and put a great deal of effort into his work. I think he would be very proud that this environmental stewardship award was created in his honor."
The First Recipient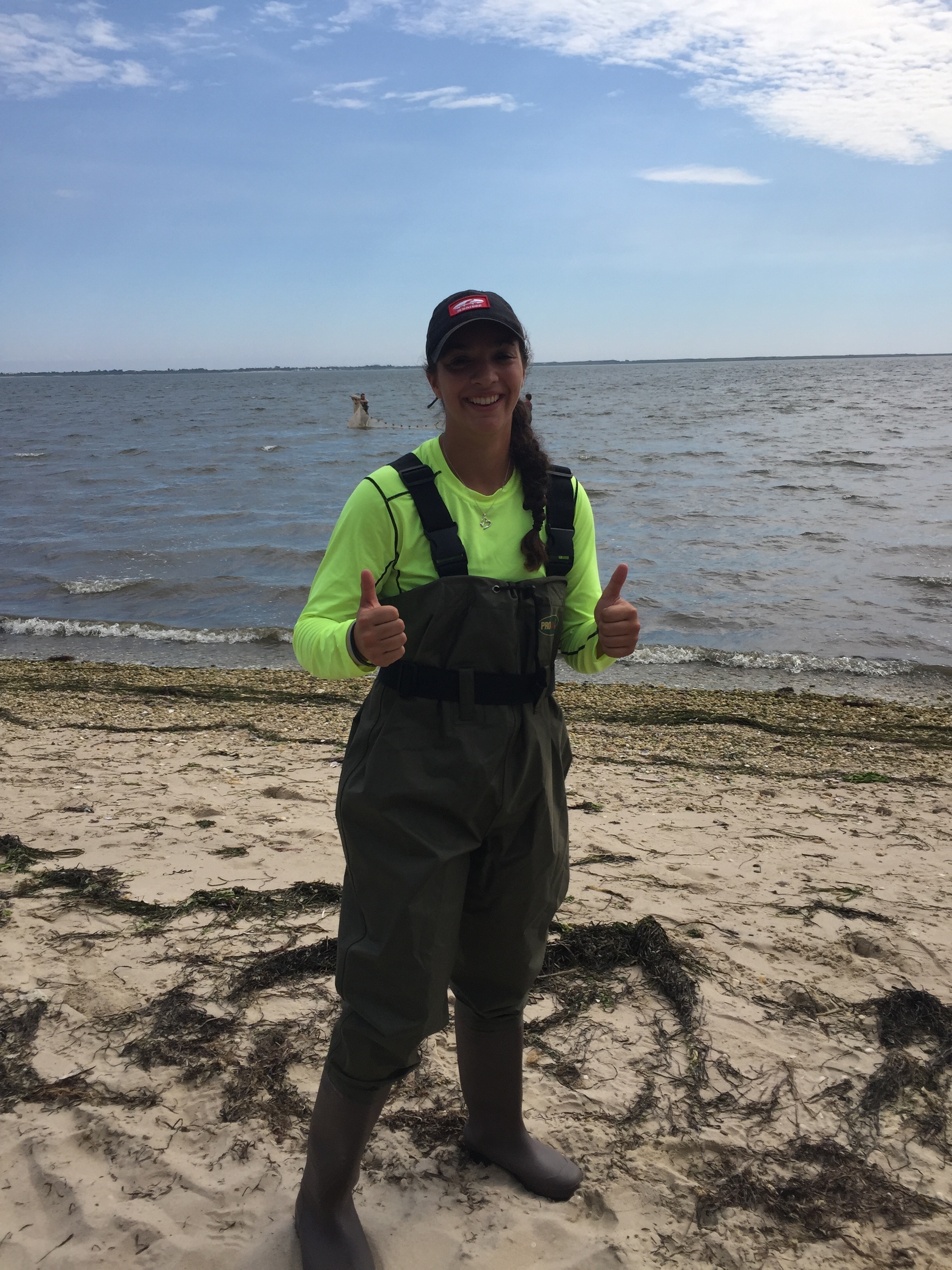 Gabrielle Cinquemani, a biology major graduating in May, received the award during a brief ceremony on Thursday.
"I first met Frank in Local Field Ecology class in the fall of 2016," Cinquemani said. "His personality lit up the room. He was such a kind, warm-hearted, intelligent and humorous friend. We both shared a strong love for the environment, which made the class so much more enjoyable.
"I am grateful that our paths crossed the way they did, and I am honored and incredibly humbled to be the first recipient of this Environmental Stewardship Award in his memory. This summer, I plan to continue research on the (Great) Patchogue Lake in order to gain more knowledge and improve the environment affecting the lake ecosystem."
A Lasting Legacy
The Environmental Stewardship Award is not the only award created in memory of Francis W. Antonawich.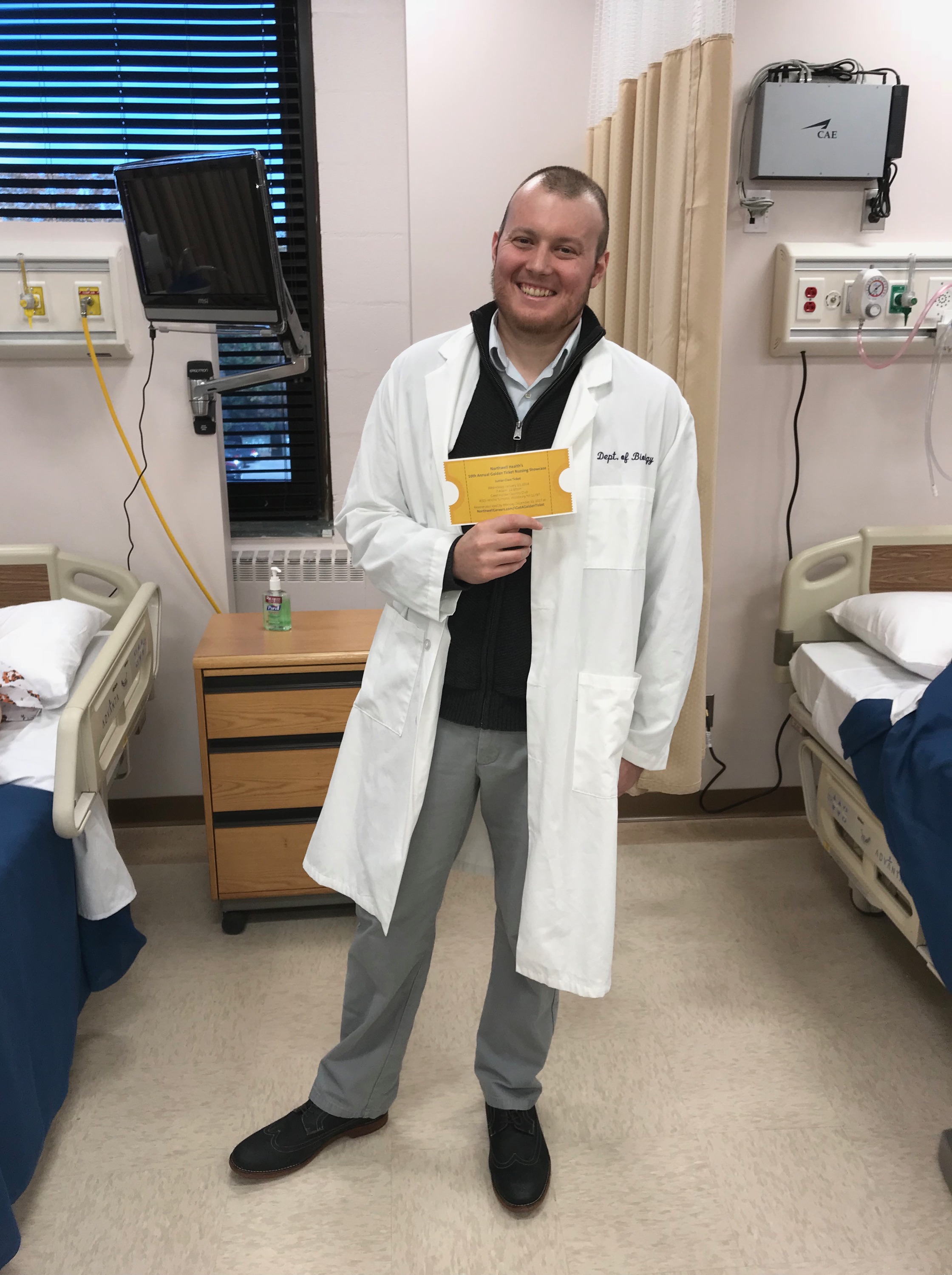 "We loved when Frank came home from his SJC nursing clinical rotations and shared his excitement during our dinner conversations," Dr. Antonawich said. "That is why we established the Francis W. Antonawich Nursing Scholarship at SJC. We are working very hard to get it to the endowed scholarship level, so every year, going forward, a senior SJC Long Island nursing student who demonstrated outstanding compassion during their junior clinical rotations, could enjoy the award."
My mother mentioned to me the other day, 'In his short life, Frank made a tremendous impact on people's lives. And he will continue to do so for a long time after he has passed away.'" — Dr. Francis Antonawich. 
Dr. Antonawich explained that a wrestling award and scholarship were also created at St. John the Baptist DHS, where his son went to high school.
"Frank was not only an alumnus of the program, but a volunteer assistant coach, even this year," he said. "The award will be made each year to a young man of character on the team. That was awarded last month (for the first time)."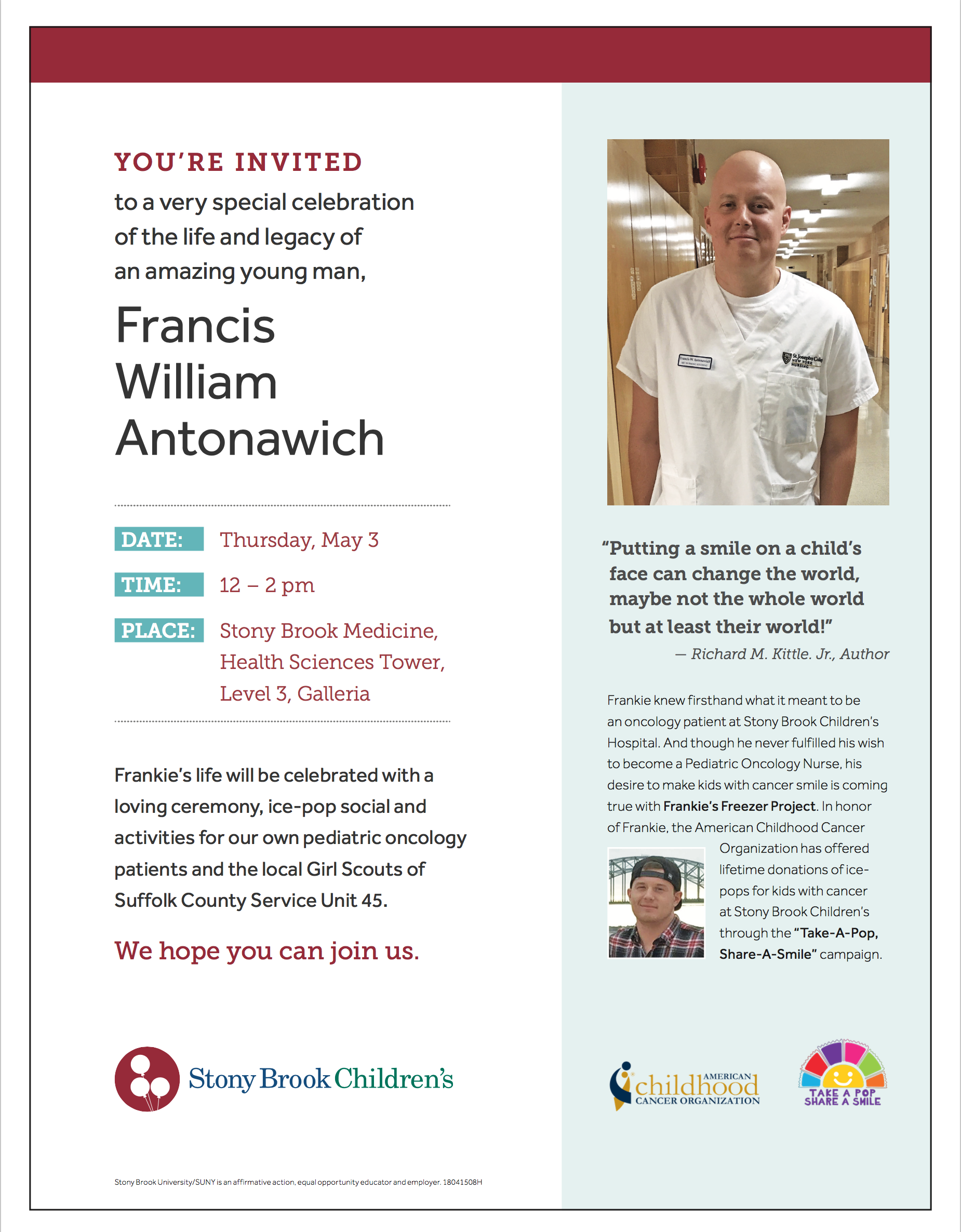 Additionally, Dr. Antonawich mentioned, during Frank's chemotherapy sessions at Stony Brook Hospital, he spoke with the pediatric oncology patients, sometimes quite animatedly. He told the nurses that he liked a video that played on one of the monitors, which depicted a male nurse sharing an ice pop with a little girl with cancer. Francis W. Antonawich's dream was to become a pediatric oncology nurse.
"After he passed away, those oncology nurses notified the company in the commercial, who agreed to donate a freezer to the Stony Brook Pediatric Oncology unit, and the American Childhood Cancer Organization has offered lifetime donations of ice pops for kids with cancer at Stony Brook Children's through the 'Take-A-Pop, Share-A-Smile' campaign.  They are going to call the program 'Frankie's Freezer Project.'"
The freezer will be donated May 3, and there will be a ceremony and ice pop social honoring Antonawich's life.
"My mother mentioned to me the other day, 'In his short life, Frank made a tremendous impact on people's lives. And he will continue to do so for a long time after he has passed away,'" Dr. Antonawich said.