At first, he was planning on going the pre-med route.
But when Konstantine Rountos, Ph.D., realized there are careers in the field of environmental science, he quickly switched his focus to marine studies.
"I remember thinking, 'People actually study the environment for a career?'" said marine ecologist Dr. Rountos, assistant professor of biology and coordinator of the environmental studies minor at SJC Long Island.
"What clicked for me was that I could be a physician for the environment," he continued. "I could work on a broader scale, rather than just one person at a time. I could help to resolve issues that affect populations, or I could look at the impacts that humans have on our ocean resources."
Long Island's Coastal Ecosystem
For more than a decade, Dr. Rountos has been researching the ecosystems of coastal bays on Long Island — the Great South Bay and Shinnecock Bay — including examining how humans have impacted these environments.
"There are a lot of issues in the marine environment," said Dr. Rountos, who brings field samples back to the SJC Long Island biology labs, where he conducts his research. "Harmful algae is a particular topic I'm interested in — looking at how that harmful algae impacts not only some species, but how it affects the entire ecosystem."
Since joining SJC in 2016, Dr. Rountos has published five peer-reviewed papers, including two related to his research on harmful algal blooms, or HABs. This research gives important insights into the lethal and sublethal effects of local HABs on the early life stages of fish.
"It's a little depressing to know that we have all these harmful algal-bloom species in our coastal waters," said Dr. Rountos, who earned both his master's and Ph.D. at Stony Brook University. "Generally speaking, it is excess nutrients from lawn fertilizers and old sewer systems that run-off into our coastal waters, causing the HABs. We know HABs are disruptive, but there is a dire need for more research to evaluate how exactly they are impacting our environment."
Dr. Rountos' advice to avid seafood consumers who like to catch their own meal: Pay attention to announcements from the New York Department of Environmental Conservation (DEC); they periodically test shellfish and issue warnings about which areas have harmful concentrations of algal blooms that consumers should avoid.
Patchogue Lake Research
SJC Long Island's Department of Biology has studied Patchogue Lake since the 1970s, when Mohammad Rana, Ph.D., first started sampling the lake.
Student research on the lake, as well as meeting with Village of Patchogue and Town of Brookhaven officials, eventually resulted in a political commitment in 2016 to install aeration devices in the lake — a tremendous accomplishment.
"When I started at SJC, filling the vacant full-time position after Dr. Rana's retirement, I became very interested in continuing his legacy of research and action to restore Patchogue Lake," said Dr. Rountos, who lives in the Moriches area of Long Island. "Unfortunately, most of the research completed by Dr. Rana and his students was in handwritten form and was lost through the years, leaving behind little baseline data on the lake and its inhabitants."
With the help of several interested students completing their senior thesis research, and with the support of the biology department, Dr. Rountos has been studying the living and nonliving components of Patchogue Lake.
"Ultimately, I plan on synthesizing the data gathered, so that it can hopefully be published. After all, without a baseline of the current conditions of the lake, the success of any future restoration activity cannot be scientifically assessed," said Dr. Rountos, who organizes the Biology Club's participation in the annual Patchogue River Clean Up and who, in 2019, led a group of SJC volunteers to expand this event to include Patchogue Lake.
From Researcher to Professor
One of the things that drew Dr. Rountos to academia was being able to both teach and continue conducting research.
"My favorite thing about my job here at SJC is being able to get students excited about marine sciences and about the environment," said Dr. Rountos, a member of the Sustainability Committee on campus, which helps plan the College's annual Earth Day Seminar and other Earth Week events.
"One of the things that makes SJC unique is that most of the students are Long Island natives and Long Island taxpayers," he continued. "So it's very rewarding for me to be able to teach them about their environment, and the students certainly gain a greater appreciation for it."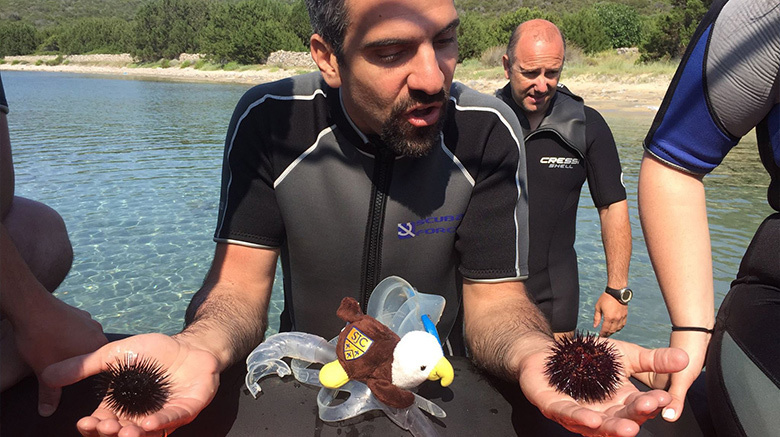 As the coordinator of the interdisciplinary minor in environmental studies, Dr. Rountos enjoys how students are able to appreciate and understand the environment in a variety of different ways, through not only courses in biology, but also in sociology, religious studies, and hospitality and tourism management. He's also excited that environmental studies will be offered as a concentration for child study majors starting this fall.
Lastly, Dr. Rountos is proud to have designed and led a study abroad course called Science Without Borders. Students had the opportunity to go to Greece in 2017 and Costa Rica in 2019. While a trip to Greece was supposed to run again this June, it was canceled due to COVID-19. The course will be offered again in spring 2021, so students will have another opportunity to attend.
"I like exposing students to ideas and places they might not have experienced in the past, and the study abroad program is a great way to do that," said Dr. Rountos, whose father is from Greece, and whose wife Muriel helped plan and design the study abroad program. "My students tell me all the time how much they appreciate those experiences abroad."