Borrowing a message from the founder of the Sisters of St. Joseph, Donald R. Boomgaarden, Ph.D., shared at his presidential installation ceremony today what he says is the foundation of his mission as St. Joseph's College's newest president.
"Live in a place of one desire where your dream and God's dream are one," said Dr. Boomgaarden, quoting one of the maxims that Jean-Pierre Médaille wrote in the 17th century to assist the sisters in their spirituality. "That's the way I feel about being the president here.
"My dream is the dream of leading this College forward, of helping it continue to grow and to thrive as a wonderful place of spirituality and education," he added.
An audience filled with students, faculty, staff, alumni and local dignitaries attended the two-hour ceremony inside The Muriel and Virginia Pless Center for Performing Arts at SJC Long Island. On March 14, SJC Brooklyn will host another installation ceremony for Dr. Boomgaarden.
"That idea of dreaming God's dream is such a great message for all of us. Let go of your dream. Think of the dream that you share with God," Dr. Boomgaarden said. "That's an important way to connect with the source of all good things in the universe. When we are connected to that source, incredible things can happen. We can overcome almost anything."
Since becoming president on July 1, it's clear that Dr. Boomgaarden's message of hope and transformation has resonated with students, faculty members, staff, alumni and the College's Board of Trustees.
"President Boomgaarden isn't just someone who says he's going to do something for the students, he follows through with it," said Kaitlyn Rodriguez '19, vice president of the campus' Student Government Association, during her salutation to the president.
"He wants the students to love and to feel proud of their decision to study here at St. Joseph's College," she added.
Even before his arrival from Scranton University, where he served as provost and vice president of academic affairs, Dr. Boomgaarden promised to support St. Joseph's students in their quest to find themselves and to understand "that whatever they are suffering from, they can be transformed into something really magnificent."
Speaking at the installation ceremony, Michael Meyers '08, former president of the SJC Long Island Alumni Association, remembered the phone call he received last spring from Dr. Boomgarden introducing himself.
"I expected the phone call to last two to three minutes. Well, that's simply not this President," Meyers said. "An hour later, I realized that a very special person was about to lead this College into its next chapter.
"Dr. Boomgaarden passionately asked me about every facet of our College and intently listened to my response," he continued. "Dr. Boomgaarden, you did not need to do that. But you wanted to – which says so much to me about you."
Dr. Boomgaarden, who succeeded Jack P. Calareso, Ph.D., is just the eighth president in the College's 101-year history. St. Joseph's sixth president, Sister Elizabeth A. Hill '64, C.S.J., J.D., delivered the invocation at today's event.
"Keep an eye on our world, and as did the founding Sisters of St. Joseph, assess its needs, and challenge our students to create islands of humaneness and possibility for all without distinction," S. Elizabeth, the College's beloved President Emerita who led St. Joseph's from 1997 to 2013, said during the invocation.
Christopher R. Carroll '88, chair of the school's Board of Trustees, said that, with Dr. Boomgaarden, St. Joseph's has found a leader with "the heart of S. Elizabeth."
"That's what we want — and that's we have," said Carroll, who formally hooded Dr. Boomgaarden during the event. "Seeing S. Elizabeth up here on stage and seeing Don, that's the community that I love. And that's the community who has made me who I am.
"It means everything to me to know that the future of our community, the future of our family … is in a good place," added Carroll, during an installation ceremony informally titled "Transformed in Hope."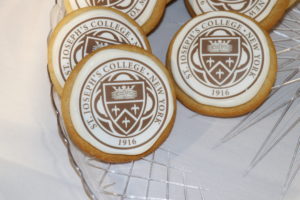 Along with his positive message, Dr. Boomgaarden has brought to St. Joseph's his enthusiasm and passion for music. A country fiddler and concert pianist, the new president routinely practices on pianos at SJC Long Island and SJC Brooklyn. It's even rumored that he might take part in SJC Long Island's talent show on March 9.
The installation's mistress of ceremonies, Judith Phagan, D.A., chair of SJC Long Island's English department, called Dr. Boomgaarden a "renaissance man."
During his salutation to Dr. Boomgaarden, St. Joseph's Interim Provost Thomas Travis, Ph.D., commended Dr. Boomgaarden not just for his extensive background in education, but for being a man of many talents.
"This (past) summer … all of us here at the College anxiously awaited word of what our new president would be like," said Dr. Travis, setting the audience up for his quip that followed. "Expecting a person with a predictable presidential profile, instead we now have a leader who is a concert pianist, who rides a motorcycle and who has a black belt in Tae Kwon Do."
Dr. Travis further noted that President Boomgaarden has "shown himself to be a man of intelligence, integrity and good will."
During his salutation, James Blakeley, Ph.D., chair of SJC Long Island's history department, said that he and his colleagues among the faculty were hoping the arrival of a president would bring about "a renewed sense of common purpose on campus, for a spirit of collegiality to prevail, for optimism at the top."
"In just the first months of your tenure, President Boomgaarden, I see that good spirit is flourishing again," Dr. Blakeley said. "We have high hopes and root for your success. The faculty is ready to meet the challenges with you that will undoubtedly face the College."
Dr. Boomgaarden said during the ceremony that he has grown closer in his spiritual relationship with St. Joseph.
"When I walk into (O'Connor Hall) and I go past the statue of St. Joseph, I think of him as St. Joseph the teacher, St. Joseph the leader, St. Joseph who gave of himself and stepped into the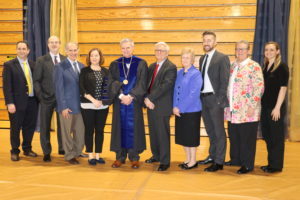 background once he had accomplished his mission," he said.
St. Joseph's College Trustee Sister Helen Kearney '67, C.S.J., Ph.D., spoke during the ceremony of the peaceful and hopeful atmosphere Dr. Boomgaarden fosters on both of St. Joseph's College's campuses.
"How refreshing in this moment of our history to have a leader who creates humaneness and possibility in the midst of our world's culture of fear and turmoil," said S. Kearney, president of the Congregation of the Sisters of St. Joseph in Brentwood.
Michelle Frati '18, a senior administrative assistant in SJC Long Island's Center for Student Involvement, Leadership and Multicultural Planning, spoke on behalf of the staff at the campus.
"Your journey, President Boomgaarden, led you here, where you are among friends who are keen to walk alongside you as you develop a richer understanding of this house, our home away from home," she said. "As your spirit becomes imbedded in the mosaic of our college community, together may we be transformed in hope, and celebrate all that is St. Joseph's College."