Academic Center for English Language Studies (ACES) students are continuously "rising up" and reaching new accomplishments.
The narrative essays woven into the eighth annual ACES Reader — appropriately titled "Rise Up" — indicates that drive to succeed, encompassed by all of St. Joseph's ACES students.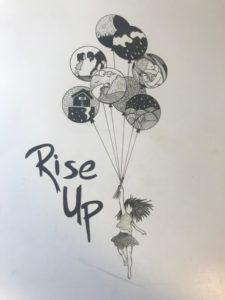 "I can't tell you how hard it is to pick these essays since they are each so compelling," said Catherine Meehan, director of ACES academic programs. 
"Rise Up" debuted to the SJC Brooklyn community during a special book launch last week in the Tuohy Hall parlors.
An upperclassmen — Sally Idris '19 — kicked off the book launch, following SJC Brooklyn tradition. Idris, a senior ACES student from Jordan, stood at the podium to read an introductory note she penned in the journal.
"The essays in this collection showcase students who navigate their way through frustration, loss of hope, and looming feat," Idris read. "By writing about these circumstances, these writers often figure out ways to rise up above those challenges."
The writers of the essays followed Idris, reading an excerpt from their pieces to a full audience in the parlors.
The following freshmen students wrote essays in the reader: France Anjelika Monjardin, Aachal Ghimire, Bianlamar Marquez, Nazerke Akilova, Madeleine Barber, Raymond Castillo, Ketevan Basilashvili, Shristy Kaphle, Babacar Niang, Anusha Kapali, Priyanshu Singh and Barakova Dieujuste.
The front cover was illustrated by Ekram Alrowmeim, a senior ACES student from Yemen.
Check out these social media posts from the ACES Reader event: