Even at 6 years old, Alexandra Ehrhart was already a passionate athlete.
So it was all the more a crushing blow when a 14-hour operation to remove a benign tumor from her spine not only pushed her to the sidelines, but forced to learn how to walk again.
"My doctors reconstructed my spine using parts of my ribs, iliac crest and a bone from a cadaver, as well as titanium screws and rods," said Ms. Ehrhart, 22, now a member of SJC Long Island's women's lacrosse and cross country teams. "Although I was scared and skeptical about walking again, I pushed myself to get out of bed and keep trying until I was able to." 
Pushing Forward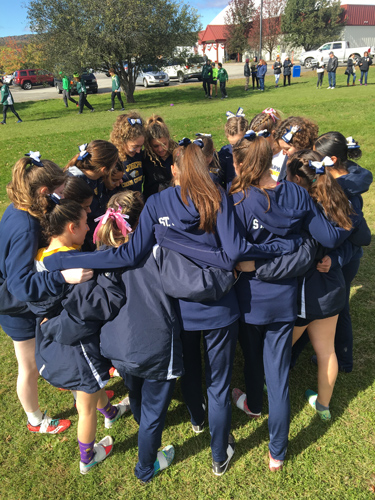 While the surgery left her with chronic pain, she never let it stop her from enjoying what she loves. She couldn't play soccer — a sport she'd been involved in since she was 3 — or any other contact sport for a few years following the surgery, so she took up running. 
"My mom was a runner her whole life, and I always loved running with her," Ms. Ehrhart, a senior majoring in psychology, said. "Being fast was one of my strengths, and I just went with it. All through high school I ran winter and spring track. I was a long distance runner and ran countless miles everyday."
By the time she was a freshman at St. Joseph's College, Ms. Ehrhart was happily playing soccer again. She participated in one season, but realized the second season would conflict with her class schedule. So she decided to try cross country. 
This fall, Ms. Ehrhart earned All-Skyline Conference honors in cross country. The team won the ECAC championship and competed in the NCAA regional finals.
"Not playing soccer was one of the hardest decisions I had to make," said Ms. Ehrhart, a Patchogue native who graduated from Connetquot High School. "I never ran cross country. But Coach Crowley, who was my high school track coach and who also coaches at cross country at SJC, was so supportive in allowing me to run for him again."
Finding a New Passion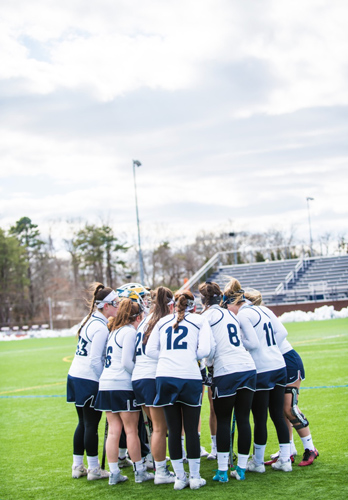 Although she never played lacrosse before either, she picked it up pretty quickly during her freshman year at St. Joseph's, landing her the title of captain as a sophomore.
"I never really was able to play because of my back, but I always watched my twin sister Amanda play, and I loved going to all her tournaments," said Ms. Ehrhart, who's served as the president of the Student-Athlete Advisory Committee (SAAC) at SJC Long Island since she was a sophomore. 
Ms. Ehrhart is appreciative of the role Coach Geoff Cassell played in her success with the sport.
"Coach Cassell always believed in me and helped me become the lacrosse player I am today."
"Playing lacrosse at SJC was one of the best decisions I have ever made," she continued. "It became such an important part of my life. I fell in love with the game. It shows that you should never let the fear of not being good enough hold you back. 
Thankful for Being a Golden Eagle
Ms. Ehrhart remains thankful of the experiences she's had as an athlete at the College.
"My favorite part of being a student-athlete is the sense of family that comes along with being a Golden Eagle," she said. "The bonds you form with your teammates and coaches make it all worth it."
And because of her own experiences both on the field and off, Ms. Ehrhart realized what she wants to do after she graduates — which includes returning to SJC for a master's degree in social work. 
"Even as athletes, I think sometimes we try to act so strongly that we forget to take care of ourselves," she said. "I want to do what I can to help break the stigma around mental health. I would love to work as a school psychologist or mental health counselor to help kids through whatever they are going through, and I would love to coach at the school I work at. But my ultimate dream job would be to be a  sports psychologist for a professional sports team."