She doesn't always do things the "nun-y" way.
Sister Margaret Smyth, O.P.,  is the first to tell you she's a bit unconventional when it comes to carrying out her work as the founder of the North Fork Spanish Apostolate in Riverhead.
During an award luncheon Tuesday, S. Margaret received the College's Sister Elizabeth Hill Esse Non Videri Non-Violence Award — an honor bestowed to individuals who make outstanding contributions to the pursuit of social justice and peace — in recognition of her decades of work with immigrants.
"I don't know if I can accept an award for non-violence. Because those who know me know that sometimes, in order to cause change, you have to be a little (pause) violent," S. Margaret joked, receiving laughs from the audience.
S. Margaret has been a nun for six decades and has worked on the East End for more than 20 years, advocating for immigrants. The agency she founded provides language, citizenship and cultural education, health care education, translation services, legal protection and a range of other assistance.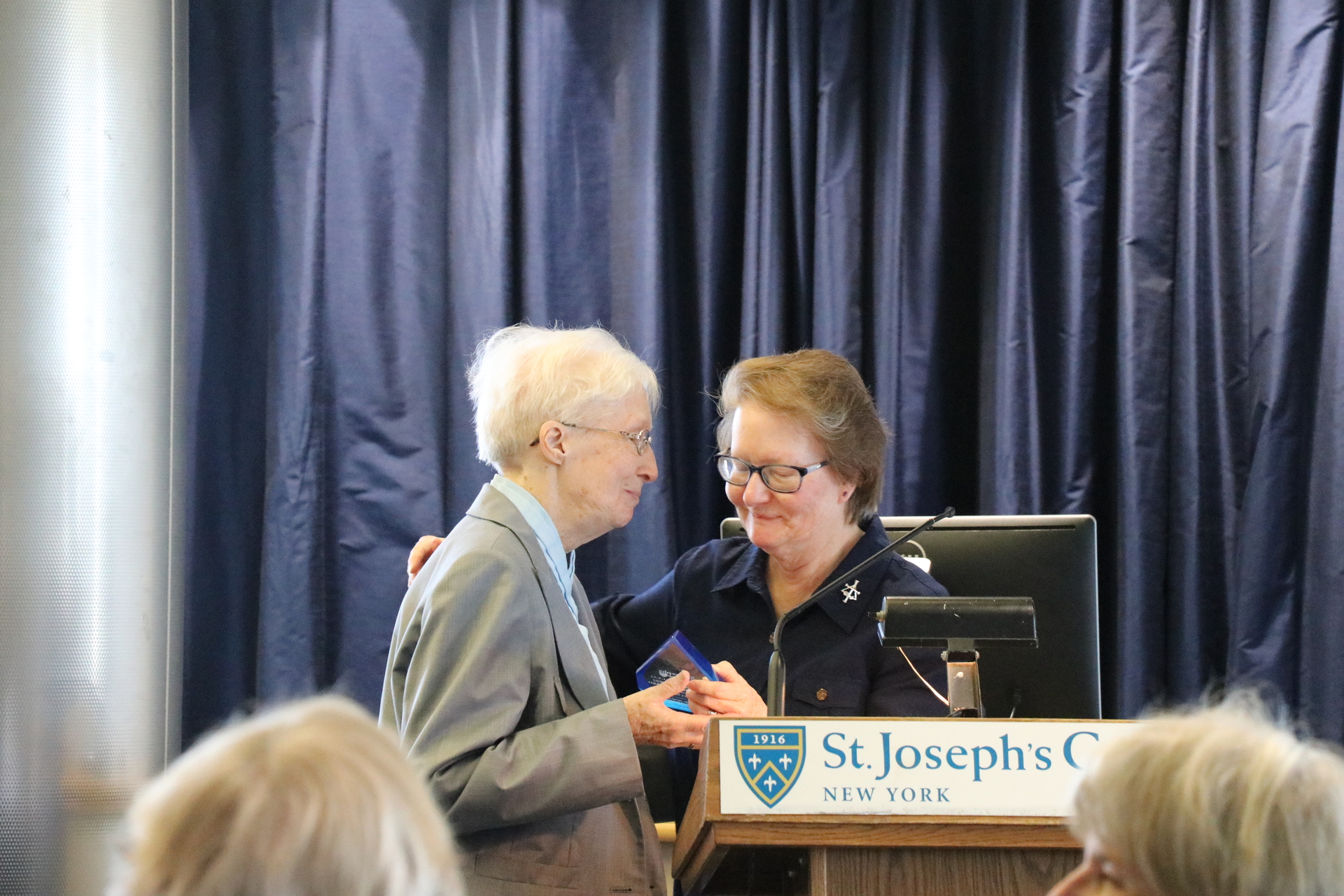 "During this ceremony of recognition, not only do we honor the recipient, but we are inspired by her life and her work," said Thomas Petriano, Ph.D., professor and chair of religious studies at St. Joseph's.
The Institute for the Study of Religion in Community Life, together with the Office of Campus Ministry, sponsored Tuesday's event, selecting S. Margaret as the award recipient. Director of the Office for Academic Advising and Associate Professor of Religious Studies S. Suzanne Franck, C.S.J., Ph.D., presented S. Margaret with the award.
vttvtv
"For S. Margaret to dedicate herself to this work is to be the embodiment of God's hands — to truly be and not to seem," Director of Campus Ministry Cristian Murphy '14 said. "We thank you for your care of the common human."
At the North Fork Spanish Apostolate, S. Margaret helps countless families and aims to build integrated communities by empowering low-income people on Long Island, particularly immigrants living or working on the East End.
"Thank God we have villages of wonderful people, because it is all together that we're going to be able to create this world of non-violence and justice in which the gospel calls us to live in," she said.