Atlantis Black always wanted someone to write a book about her.
Black was a charismatic punk-rock musician caught up in a life of drugs and mental illness, trying to stay afloat after surviving abuse and trauma as a child.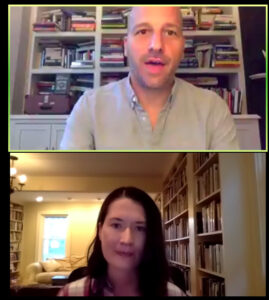 She faced legal trouble when the Drug Enforcement Administration arrested her on various drug charges. She was out of money and desperate after her release from jail — and was eventually found dead on the floor of a hotel room in Tijuana, Mexico.  A police report stated that the body did not seem to match the identification, yet the body was quickly cremated, and the case was considered closed.
The mounting questions about Black's death inspired her younger sister —  Betsy Bonner, a Writer's Foundry MFA faculty member — to write the book Black always wanted.
Bonner's new memoir, "The Book of Atlantis Black: The Search for a Sister Gone Missing," carefully attempts to analyze and make sense of the mysterious final months before Black's disappearance, alleged overdose and death.
Bonner presented the book Monday evening during a virtual installment of Brooklyn Voices, an ongoing series of events hosted by SJC Brooklyn in partnership with the Greenlight Bookstore. Christopher Castellani, a critically acclaimed author and the artistic director of the creative writing nonprofit GrubStreet — and Bonner's high school English teacher — interviewed her about the book during the event.
"The memoir-writing process is grueling," Bonner said. "When you're reporting on some trauma, it can feel like a therapy session … but then when you have it finished, and people read it — it's miraculous."
Writing a True-Crime Memoir
Bonner began the event by reading an excerpt from her book as a photo slideshow flickered across the screen. The slideshow featured photos of Bonner and Black through the years — from childhood dance recitals and beach visits to photos capturing their relationship as they grew into teens and young adults. Photos of Black's lifestyle as a musician were mixed in, as well as her mugshot.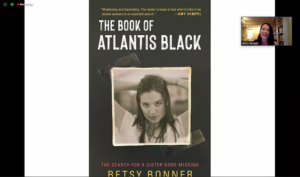 Writing about her sister was often a difficult feat for Bonner. She used her own memories, Black's social media pages and information gathered about the case to string together the haunting story. She wrote the memoir out of both rage and love.
"The strategy was 'follow Atlantis,' and whenever I start going into some irrelevant thing or other, I let myself write it down, but then I would just cut it out," Bonner explained. "I think that ended up working. Of course I had to bring myself back in, but as you know from reading the book, my sister wanted a book about her. She wasn't going to do it herself. So it has to be the book of Atlantis Black."
The raw honesty and emotion suck the reader right into the book, said Castellani, who read the memoir in one weekend.
"This is the type of book that comes out of an obsession of some sort," Castellani said. "You don't write a book like this unless there is something that you are personally wrestling with and can't shake."
Since its publication on Aug. 4, "The Book of Atlantis Black" was reviewed by a few national news outlets, including The New York Times and NPR.