Brooklyn Campus alumnae Madeline Romano '09 and Mary Vitale '10 met while completing double majors in child study and speech communication at St. Joseph's University, New York.
Some years later, while on a walk with their newborn sons born seven days apart, the pair devised a plan to satisfy a community need. 
The result is Beyond Play NYC, a venture launched in January that offers parent-and-me style classes with an emphasis on language development in Brooklyn and Staten Island.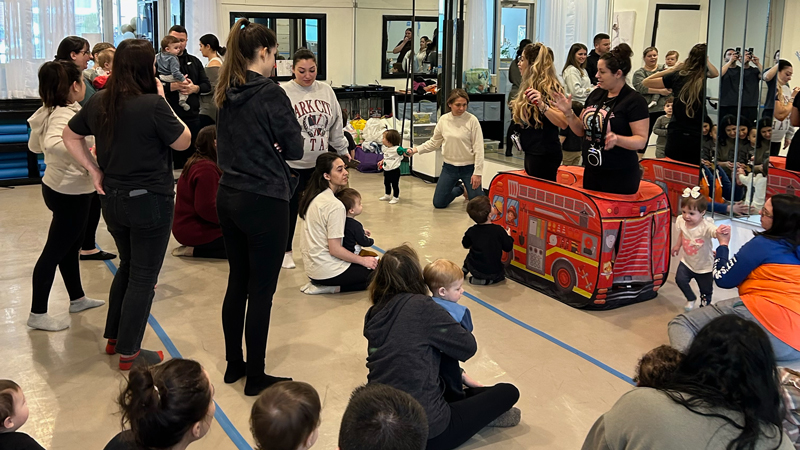 "We wanted to present a format where parents can meet one another, learn tips and strategies to use with their children at home, and where all young children can benefit from language enrichment," they said in an email. 
Experienced speech pathologists previously employed in home- and center-based settings, Romano and Vitale felt there was a need for a space that brought families together to foster language development through purposeful play.
"We receive feedback every week from families telling us the impact our classes have on their children's lives," they said. "Not only do they see improvement in their language skills, but also their social skills in new and different situations. We love seeing the excitement on families' faces while they are at our classes engaging with their children."
Foundation Forged at St. Joseph's
Despite having had mutual friends, Romano and Vitale didn't cross paths until they arrived at St. Joseph's. They found they had the same interests and goals and became fast friends. 
Both were active members of the Brooklyn Campus community – Romano, the president of the Speech Club her senior year, and Vitale, the dance team captain – and credit their education for preparing them for their careers.
"We learned so much from all the teachers at the Dillon Center," they said. "We used what we learned from our professors in the classroom and applied it to our student-teaching placements."
But developing and operating Beyond Play NYC has been a new experience altogether.   
"Our biggest challenge was deciding to step away from what we know and go off on our own, learning how to run a business as brand-new moms," they said. "We have found it crucial to constantly educate ourselves on the logistics of running a business and to ask for help when we need it."
Their message for current speech pathology students at St. Joseph's: Keep an open mind.
"Try and observe speech pathologists in all different settings and placements to gain as much experience as you can while you're in school," they said. " You may think you won't be interested in a certain setting or population, but give it a try and you may feel differently."