Step inside SJC Long Island's Board Room Gallery, and you're immediately drawn to images of Long Island's Big Duck.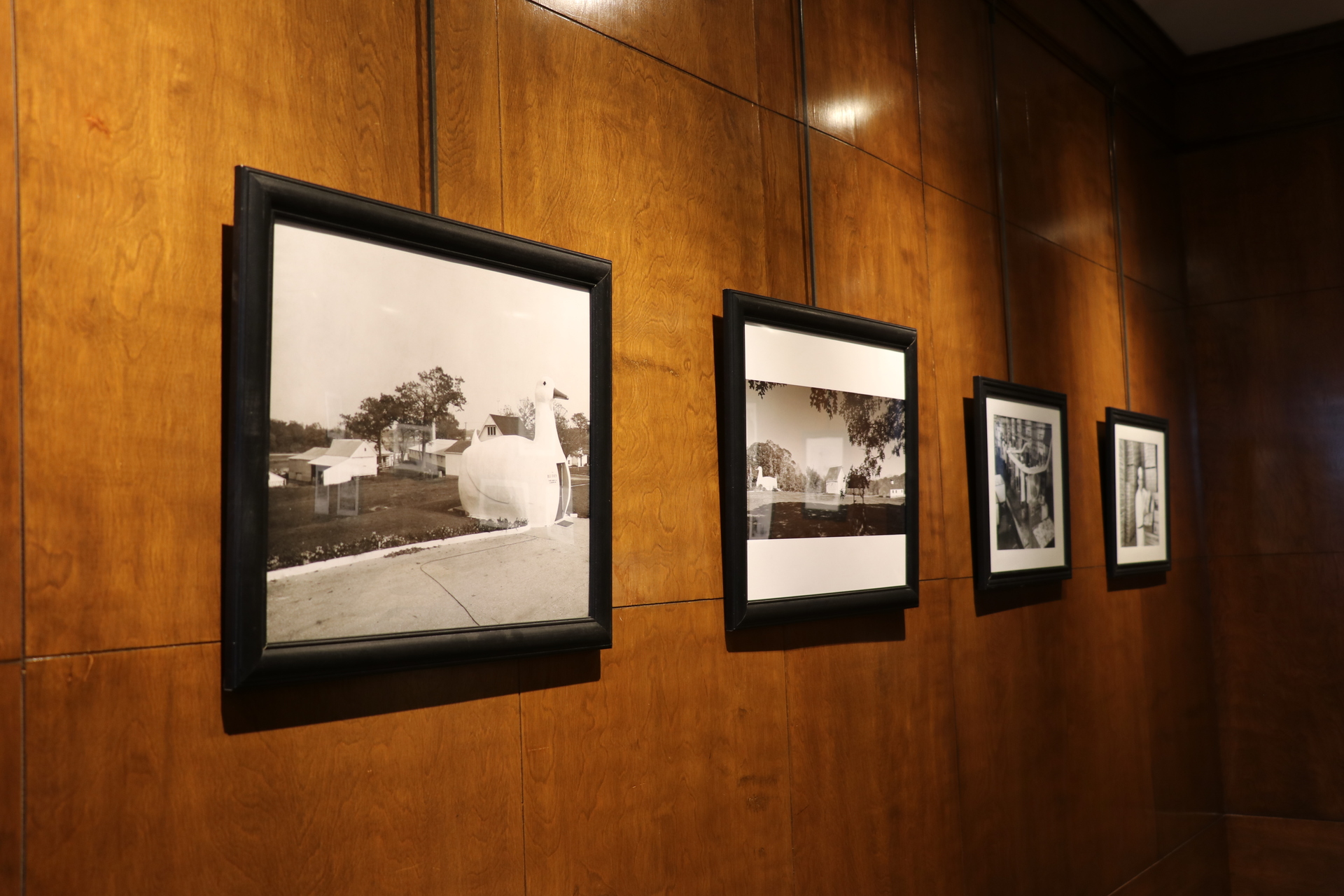 So begins the art exhibit of Assistant Art Professor Susan Van Scoy, Ph.D., showcasing never-before-seen historical photographs of Suffolk County's architectural landmark the Big Duck, as well as duck farming on Long Island. The framed images are among more than 180 photos in Dr. Van Scoy's new book, "The Big Duck and Beyond: Eastern Long Island's Duck Farming Industry."
"What I love most about this project is that it is not just for those in the arts — like art historians, artists and architects — but it really appeals to a broader public, including Long Islanders, local history lovers, environmentalists, farmers, foodies, tourists, children…everyone," Dr. Van Scoy said, whose exhibit will be featured on campus until April 4.
Dr. Van Scoy signs copies of her new book and hosts a gallery talk during common hour April 1 in the Board Room in O'Connor Hall.

Her Inspiration
Dr. Van Scoy, a Kings Park native, was reading about an art history conference that called for papers on the memorialization of animals through art when the idea struck her: she should write about the Big Duck that sits in Flanders, New York.
She presented her original paper on the Big Duck at the Southeastern College Art Conference (SECAC) in 2017. But it was while researching for her paper that she realized no one had written a book about the Big Duck yet.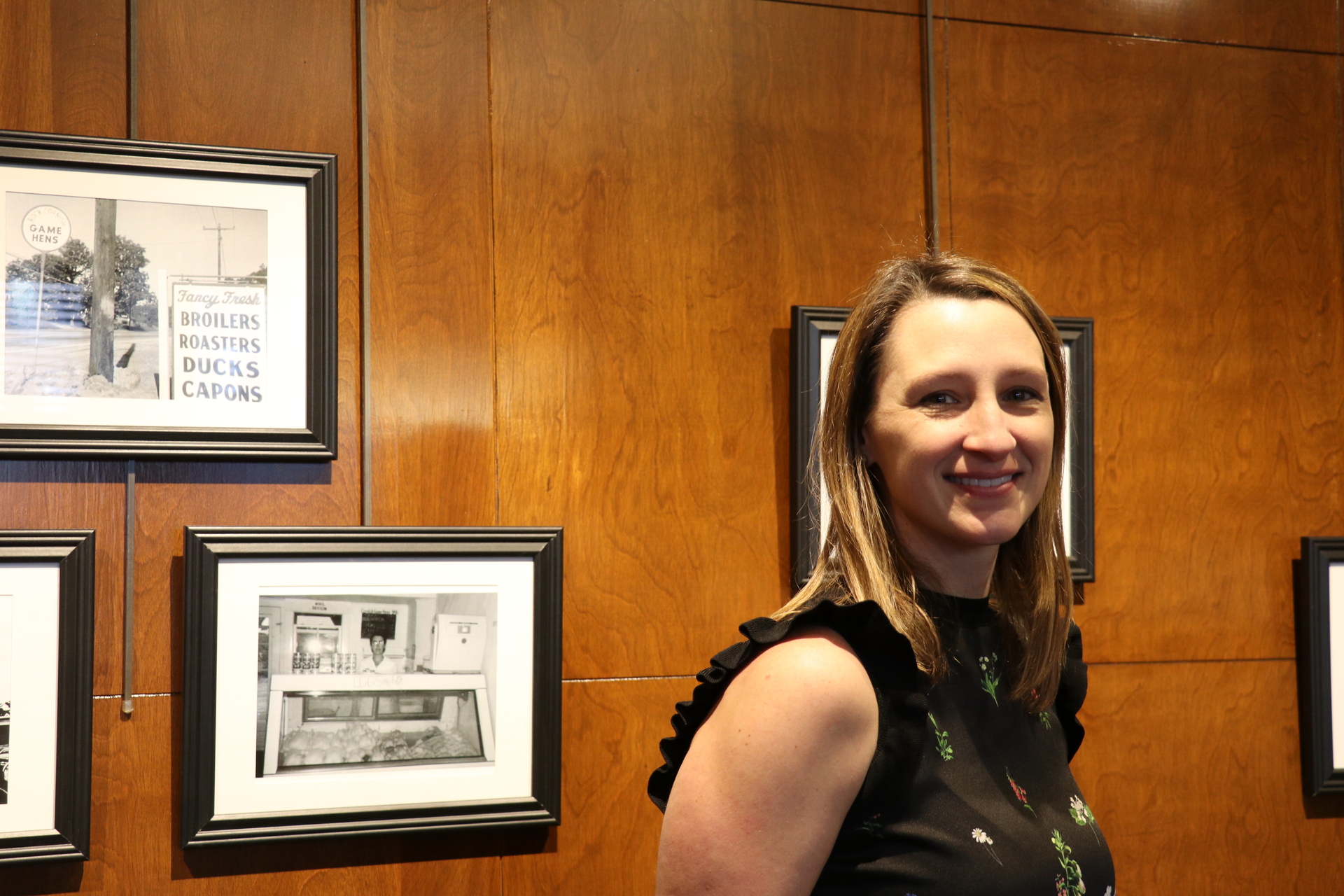 "There was no centralized source on the subject, nor on the history of duck farming on Long Island (not since 1949)," said Dr. Van Scoy of Huntington. "So I decided to do it."
The Big Duck was built in 1931 by duck farmer Martin Maurer of Riverhead. Originally, it was a store where Maurer sold Peking duck to locals. The 18-foot-tall by 30-foot-wide duck-shaped building now serves as a gift shop and East End tourist information center. It's also where you can buy copies of Dr. Van Scoy's new book.
"This summer, I plan to travel to research more examples of 'duck' architecture, a term coined by the architects (Robert) Venturi and (Denise) Scott Brown for buildings that take the shape of its function," said Dr. Van Scoy, who received a Full Faculty Summer Grant.
Pulling the Book Together
"It took me about a year and a half to find the images needed for the book," Dr. Van Scoy said. "My sources ranged from large institutions to individuals. I researched images from the National Archives, Library of Congress, Museum of the City of New York and the New York Public Library and visited local historical societies, the Post Morrow Foundation in Brookhaven and local libraries with Long Island Collections.
"I interviewed farmers and their family members, and they gave me access to their family photographs," she continued. "Eric Woodward, an architect, also granted me access to his Long Island postcard collection that featured a lot of ducks and duck farms. Additionally, I approached local artists, architects and businesses who had links to the Big Duck."