St. Joseph's College Writer's Foundry MFA faculty member Betsy Bonner will talk about her new memoir Monday, Aug. 17, at 7 p.m. during a virtual installment of Brooklyn Voices.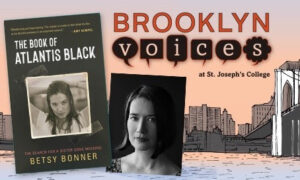 Bonner will discuss her book, "The Book of Atlantis Black: The Search for a Sister Gone Missing," with Christopher Castellani, a critically acclaimed author and the artistic director of the creative writing non-profit GrubStreet. The event is hosted by SJC Brooklyn, in partnership with the Greenlight Bookstore.
In the haunting memoir, a young woman is found dead on the floor of a Tijuana hotel room and an ID card in a nearby purse reads "Atlantis Black." A police report states that the body does not seem to match the identification, yet the body is quickly cremated and the case is considered closed. This marks the beginning of Bonner's search for her sister, Atlantis.
The memoir details the unraveling of the mysterious final months before Atlantis's disappearance, alleged overdose, and death. Bonner must decide how far she will go to understand a sister who, like the mythical island she renamed herself for, might prove impossible to find.
The book is drumming up early success since Bonner published it on Aug. 4: It's ranked as number 56 in law enforcement biographies on Amazon and was reviewed in The New York Times.