A playwright. A poet. A musical theater performer. A sculptor. A filmmaker.
SJC Long Island's Director of Campus Ministry Cristian Murphy profiles each in his documentary "Masterpieces" about their call to serve God through their work.
"The most rewarding part was the process of sharing (the documentary) with audiences and developing dialogues with people about the topic," said Murphy, who earned a B.S. in Business Administration from SJC Long Island in 2014.
"I view my work in film as a ministry opportunity, much like the work I get to do here at St. Joseph's," continued Murphy, whose movie recently landed on Amazon Prime Video. (Check out the movie trailer below this story.)
"This film is now another opportunity for ministry in a specific manner, to fellow artists and young people who are interested in the creative life."
Creating a Project with Passion
Murphy, who was featured by Newsday for his film,  said he has always been interested in the life of the artist — especially the connection between the art and the person's faith.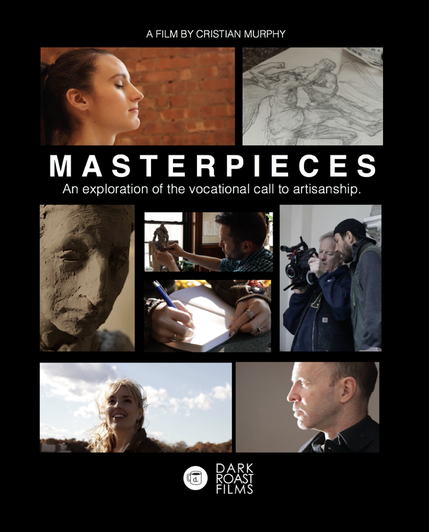 "My good friend Christopher Alles, a New York City sculptor, initiated the idea of putting the themes of art, faith and vocation into a project, which became the film," Murphy said.
Alles became Murphy's first subject in the film, and Murphy met the rest of the artists in the cast through Catholic Creatives.
"I always loved what a powerful video or film can do to a viewer and how it can educate in a way unlike any other," said Murphy, who, as a filmmaker and fellow Catholic, identifies with his subjects. "It's such a powerful medium and can be so impactful. I realized in graduate school that this ability of mine to create videos could serve as another form of ministry, and that was quite eye-opening for me."
After putting together a proposal for Amazon's streaming service Prime Video, Murphy was thrilled to find out they accepted "Masterpieces."
"I think what Prime is doing now for viewers and independent filmmakers is such a blessing," he said. "They are providing opportunities for people to share their stories in profound ways."
Murphy released the documentary through his year-old production company Dark Roast Films, which allows him to share videos that offer inspiration to viewers.
"It's a very small and humble production company, and the real mission behind it all is to provide a platform for stories of truth and common good to be shared."
Watch the trailer for "Masterpieces" below: