Basketball and community. 
The two most important things in the life of Wade Richardson '16, a three-year letter winner with the Long Island Campus men's basketball team between 2012 and 2016.
Today, Richardson holds a unique dual role with the Long Island Nets – the G-League affiliate of the NBA's Brooklyn Nets – that indulges both of his interests. 
"I was brought on full-time as Associate Manager for Community Relations & Game Presentation in 2019-20, so I'm currently handling two roles," Richardson said. "I enjoy both of them, but community is my passion."
St. Joe's Years
Richardson arrived at St. Joseph's in the summer of 2012 unsure of what the future held. Recruited to play basketball, he settled on criminal justice as a major but found his first semester challenging. 
"I learned quickly that I needed good grades to play, and I was very disappointed with how I applied myself," he said. 
"It was tough; you're commuting, coming back from away games, and the ne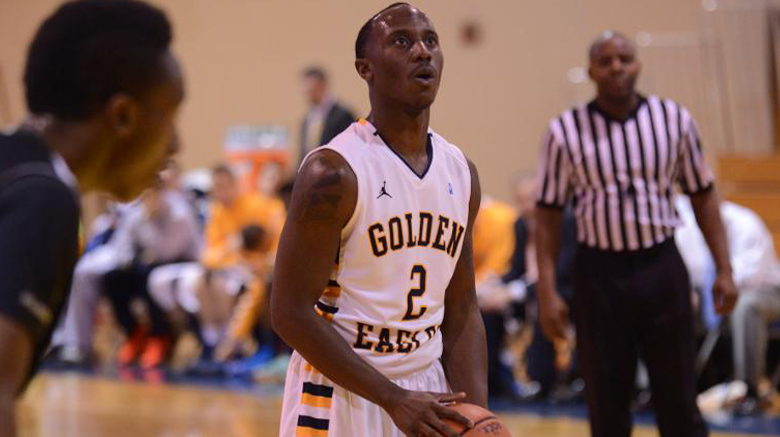 xt day you have to be back for class at 7:30 a.m. That was a big adjustment for me."
Richardson was also losing interest in criminal justice as a major and felt he needed to find a new direction. 
"I had a good teammate in Nick Galina, who pushed me my second year and introduced me to the Department of Recreation and Leisure Studies. I found a place for myself in a community-based setting."
Richardson credits Gail Lamberta Ph.D., chair of Recreation and Leisure Studies, with helping him settle on a path to community work. But Richardson's future was still unclear after he finished at St. Joe's.
"Life after graduation was a grind for me," he said. "I didn't know what I wanted to do. Working in sports was a long-term goal, but I didn't foresee it happening as quickly as it did."
Finding His Footing
Richardson's first job was with the Great South Bay YMCA in Bay Shore, New York, where he helped manage community-based events. 
"I sort of fell in love with that, working with the youth, because they were relatable to me," he said. "I had the opportunity to ideate specific after-school programs and amplify some of the programs they already had."
Eventually, he was introduced to the universal pre-k program at the YMCA and became a physical education instructor. He began taking teacher's assistant classes and landed a full-time gig at Sewanhaka High School in Oceanside.
The opportunity to work part time with the Brooklyn Nets came about when Richardson's cousin – a former New York Knicks City Dancer who became the Director of Entertainment for the Nets – made him aware of an opportunity with the game presentation staff.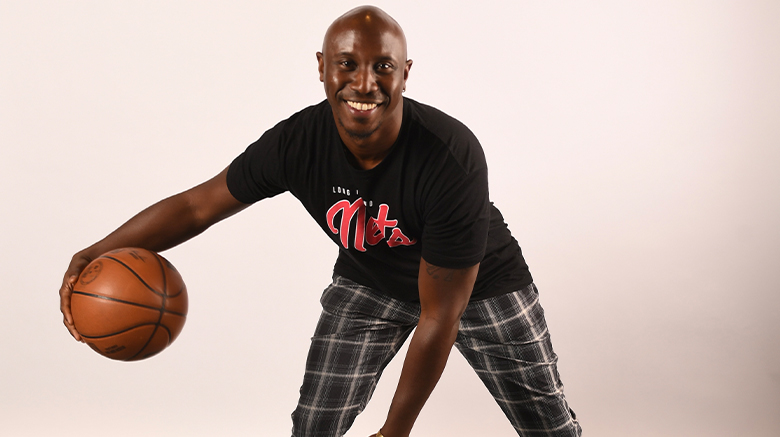 "I didn't know much about game presentation – the show element when you go to a sporting event," he said. "But I ended up working part time in that role for the 2016-17 NBA season and met important people in the organization."
Richardson eventually made the necessary connections to be considered for a full-time position when the Long Island Nets were a fully-functioning organization for the 2019-20 G-League campaign. 
"I had a good relationship with the senior VP of the Long Island Nets. After one game, I gave him my resume and said this is what I'm interested in. If any roles open up, please keep me in mind. Soon after the game presentation coordinator left, I was given an opportunity."
The Value of Basketball
Working in the up-tempo environment of professional sports is not for the faint of heart. But Richardson has drawn on past experiences as a college basketball player to help navigate such a frenetic field.
"Playing basketball at St. Joe's taught me how to stay the course and work in a fast-paced environment," he said. 
"Being a player, things happen on the fly. You stick to your role," he continued. "It's the same thing working in sports; everyone has a role and is held accountable. Things happen, but you can't take them personally. We all have one common goal and have a job to do."
Some of Richardson's game presentation duties include preparing the game script, managing part time and freelance talent, payroll, and organizing on-floor entertainment (dancers, promotions, contests and other "show" elements).
"It's a long day; it's fun, it's fast-paced, and in the end, you're creating the atmosphere for people that come to a game," he said. 
Living His Passion
As much as Richardson enjoys the buzz of game day and the thrill of working a professional sports contest, his passion is still on the community side. 
"I feel like sometimes I'm shortchanging myself by working two different jobs and not concentrating on one."
But a host of accolades would suggest otherwise.
Since Richardson took over as community relations coordinator, the Long Island Nets have won the G-League's award for social responsibility for three consecutive years. 
In 2019-20, the organization's Basketball Academy Clinic was recognized; in 2020-21 it was the Read to Achieve Program, and in 2021-22 a social justice initiative called Team-Up for Unity.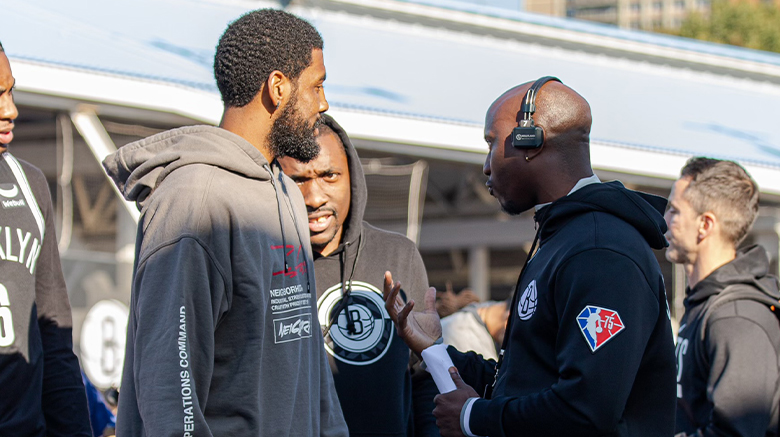 "That's a program where we connect with high school students in both Suffolk and Nassau counties," Richardson said of Team-Up for Unity. "We talk to them about social bias, hold and moderate conversations, and invite guest speakers for events."
The awards motivate Richardson and his staff to find new ways to integrate with communities annually, not only in a bid to collect more silverware, but out of a sense of responsibility to the community.
"Some other teams may not focus on (community programs) as much, but it's important to us, and if we don't have the resources, we get creative," he said. "That's the beauty of the G-League. You can get it wrong and not get a slap on the wrist like an NBA parent team would. That's helped me in my career; if something doesn't work, that's cool, we'll try it again."
Looking to the Future
Richardson's story is one of success. Unafraid of failing and willing to put in the work, he's living his dream every day. 
"My first game was a preseason game against the Detroit Pistons, and Tim Hardaway Sr. was on their coaching staff," he said. "In the tunnel, he gave me a head nod, and I was like, holy cow, I'm really working an NBA game. This is crazy. I'll never forget that."
In the future, he wants to concentrate on community work, but staying in sports is a sticking point.
"I see myself becoming a senior manager, becoming an executive director for a brand or a team (in the NBA)," he said. "That's the long-term goal. I want to stay in sports, but it doesn't have to be basketball, specifically. It could be a brand, like Nike or Foot Locker, but in a community role."
To reach this point in his career – and to have the lofty goals that he has – is a testament to his hard work. But his time at St. Joe's helped him build a strong foundation.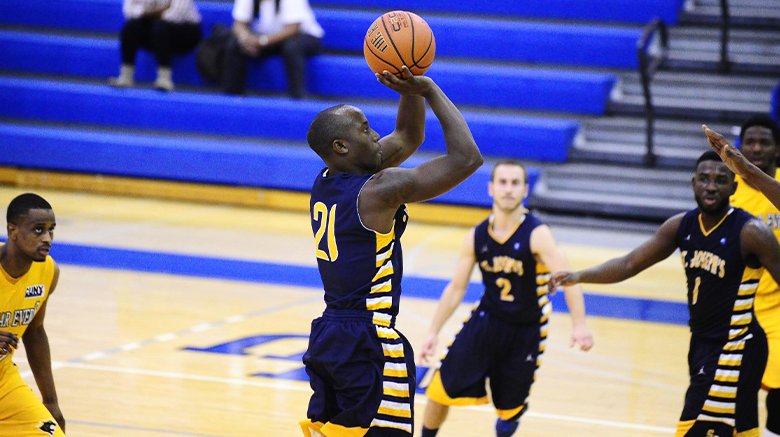 "I'm grateful I had the chance to play college basketball," he said. "I'm happy for the experience because it built some character for me."
His advice for current and future students and student-athletes at SJNY?
"Figure out what best suits you, what will make you wake up every day and be like, cool, this is what I want to do. This is what I'm passionate about," he said.
"Be personable and be kind. You have to put yourself out there if you want that specific something," Richardson continued. "If you're staying true to yourself and working to be the best self you can be, then you'll be OK."