In honor of St. Joseph's Day, students, faculty and staff of St. Joseph's College gathered during Common Hour for Mass, celebrating the patron saint of workers and protector of families for whom the College is named. The Sisters of St. Joseph employed at SJC stood to renew their vows of poverty, chastity and obedience during Mass. Students presented them with flowers as a thanks for all they've done and continue to do.
"Joseph can teach us how to care," S. Mary Ann Cashin said during the Mass celebration at SJC Long Island in the McGann Conference Center. "He can inspire us to work with generosity and tenderness in protecting the world, which God has entrusted to us."
The Sisters of St. Joseph was born more than 360 years ago in the village of LePuy, France, when the Spirit of God touched the hearts of a young priest and a group of women with a vision of union with God and neighbor. This vision was to be achieved through prayer, service and reconciling love. The group devoted themselves to this vision while dividing the city, seeking out its ills and curing them. The group was established as a religious foundation in 1650.
The Congregation spread throughout the United States and, in 1856, Mother Austin Kean came from Philadelphia, Pennsylvania, to Brooklyn, New York, to establish what is now the Sisters of St. Joseph of Brentwood. Sixty years later, the Sisters of St. Joseph founded St. Joseph's College and opened the College's doors to 12 students in the Clinton Hill section of Brooklyn. Fast forward a century later and there are still dedicated sisters who teach at the College, many of whom have been doing so for decades.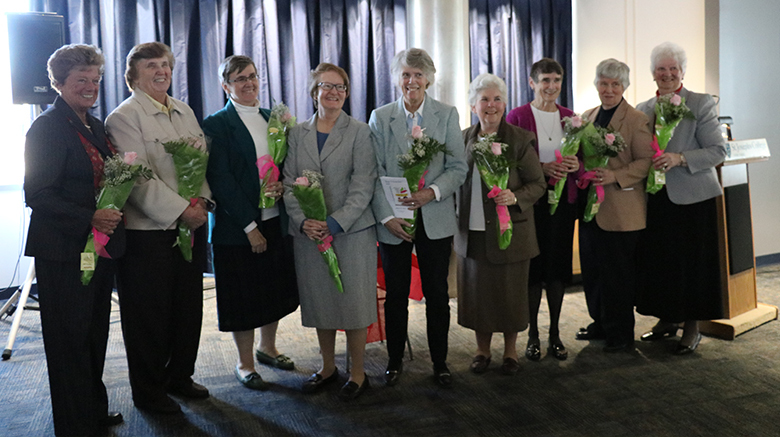 At SJC Long Island, the following sisters renewed their vows: S. Grace Edna Rowland, Ph.D., director of the Clare Rose Playhouse and professor of communication studies; S. Miriam Blake, assistant professor of child study; S. Suzanne E. Franck, Ph.D., associate professor and director of religious studies; S. Patricia Manning, assistant professor of art; S. Jane Fritz, assistant professor of mathematics and computer science; S. Mary Ann Cashin, assistant professor and chair of child study; S. Eileen Kelly; and S. Catherine Fitzgibbon.
At SJC Brooklyn, the following sisters renewed their vows: S. Elizabeth Hill, J.D., president emerita; S. Loretta McGrann, Ph.D., former provost; S. Mary Florence Burns, former academic dean; S. Margaret Buckley, Ed.D., former academic dean; and S. Mary A. Sivillo, coordinator of child study placement.