St. Joseph's University, New York's fifth annual Giving Day raised over $55,000 to benefit 21 student and faculty crowdfunding initiatives on March 29. 
More than 600 total gifts were made by donors during the 24-hour fundraising campaign that provided financial support for projects at both the Brooklyn and Long Island campuses as well as the University at large. 
"The success of Giving Day is a testament to the generosity of the SJNY community of students, faculty, staff, alumni, parents and friends," said Rory Shaffer-Walsh, vice president for institutional advancement.
"Thank you to all who chose to support the programs, people, and places that make St. Joseph's University a unique, mission-oriented institution."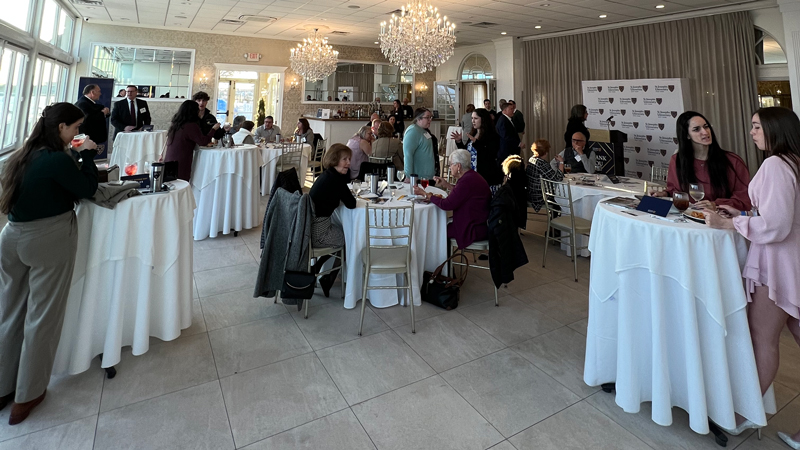 Shaffer-Walsh was joined by President Donald R. Boomgaarden, Ph.D.; faculty; staff; students; alumni; and donors at a Giving Day celebration at Lombardi's On the Bay in Patchogue on Wednesday evening.
The University's Board of Trustees made a $9,500 donation, and students representing five campaigns secured additional funding for their projects. 
Funding the University Mission 
With a wide array of initiatives to choose from, donors could opt to support campaigns that aligned with their interests. Others gave to projects they deemed crucial to the betterment of the institution. 
On the Long Island Campus, the Michael J. Vignato '07 Biology Scholarship Fund received more than $2,500 in gifts. Vignato was a volunteer firefighter and embodied the University's pillar of service. The scholarship in his name is awarded annually to a first-year student majoring in biology.
A Brooklyn Campus campaign to help Honors students study abroad raised funds that will cover some global studies trip expenses. Brooklyn's Academic Center for English Language Studies (ACES) program sought funding for cultural outings and received $545 in donations. 
More than $1,100 was raised in the memory of S. Jane Fritz, CSJ, to furnish a computer lab established in her name. S. Jane was a faculty member at the University for 37 years and founded the Department of Mathematics and Computer Science at the Long Island Campus.
The Department of Biology at the Brooklyn Campus raised almost $2,300 for a drosophila activity monitoring system. Their Long Island counterparts sought $2,000 to pay for pop-off satellite archival tags used to study local shark species.
University-wide funding of the Student Emergency Fund and the Chapels Fund reached their target figures, and an appeal for donations to help pay for nursing lab equipment at both campuses raised more than $1,800. The Online Book Fund raised more than $1,500 to help support SJNY Online students. 
Clubs and Athletics Programs Secure Crucial Support
The SJNY Book Club's campaign to bring a Little Free Library to both the Long Island and Brooklyn campuses collected $1,835, surpassing a $1,300 goal. Millions of books are exchanged through Little Free Libraries annually. The funds collected on Giving Day will help pay for library models that will house books at both campuses.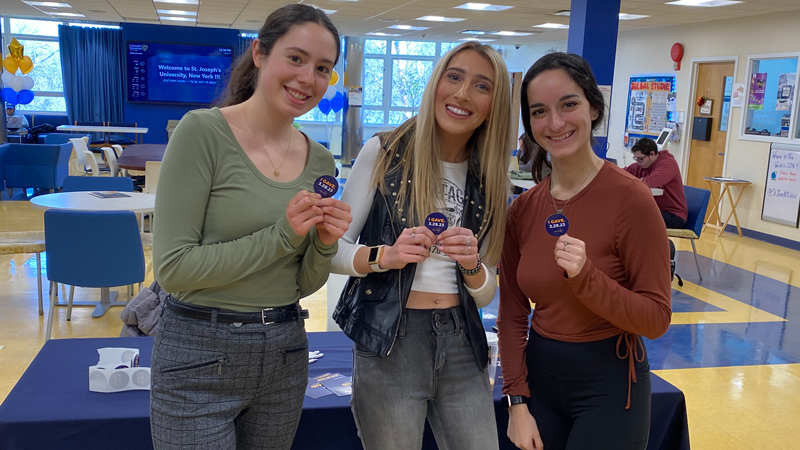 Fresh off a strong season, the Long Island Equestrian Team secured $2,000 in gifts in a bid to send riders to summer training sessions. 
A total of five varsity athletics programs at the Brooklyn Campus and seven at the Long Island Campus held campaigns for various initiatives. The Brooklyn men's soccer team raised $2,200  to enhance the student-athlete experience, while the Long Island women's swimming team surpassed an initial goal of $3,000 to help pay for data-heavy training equipment.
The women's swimming team drew more supporters (55) than any other team on either campus. At the Long Island Campus, the cross country program drew 31 donors, and the women's soccer team received 28 unique gifts. The men's soccer team's 11 donors were more than any other team at the Brooklyn Campus.
Brothers and Sisters in Christ (BASIC), a non-denominational Christian club with a chapter on the Long Island Campus, appealed for financial support that would help send the group to BASICCON, a biannual conference of BASIC groups nationwide. The Long Island chapter collected more than $750 in donations.
For a full list of this year's projects and their funding, click here.