She had given up waiting for her 9 a.m. class to start.
That's when Melonie Pernice walked into O'Connor Hall's main lobby and discovered on television monitors the horror unfolding in Manhattan that morning — Sept. 11, 2001.
"I didn't believe it was really happening," said Pernice, then an SJC Long Island junior. "I don't think anyone did at the time. And then when the news was saying it could be a terrorist, my heart dropped."
Disturbed by the reality of what happened and compelled to act, Pernice visited a U.S. Army recruiter the very next day. 
"I figured I had to give back and I wanted to do something" Pernice said. "My family begged me, my mother especially, 'Please, just finish out your four-year degree, and then you can do whatever you want.' So I took her advice."
The day after finishing her finals in 2003 and completing the requirements for her degree in speech from St. Joseph's College, Pernice enlisted in the Army, effectively changing the course of her future.
Becoming a Soldier After Sept. 11
Pernice, now 41, was stationed first in Germany, then in Kuwait, before she was sent to Iraq, where she was named a sergeant and served as both a radiology specialist and an M2 gunner.
"I went to Iraq for OIF (Operation Iraqi Freedom) 5 and 6 for 545 days, but who's counting though," she joked. "If you ever saw that show 'M.A.S.H.' with those ugly tents and olive drab everywhere, that's exactly what it still looks like. We had to build our own hospital right outside of Abu Ghraib."
Pernice, who now works as the associate executive director of hospital operations at Northwell Health's Glen Cove Hospital, oversaw all radiology aspects while helping wounded soldiers. As an M2 gunner, she worked with a convoy team to go out and get supplies. 
I'd go over there a million times if my loved ones didn't have to see what I saw." –Melonie Pernice '03, MBA '14
"I did over 100 convoys and everybody in my convoy team came back safe with all their limbs, and I'm very, very grateful for that," Pernice said. "Working in the hospital, I saw a lot of casualties unfortunately, and it's sad. But we all signed up for it, there was no draft. And I think all the people that we lost would make their families and all Americans proud."
Pernice emphasized she would never want her family to witness what she did during her tour in Iraq.
"I'd go over there a million times if my loved ones didn't have to see what I saw," she said.
Pernice served nine years in the Army, working four as active duty, and another five in the reserves.
Excelling in Radiology
It was because of her experience in the Army that Pernice found out she was well suited to work in the field of medicine.
"When they sent me to radiology school, I absolutely loved it. I was fighting for the top of my class with one of my battle buddies," said Pernice, who met her now-husband Dominick while working as a radiology technologist.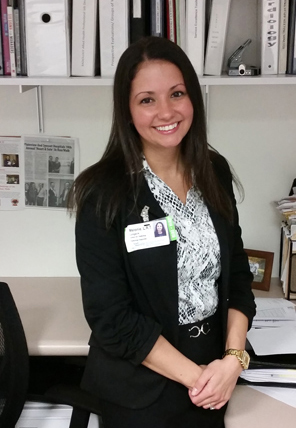 Once she came home and joined the reserves, Pernice found a civilian job at a hospital and decided to return to SJC Long Island for her master's degree.
"I was able to work during the day, do the Army on the weekend, and go to school at night," said Pernice, who in 2014 earned an MBA in Health Care Management with a Concentration in Health Information Systems from St. Joseph's College.
After graduating, she became a director of radiology and cardiology at two of Northwell Health's hospitals before landing her current role during the height of the COVID-19 pandemic. 
"The MBA program was so amazing because there were a lot of professors working in the health care field," said Pernice, who's now writing her dissertation for a doctorate in management from Pace University.
"One of my professors at St. Joe's — who was amazing and a big role model to me and a mentor, Professor (Richard) Margulis (who is president and CEO of Long Island Community Hospital) — was always an inspiration that, if you have the right schooling and you have the clinical background, you really can do whatever you want to do," added Pernice.
And while her professors at St. Joseph's inspired her in the classroom and in the field, it's her mother who she calls her biggest inspiration.
"Even though she was scared to death of me going into the military, she never stopped me doing what I wanted to do," said Pernice, a stepmother to three boys. "She was always there to support me and lead me in the right direction. Even today I still run things past her. She's just always there for me."