One month after graduating as valedictorian from Bayside High School in Palm Bay, Florida, Angela Sutton started feeling sick with what she thought was just a stomach bug.
Five months later, she spent a month in the hospital, severely malnourished and in near-heart failure, undergoing test after test to diagnose what turned out to be three rare disorders: celiac artery compression syndrome, Ehlers-Danlos syndrome and superior mesenteric artery syndrome.
Though together these medical issues left her reliant on a walker and feeding tube — unable to eat or drink anything by mouth — Sutton remains optimistic and continues to persevere in the face of her disorders.
Looking Toward the Future at SJC Long Island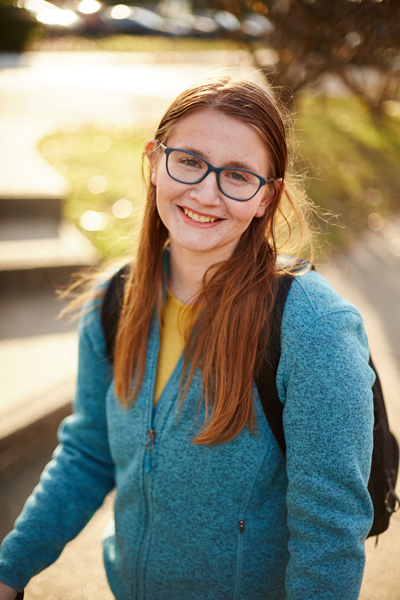 "My life became vastly different, and I had to readjust to think, 'This is today. It might not be tomorrow, but let's make the best of what we can handle now,'" said Sutton, who moved to Long Island with her family last August. "Things do change, and you can make as many beautiful plans as you want, but ultimately, they don't always work out."
Sutton, a freshman at SJC Long Island studying mathematics and computer science with a concentration in adolescence education, grew up watching from her driveway as NASA launched test rockets. She believes that her interest in mathematics and computer science came from these early childhood experiences.
Now, as a recipient of the Blanche A. Knauth Scholarship and the $5,000 Mathematics and Technology Engagement for Commuter Students (MaTECS) Scholarship, she gets to further explore those interests at SJC Long Island.
This is today. It might not be tomorrow, but let's make the best of what we can handle now."
—Angela Sutton '23
"I really appreciate the opportunity given to me by the donors who support scholarships," said Sutton, who quickly joined the campus' mathematics club, Matrix, as well as the Educators Club, of which she's also applying to be on the board. "I genuinely could not be here without that financial support."