It's important to know where you come from.
For the 4,000 students enrolled at SJC Long Island, it's crucial to understand that the Patchogue campus would not exist had it not been for the establishment of the College's original campus in Clinton Hill, Brooklyn. And for the 1,200 students at SJC Brooklyn, it's vital to know that their campus' roots stretch back more than 100 years — to 1916, when 12 young women joined St. Joseph's College for Women as the College's inaugural class.
Most importantly, for the more than 5,000 enrolled SJC students and more than 34,000 alumni, none of this would be possible without the Sisters of St. Joseph.
History and SJC are strongly linked.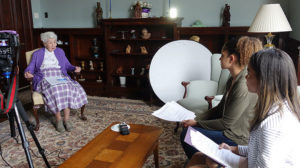 In preparation for the College's Centennial in 2016, a video series was born with a simple thought: How valuable would it be to gather perspectives from the influential sisters who carried SJC through the last 70 years?
It made me realize how important it is when we come together. It was really impactful, the information I obtained from the Sisters."
Thus the oral history project, "Voices of SJC," was born.
Earlier this year, under the supervision of the McEntegart Library's Lauren Kehoe and Mayumi Miyaoka, 11 SJC Brooklyn ACES honors students visited Founders Hall, the residence of several Sisters of St. Joseph, to gather a collected history of SJC. Over hours of conversations, the students recorded priceless first-hand stories and recollections from S. Margaret Buckley '55, S. Mary Florence Burns '46, S. Pat Dittmer '72 and S. Elizabeth Hill '64.
For the ACES students involved, the interviews were a wonderful gift.
"It made me realize how important it is when we come together," said ACES sophomore Amarfi Collado. "It was really impactful, the information I obtained from the Sisters."
The ACES Program, founded in 2001, is designed for and inspired by immigrant and international students with exceptional academic abilities. The program has grown to hold 113 students from over 30 countries. Though they hail from all over the globe, ACES students share in the fact that English is not their first (or sometimes second) language.
"The strength of the ACES program is a testament to the charism of the sisters and the mission of St. Joseph's College," said ACES Director Catherine Meehan. "We are so grateful that our students had the opportunity to work closely with Brooklyn librarians in researching the rich history of our College."
On Nov. 7, the students and Sisters reunited in Tuohy Hall for a special panel discussion to reflect on the impact of the project.
The program was moderated by SJC SGA President (and ACES senior) Juanita Arias. Other students on the panel included Yesseny Fernandez, Susan Reyes-Hernandez, Amarfi Collado, Dara Desrosiers and Pamela Castillo.
Click on the video below for OnCampus' video recap of the event.