At 12 years old, Elizabeth Diaz knew that she wanted to be a doctor when she grew up.
Twelve years later, the Nicaraguan woman made her dream a reality — in part due to former St. Joseph's President S. Elizabeth Hill '64, CSJ, J.D., who helped sponsor Diaz's education.
"An infinite thank you to S. Elizabeth for giving me her support during all these years," said Diaz, 24, of León. "She was a blessing in my life, allowing me to know a new panorama. The level of education she afforded me while I was growing up prompted me to want to be better and set new goals — great goals that today are a reality and that I managed to achieve thanks to her support."
Diaz is just one of hundreds of students who have been sponsored by members of the St. Joseph's community since 2010, affording them a better education and more opportunities for a brighter future.
Connecting with Students in Nicaragua
A partnership between St. Joseph's and the community of Sutiaba, in León, Nicaragua, began taking shape in January 2007, when Thomas Petriano, Ph.D., professor and chair of the Department of Religious Studies, and the former modern languages chair Antoinette Hertel, Ph.D., developed an interdisciplinary course that connected international study with service (one of the University's five pillars). This became known as the Nicaragua Project.
"The program began with the idea of creating an interdisciplinary service-learning course that would allow students an opportunity to travel to Latin America," Dr. Petriano said. "Over the years, the program has proved to be as impactful on the lives of our students as it has been for the people of Sutiaba."
The program worked on smaller projects, such as building and repairing homes, to more sustained commitments, such as providing support for a preschool and children's scholarship program. The program has been on hold since 2018 due to political unrest and then the pandemic, but there are hopes to return in the future.
"Many of our students who took part in the program have described the experience as transformative for them," explained Dr. Petriano. "Several returned two and three times, and a number of students chose their career paths based on their experience in Nicaragua."
Growing a Scholarship in Nicaragua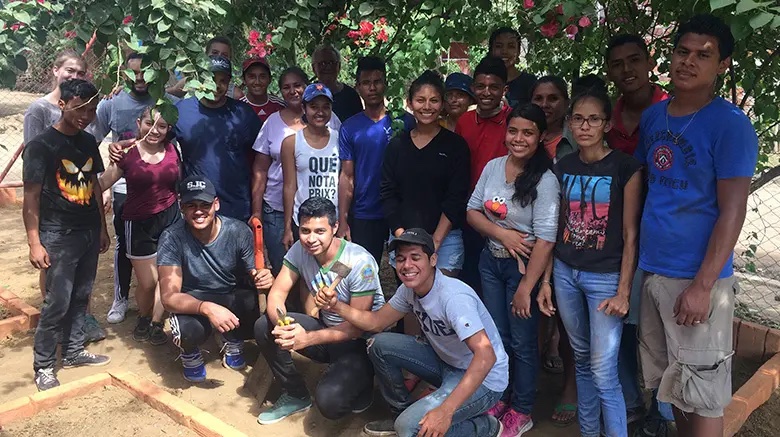 The scholarship program itself began in 2010, when Dr. Petriano invited Tom Travis, Ph.D. — current special assistant to the president and then-vice president for planning and dean of the School of Professional and Graduate Studies — to join them on a trip to Nicaragua.
"One of the activities on that trip was to take the kids to the movies — a big treat for them," Dr. Travis said. "We were all assigned a child to monitor, and I met this young girl named Miurett. Later, I met her mother and saw where she lived. I was taken back by a humble domicile with mud floors and no indoor plumbing.
"I wanted to do something to help the child, and decided the best way to do that was by paying her tuition to a private school, the Colegio Santa Lucia (a Catholic primary/secondary school)," he continued. "When I returned to St. Joseph's, I told some folks about what I was doing, and they wanted to sponsor a child as well."
Faculty, staff, students and student clubs, alumni, and members of the Board of Trustees have since joined in on sponsoring students.
"We have sponsored scores of students at the Colegio," Dr. Travis said. "And as the students graduated, we worked with Hope for the Children Foundation, Inc., to support their attendance at universities in León, Nicaragua. At the current time, we are sponsoring 20 students at Santa Lucia and 40 at University."
Those who would like more information about the sponsorship programs can direct questions to Tom Travis at ttravis@sjny.edu.
"The students' and their parents' appreciation is probably my biggest reward," Dr. Travis said. "That, and to see the children progressing in their education from youngsters to young adults graduating from University."
Becoming a Doctor with Support from St. Joseph's University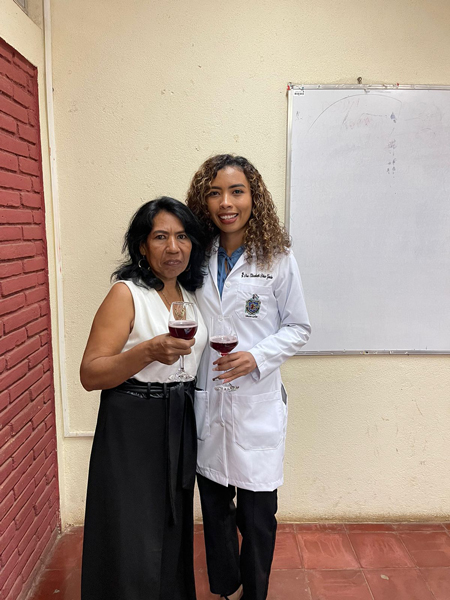 Diaz felt drawn to the medical field from a young age, but growing up in Nicaragua, her family couldn't afford to provide her with a higher level of education.
"The vocation of service is what led me to choose this career," said Diaz, who now works as a general physician after graduating from medical school in Nicaragua in December. "Since I was a child, helping others has been important to me, even if the action is minimal. I believe that everyone has a calling, and mine was to be a doctor."
S. Elizabeth is honored to have been a part of Diaz's journey to becoming a doctor.
"I am delighted that she has worked so hard and has reached the goal she set for herself many years ago," S. Elizabeth shared. "I wish her great success in her career and life."
Diaz expressed her extreme gratitude for the support she received from S. Elizabeth, and to the sponsors from the St. Joseph's community who are helping make children's dreams become a reality.
"From the moment I began to receive support, my whole perspective changed," she said. "New opportunities opened up to help me be able to achieve my proposed objectives, and to be where I am today is thanks to a collective effort. It is something incredible. There are no words to describe the gratitude. Thank you all for opening doors and giving these kids a light of hope, just like you did for me."
To S. Elizabeth directly, Diaz says: "My mom and I will be forever grateful to you. I hope in some way to repay what you have done for me. I thank God for putting in your heart and that of the other sponsors the desire to support students in Nicaragua. It is a blessing, since whoever receives it has the opportunity to discover new horizons and set new goals. Thanks for believing in me."