Olivia Martinez began her sophomore year interning at Walt Disney World in Florida.
Two years later, the SJC Long Island Hospitality and Tourism Management major is set to finish out her senior year there.
"I was so worried that continuing to stay at Disney and work my dream job would affect my academic school year," said Martinez, who has worked full time in Disney's entertainment department since January 2020, while taking SJC classes online.
"Once I found out that St. Joseph's would generously help me live my dreams, I was so grateful and excited," continued Martinez, who has a concentration in tourism and expects to graduate this spring. "I realized that I would not have to choose between getting my degree or working for Disney."
And to think it all started with a five-month paid internship through the Disney College Program.
Excelling Through Experience
Martinez first learned about the Disney College Program when she was just 12 years old.
"I went on vacation to Disney, and I made friends with many of the cast members there who told me they were living their dreams at Disney," Martinez, 21, said. "I asked how that was possible, and they told me about the Disney College Program."
That's when she decided she would one day participate in the program. Seven years later, during the summer before her sophomore year at St. Joseph's College, the West Islip native got accepted.
"My internship started inside Cinderella's castle, where I worked as a seater," she said. "I also had the pleasure of working at the Beast's castle."
Martinez's responsibilities included checking people in, entertaining children, explaining facts about Cinderella's castle and the princesses who visited during dinner, giving tours of the castle, making reservations (which booked out nine months in advance), directing guests on quickest exits before fireworks started, and abov all: maintaining the magic.
Aside from earning six college credits for the internship — three in a business elective course and three for either BUS 362 or HTM 462 — the experience is also paid, which covers the cost of housing.
"This experience has helped me grow immensely as a person because it taught me that I am capable of anything I set my mind to," Martinez said. "I met people from all over the world that will be my friends for life. I learned how to live on my own for the first time, while also living in the most magical place on earth. I showed myself just how capable I am of being independent and creating happiness for others who come to Disney."
Ready for Her Future
In addition to growing in her independence, Martinez's experience in Disney has helped prepare her for her future career.
"Professionally, this internship instilled a work ethic in me that I don't think any other company could ever come close to," she said. "I became the nicest version of myself, and the most helpful person that I could be to those around me. I learned that the real magic of any company is the people that work for them, that made me feel a strong passion for my work and to always do my best with whatever job I have."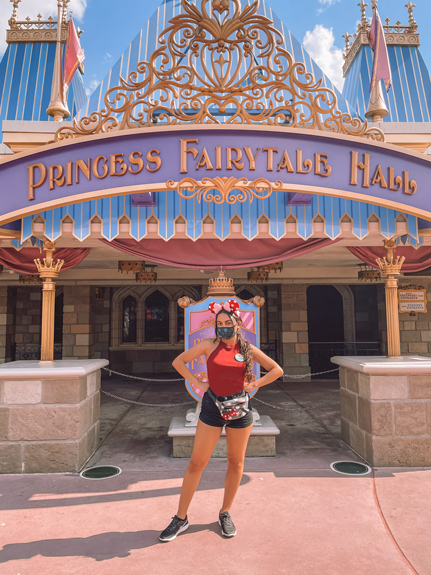 But her favorite part of the experience, she said, is the diversity she came to witness.
"I got to learn about so many different ways of life, and so many different people," Martinez said. "I did not know just how different the world was … I learned so much from my friends from the other side of the country, and from my friends that live in places like South Korea, Australia and Ireland."
When it comes to recommending this program to others, Martinez has nothing but positive things to say.
"Not only does the Disney College Program look magnificent on a résumé, but you also get to have the time of your life," she said. "You get to go to the parks whenever you want for free, and you get cast exclusive previews for rides, movies and any attraction.
"I would recommend the program to anybody who wants to grow as a person, and also set themselves up for a better future when entering the workforce. Disney really puts you 10 steps ahead of everybody else in the workforce," she added.
After graduating, Martinez hopes to travel the world — and continue working at Disney.
"The career that I hope to hold in the future is training all of the Disney character performers," she said. "Disney has many parks in different countries. I would love to visit and work at all those parks one day."