Learners from all over the world choose St. Joseph's University, New York's Brooklyn Campus not only for its award-winning education but for the unique experience of living in New York City's coolest borough.
This year, students from more than 30 countries and U.S. states made up the SJNY contingent on move-in day at the St. George Residence. Formerly an upscale Brooklyn Heights hotel, the space now houses students from several local institutions, including St. Joseph's.
"I feel lucky to be part of this community because it's diverse, vibrant, friendly and creative," said Barbare Sturua '26, a sophomore from Tbilisi, Georgia. 
Sturua commuted from Hell's Kitchen to Clinton Hill as a freshman but has opted to live at the St. George Residence in her second year. 
A Welcoming Community
"I think I made more friends in the first couple of days when I was moving into the dorms than my entire freshman year when I was commuting," said Sturua, a journalism and new media studies major.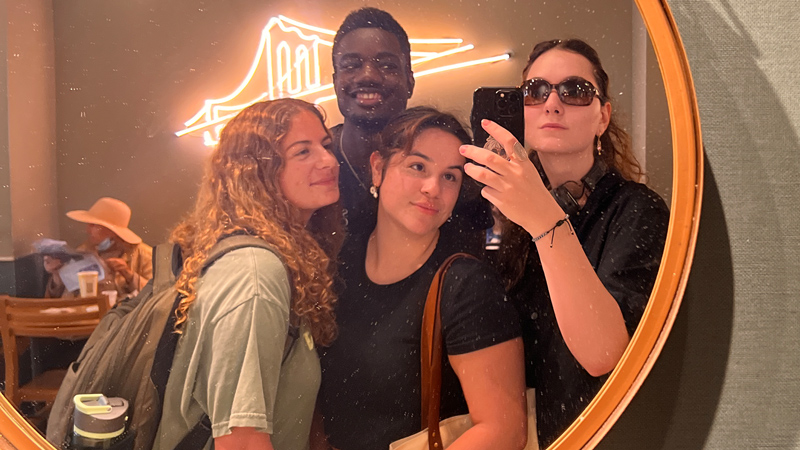 "We all helped each other move furniture, carry suitcases, and get around the building and the neighborhood. The entire move-in experience helped me find precious new friends and created a strong bond between us."
The rhythm of Brooklyn Heights better suits Sturua, who has found solace in her new surroundings. 
"My inner condition has become more harmonious, just like the atmosphere around me," she said. "I found a new creative zone in a friendly and peaceful neighborhood. I am excited to write in my journal on the Brooklyn Heights Promenade, overlooking the Statue of Liberty, Manhattan and the Brooklyn Bridge."
The Right Decision
During the COVID-19 pandemic, Sturua was desperate for something new to happen in her life. She recalls the moment she learned of her acceptance to St. Joseph's and how excited she was to come to study in New York.
"I still can't believe I live here – I think coming to this school was the right decision," Sturua said. "I feel lucky to be part of this community because it's diverse, vibrant, friendly and creative."
Even though her new surroundings excite her, she still seeks old comforts. 
"Another thing that excites me is that a new Georgian restaurant just opened across the residence hall, so I won't even feel homesick," she added.