Jim Crowley celebrated his 25th year as head coach of the Long Island Campus cross country teams with not one but two 2022 Skyline Conference Coach of the Year honors. 
Both the men and women tied for second with Maritime College at the conference championships on Oct. 23, bested only by the U.S. Merchant Marine Academy.
It's now 14 times that Crowley's peers have voted him Coach of the Year, and as modest as he is successful, he credits the student-athletes for his awards.
"They're recognizing the talent on the team," Crowley said. "We come into every year hoping to be top three, so we're happy with both teams." 
But the program's extensive history of success suggests Crowley is perhaps selling himself short. Since establishing the program in 1998, Crowley has guided the women to 14 conference championships and the men to five, all while managing the unique realities of the Long Island Campus.  
Getting the Most Out of a Unique Program
"USMMA is a juggernaut. They're a Division I-style team competing in Division III. They recruit nationally, which can be hard to compete against as a commuter school," Crowley said. 
He doesn't let the challenge of recruiting for a commuter school without dorms stand in his way, though, and knows that if he can get two or three of the top runners from Suffolk County every year, the team can compete for Skyline titles.
"We get wonderful student-athletes. We've had many conference champions, and we've been lucky enough to win both men's and women's titles. It takes hard work, but the better student-athletes we have, the better we'll be in the long run."
Even though USMMA had the edge this year, Crowley's program is not without notable recent achievements. 
The women's team last won the Skyline title in 2021, when Crowley placed eight runners on All-Conference teams. In total, 14 runners earned All-Conference honors at the championship; Crowley's team owned more than half of the selections.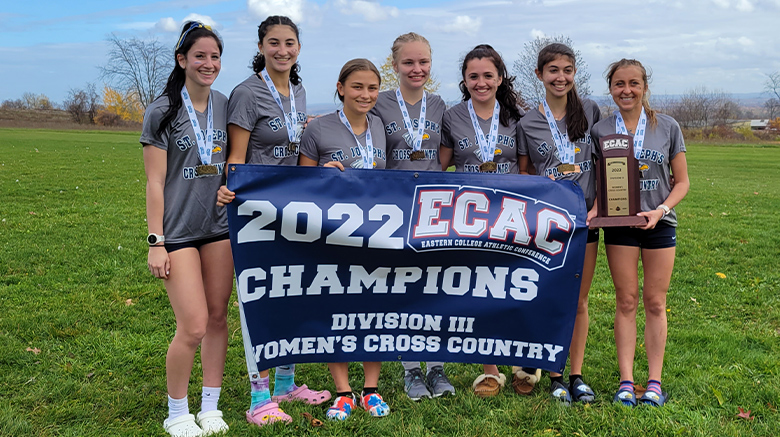 In 2019, the men's and women's teams won Eastern Collegiate Athletic Conference (ECAC) regional championships for the first time. The women have since won the past two seasons and are three-time defending champions. 
At the 2021 NCAA Division III Metro Regionals, Matt Lopez '23 became the first male in program history to earn NCAA All-Region honors when he placed 22nd.  
"Some of the men on our team turned down scholarships at other schools to come here. That's because of what we offer as an academic institution," Crowley said.  "About half of the student-athletes who have won individual championships – and we've had maybe 15 or so – started school some place else."
For Crowley, it's all about playing to your strengths – and putting in the work. 
His athletes run between 30 and 70 miles each week, from May through the end of August when the teams start training together. 
"They have to practice all year round. They can take a little time off, but they've got to get back into the grind, or else they won't be competitive," he said.
Much More Than Just a Team
Not only has Crowley fostered a winning culture as head of the cross country program, but he's also developed one of the University's most tight-knit groups.
"Coach Crowley has a knack for taking a group of individuals and turning them into a close-knit team," said Long Island Campus Director of Athletics Melody Cope. 
"He truly cares about his student-athletes and their well-being on and off the trails," she said. "His successes should not be measured only by the number of championships he has won, but also by the number of student-athletes he has mentored over the years."
As a result, the cross country program has one of the athletic department's most robust alumni communities. Many former student-athletes have returned to serve as assistant coaches after graduation, and before the COVID-19 pandemic, the annual Friends and Alumni Meet served as a homecoming for former student-athletes. 
Crowley's current crop of runners spoke of what he means to the program and how he's advocated for them as a positive mentor.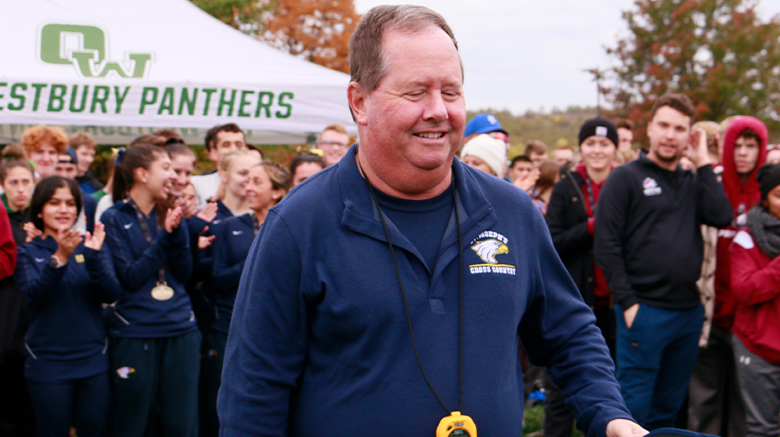 Marissa Degni '24, a 2022 Skyline All-Conference First-Team member, said, "Coach Crowley builds strong bonds by bringing positivity to everyone. He wants us to improve and have a successful season. He listens to us, ensures we are all healthy, and cares for everyone on the team." 
Two-time Skyline First-Team selection and 2021 Skyline Rookie of the Year Gianna Dickson '25 described Crowley as motivating, supportive, and goal-oriented. 
"I love when I can hear him yelling for us in the middle of a race," Dickson said. "I remember him yelling encouragements toward the end of a race once, and most of the team broke personal records that day." 
Patrick Wuss '23, who, as a senior this year, collected his first All-Conference honor, said, "Crowley deserved his Coach of the Year awards for his dedication to the sport and the well-being of his student-athletes. He's always making sure we're strong, healthy and feeling good, both mentally and physically." 
"He was always there to build me up even on the days I didn't feel my best," Emily Venturi '23 added.
"Every year, he takes on new runners and makes the team feel like a family. He's full of passion for the sport, and every runner feels as if he cares for you as a person, not only as a student-athlete."