They called him Mr. St. Joe's.
As a student, Joseph Lewinger, a 2000 graduate of SJC Brooklyn, immersed himself in as many areas of campus life as he could. He was an active participant in the Student Government Association — he sat as the club's vice president and as the orientation chairperson. He was also a member of the Chapel Players Dramatic Group, the Psi Phi Omega fraternity and he played on the men's basketball team.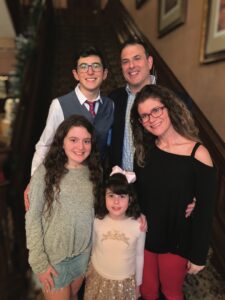 Mr. Lewinger earned the nickname, "Mr. St. Joe's," from the Office of Student Life staff due to his energized personality and unconditional commitment to the College, said Sherrie Van Arnam, former vice president of student life at SJC Brooklyn.
Mr. Lewinger died on March 28 due to complications of the coronavirus. He was 42 years old.
Mr. Lewinger devoted his life to helping others. He worked for The Mary Louis Academy, an all-girls Sisters of St. Joseph accredited high school in Queens, where he was known for his kind demeanor and his way of empowering the young women attending the school. He climbed the ranks at the school, starting as the girls' basketball coach, then athletic director and most recently, assistant principal.
He was also civic-minded, serving five years on the Franklin Square Board of Education. The people closest to him said he'll be remembered for his devotion to help others and his signature smile.
"Joe was the kind of guy who always expressed sincere appreciation to the people who had helped him," Ms. Van Arnam said. "The tributes posted by Joe's SJC friends and the students, faculty, and staff of The Mary Louis Academy were true indications of how much he was loved and respected.
"It was apparent that he had taken his SJC undergraduate leadership experiences to the next level to build an outstanding career as a teacher, coach and mentor, and that he had affected so many lives," she added.
In addition to his wife, Maura '99, and their three children, Madison, Jack and Maeve, Mr. Lewinger is survived by his parents, Joseph and Rosemarie '11, a longtime SJC employee and an administrative assistant in the College's Office of Institutional Advancement, and his sister Denise '02 and her fiancé Michael Neftaly.