When Matthew Lopez was looking for a college to attend, he was interested in three things: affordability, an impressive athletics program, and most of all, staying close to his dad.
"Around May of my senior year of high school, my father was diagnosed with stage four appendix cancer," Lopez, now a junior at SJC Long Island, said. "Being told that he would only have two to three years to live, I wanted to be as close to home as possible, so that I can spend more time with my father while still achieving my career goals."
Located just 15 minutes from the successful high school athlete's home in Ronkonkoma, St. Joseph's College awarded Lopez a full scholarship, checking off all three items on his wish list.
"St. Joseph's was the best school for me," said Lopez, who is studying accounting at the College.
More Than a Hobby
A member of SJC Long Island's cross country team, Lopez began running when he was 10 years old.
"My dad started to take me out on runs with him," Lopez said. "He was a very fit guy before he got ill and would take me on two-mile runs with him up and down Motor Parkway. I can remember wanting to be fit just like my dad."
At Connetquot High School, Lopez was an eight-time All League runner and twice made the All County team. His personal best mile is 4:25. In addition to running track and field and cross country, he was also on the wrestling team.
"My favorite thing about the sport of running is that it teaches you about life," the Golden Eagle said. "I've learned that just like in life, you can have control over your success. The more work and time you dedicate to your discipline, the closer you see yourself come to the goals you set for yourself. Running is a tough sport and it taught me to be tough in life; to not give up when life gets challenging."
This lesson really came into play for Lopez on Monday, Oct. 18, when his father lost his battle to cancer.
The Biggest Hurdle He's Had to Overcome
The worst week of Lopez's life was the week his father passed, he said.
"Watching my dad suffer every day for the past two and a half years was something I had trouble dealing with and was a constant thought in my head, whether I was at work, school, practice, or even just out with my friends," Lopez said. "I am still struggling to come to terms with his passing, but thanks to the support of my friends and family, I am on my way to doing so."
His father, Ricardo Javier Lopez, worked as a mechanic for such airlines as El Al, Pan Am, Tower Air and JetBlue, of which he was one of the founding members in 1998.
"My biggest inspiration in life was my father by a landslide," Lopez said. "I learned how to be the person I am today from him. He worked his butt off. He was an honorable man who took pride in the work he did, working seven days a week doing multiple jobs to make sure food was put on the table and the bills were paid.
"My dad taught me to work hard and give 100% effort in everything I do, to put family first, and to treat people with the same kindness and respect I would want to be treated with," he continued. "My dad loved working out and being fit and is a big reason I have engrained running into my life."
Lopez said he also wants to emulate his dad through service.
"Throughout my dad's life, he helped a lot of people, and I hope that when I graduate college, I can help as many people as he did in his life, and to even be half the man he was would be a feat of its own," he said.
Making SJC History
Less than a month after his father's passing, Lopez made St. Joseph's College history, becoming the Golden Eagles' first All-Region cross country runner at the NCAA Division III Metro Region Championships.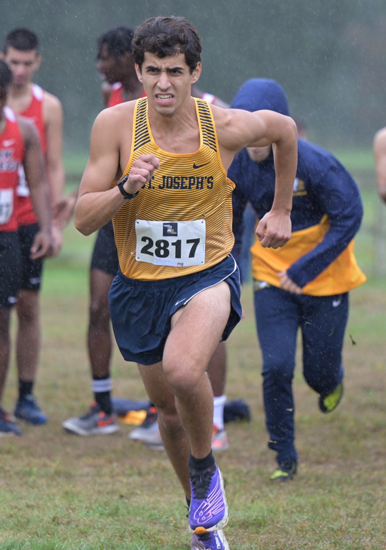 He became the highest-placing Golden Eagle in NCAA Regional history with a 22nd-place finish and an 8K time of 26:26.8 at the Nov. 13 event.
"Two years ago, I placed 148th at the regional meet, so to improve my placement to 22nd and to be named one of the best runners in the region is something truly special," Lopez said.
During the pandemic, Lopez dedicated a lot of time to training for this race. He built up to running an average of 75 miles a week for almost two years in order to get his body in shape for the next season.
"It was amazing to see the hard work pay off," said Lopez, who came just short of qualifying for the national cross country championship. "With another year of training, I look forward to getting another chance at qualifying. And when my time as a Golden Eagle is done, I hope I will have paved the way for others to seek even greater success than I have."
He shared that his favorite part of his time at the College so far has been in athletics, alongside his teammates.
"I made most of my friends at the College by joining cross country," Lopez said. "The atmosphere created through the running programs is nothing like what I experienced in high school; I'm surrounded by people who genuinely enjoy working hard and reaping the benefits of their work — people who care about each individual success on the team, even if it isn't their own.
"Characteristics I like to exhibit in my schoolwork are what I see in my teammates, and it is what makes us come together as not just teammates but friends who build each other up in the pursuit of our goals," he continued. "I wouldn't trade my experience with my teammates for anything."