The Long Island Campus celebrated its Class of 2023 with a special Toast to the Graduates event, hosted by the Office of Student Involvement, Leadership and Intercultural Engagement in the John A. Danzi Athletic Center.
During the evening's celebrations, students heard from Long Island Campus valedictorian Asma Hosein; SJNY President Donald R. Boomgaarden, Ph.D.; President of the Long Island Alumni Board Melissa Henn Michaud '01; and Long Island Campus Executive Dean Eileen White Jahn, Ph.D., who shared a special toast to the graduates.
"St. Joseph's University has been transformed by your presence," Dr. Boomgaarden said to the graduates. "When you arrived, we were St. Joseph's College. Now, we are St. Joseph's University. You played a role in that; that's no small journey.
"As you go out into the world in coming years, you will be advocates for those who cannot speak for themselves and who do not have the strength to fight for themselves — you will be their voice," he continued. "It's through that transformation of giving of yourself that you live a true life of a St. Joseph's alum."
Valedictory Speech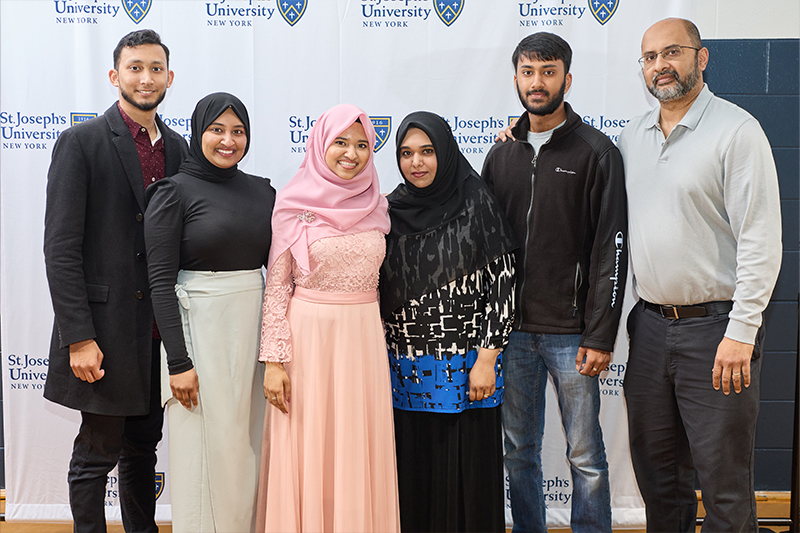 Selected as a recipient of the University's Presidential Scholarship, Hosein's commitment to St. Joseph's five pillars became abundantly clear even before she started attending the University.
"Some may think they have nothing to give, but every one of us is blessed with a special quality, special talent — something that makes us different from everyone else we know," said Hosein, who graduates May 25 with a B.A. in Child Study with a Concentration in Psychology — and a 4.0 GPA.
During her time at St. Joseph's, Hosein has served in many leadership roles, including co-program director for the Campus Activities Board (CAB), co-founder and president of the CEC/Educators Club, president of Kappa Delta Pi International Honor Society in Education, co-founder and treasurer of the Women's Empowerment Club, vice president of the Muslim Student Association, and member of the LEAD program.
"This diversity is what brings us together," continued Hosein, who graduates with departmental honors in child study and as a member of the Kappa Gamma Pi, Delta Epsilon Sigma and Gamma Tau Delta honor societies. "Tolerance for others is an act of service that makes the world a better place. Be proud of who you are. Showcase your strengths and what makes you unique."
Leadership in Action Award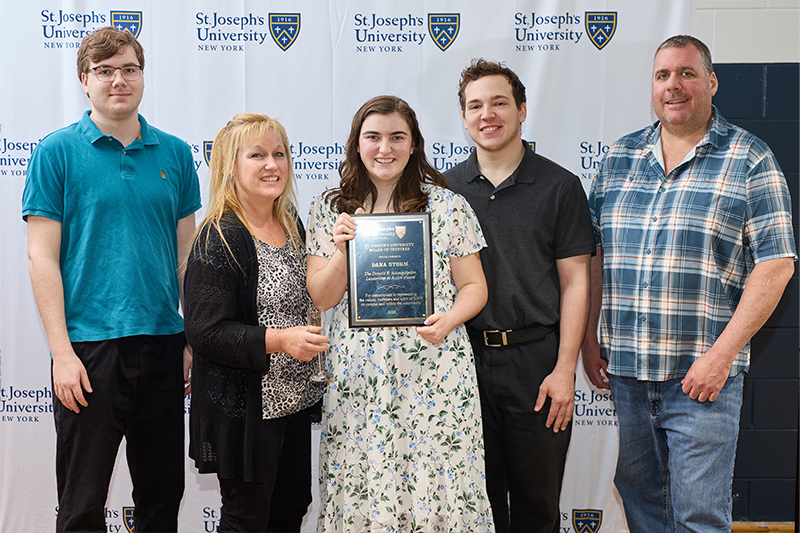 This year's Donald R. Boomgaarden Leadership in Action Award was presented to Long Island Campus recipient Dana Storm by St. Joseph's Chair of the Board of Trustees Christopher Carroll '88, Esq.
"To give this award out is an honor," Carroll said. "This award seeks to recognize a graduating student who demonstrates characteristics of positive leadership. Simply stated, recipients of this award embody the mission and motto of St. Joseph's University, Esse non videri — 'to be, not to seem.'"
Storm, a psychology and human services double major with a 4.0 GPA, has demonstrated leadership through her involvement as co-program director of CAB, Orientation Team Leader, member of the LEAD program and a Peer Health Educator. She's also received numerous awards and scholarships, and she's a member of the Kappa Gamma Pi, Delta Epsilon Sigma and Gamma Tau Delta honor societies
"Thank you to the board, the president and everyone behind this great event," said Storm, who graduates with departmental honors in both psychology and human services. "It's been an honor to attend and get to know each and every one of you, and it's an honor to graduate from St. Joseph's."
Snapshots from the Toast to the Graduates