An expert in college student access services delivered a presentation this week at SJC Long Island on neurodiversity, or the natural differences in brain function and behavior in people.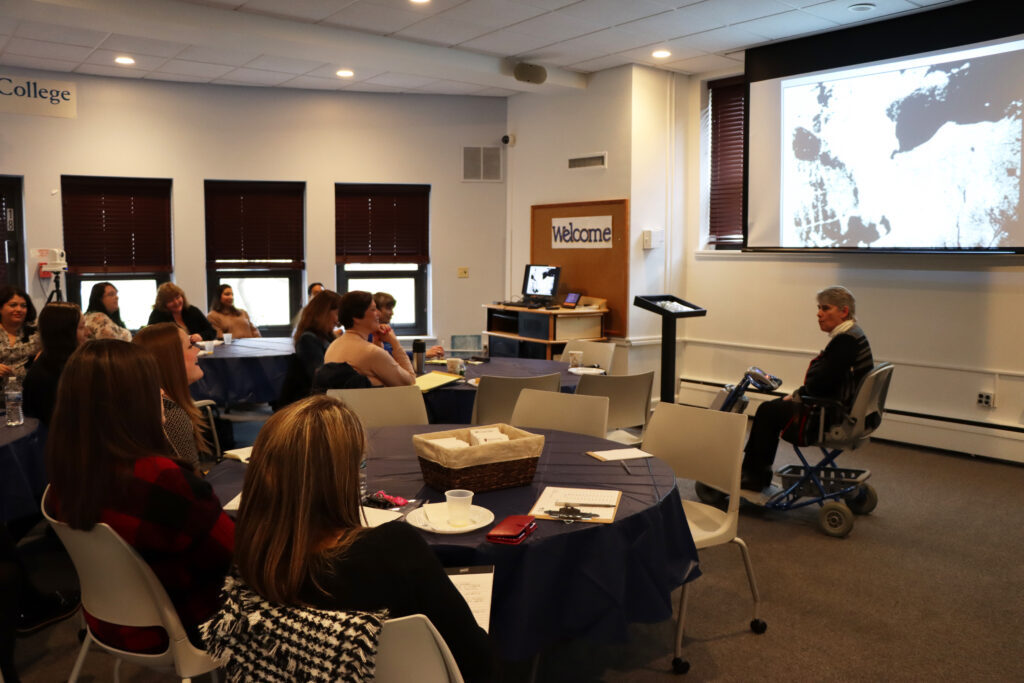 The event, hosted by the Office of Career Preparation and Professional Development, offered the audience tips and strategies for employing the principles of Universal Design for Learning (UDL) in order to create a welcoming environment and equal playing field for the growing population of neurodiverse college students, or students with attention-deficit/hyperactivity disorder (ADHD), learning disabilities or autism spectrum disorder (ASD).
"Whenever people ask me why I do what I do for a living, I tell them that 70% of people like me in this country don't have a job," said the presenter, Julie Yindra, student access services director at Hofstra University.
"And that is unacceptable to me," added Yindra, who was born with spina bifida and a non-verbal learning disorder.
She explained that 15% of people in the United States who have a disability and didn't complete high school have jobs, but the number rises to 45% if they hold a bachelor's degree or higher. Therefore, helping these students succeed in the classroom triples their chances of employment once they graduate.
"With just a few changes in the way that we look at and do things, and the way that we help students, we can change a lot of lives in a very dramatic way," said Yindra, who's been working in the field of special education and disability services in higher education for nearly 30 years.
Making a Difference
Part of understanding how to help neurodiverse students is by realizing that disability is a socially constructed concept.
"I have a disability because the environment and the people in my society view me as such," Yindra said. "What if I had been born into a society where stairs had never been invented and all buildings were single level, and everyone got from point A to point B on those moving sidewalks like they have in big airports?
"I would not be considered a person with a disability, because I would not be inherently disadvantaged over everybody else," she continued. "That is the framework from which I like to approach my work, and my work with students in particular. Not from this model of 'something is wrong with him that we have to fix to make him more like the rest of us.'"
The idea behind Universal Design for Learning (UDL) is to create things (buildings, lessons, curriculum) that are usable and accessible to as wide an audience as possible.
"When we create the curriculum, lesson, assessment and activities, let's design those things to be more inclusive for a wider range of students to begin with," Yindra told the faculty at Monday's event. "The concept of UDL encourages us when we are planning our classes to make the assumption that it's possible that a student who is blind, deaf, in a wheelchair, with a learning disability or whatever is going to come through those doors."
To watch the complete presentation, click here.