Congressman Hakeem Jeffries officially awarded St. Joseph's University, New York $754,000 in community project funds at a press conference Tuesday, May 2, to construct a cybersecurity lab on the Brooklyn Campus.
Rep. Jeffries was joined by Congresswoman Nydia Velázquez in presenting a check to SJNY President Donald R. Boomgaarden, Ph.D., and other University administrators at the event in McEntegart Library.
Funds, which come from Rep. Jeffries, as well as U.S. Senate Majority Leader Chuck Schumer and Sen. Kirsten Gillibrand as part of the federal government's 2023 Omnibus Appropriations Bill, will pay for the renovation of a computing lab and the enhancement of STEM equipment at the Brooklyn Campus.
"It is an honor to be present with Congresswoman Velázquez here today in connection with this funding opportunity that we worked on to provide to St. Joseph's University," Rep. Jeffries said.
"This laboratory here at St. Joseph's will be significant in ensuring that our young people — for the future of our community, our city and our country — have the skills to address the cybersecurity threat."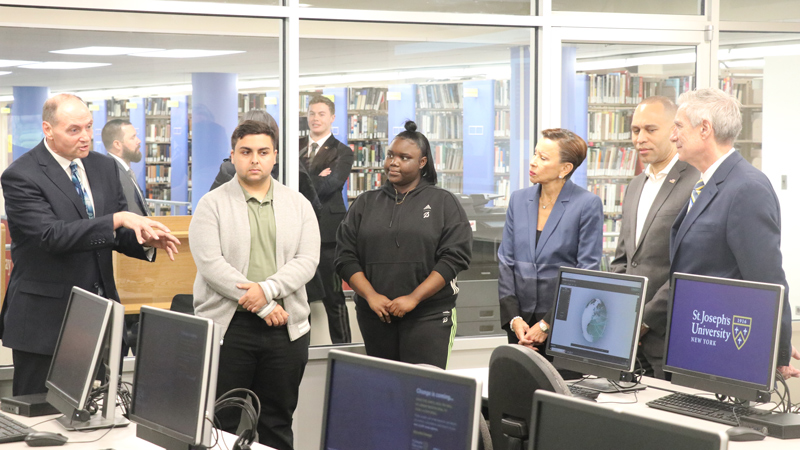 Joseph Pascarella, Ph.D., associate professor of criminal justice, guided the representatives on a lab tour and answered questions about the cybersecurity programs available at St. Joseph's. Two students; Executive Dean Phillip Dehne, Ph.D.; Interim Provost and Vice President for Academic Affairs Heather Barry, Ph.D.; and Dr. Boomgaarden took part in the conversation. 
"We're so grateful to Congressman Jefferies and Congresswoman Velázquez for their support of this project and their work in Washington on behalf of the community," said Dr. Boomgaarden. "We look forward to other opportunities and connections in the future."
Support for the University and the Community
The University applied for the grant, and funding for the project became available through the Omnibus Appropriations Bill passed in December. 
The cybersecurity lab, located on the second floor of the McEntegart Library, will feature workstations on an isolated network, allowing students to engage in demonstrations of real-world threats.
Dr. Pascarella spoke to the representatives about the specialized computer programs that will be available to students thanks to the funding. These resources will help support the growing M.S. in Cyber Security program at St. Joseph's.
Community outreach initiatives will also provide fraud seminars to local senior citizens and cybersecurity camps for high school students in Brooklyn.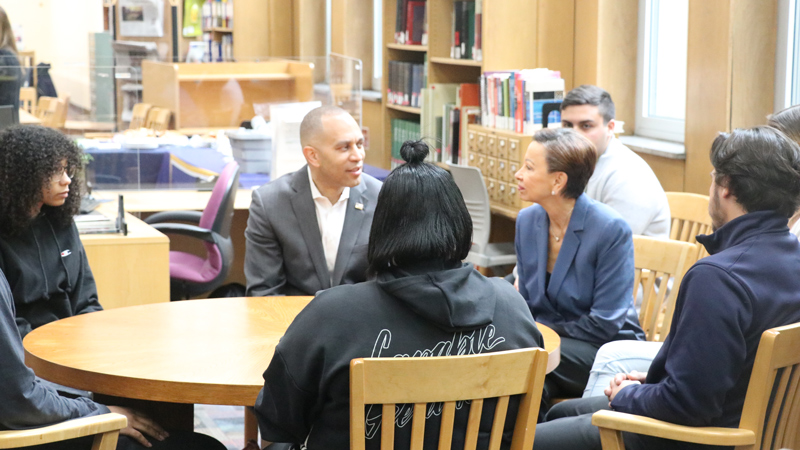 Additionally, the funding will expand STEM programs by securing equipment upgrades for chemistry laboratories. With updated equipment available, students will be better prepared for careers as healthcare workers, researchers and educators.
"Our dedicated faculty have provided our students with a wonderful education for a very long time, and this is going to enhance our ability to continue to do that," Dr. Dehne said.
"We'll also make the Brooklyn community a much better place," he added. "We're very much a community-rooted university."