Crickets and grasshoppers and worms, oh my!
That's just a sampling of the insects people munched on during the April 13 symposium Not So Scary Foods, hosted by SJC Brooklyn's Department of Hospitality and Tourism Management (HTM), Hospitalented and IHTM. Nearly 100 people attended the event, including SJC students, faculty and staff, and students and faculty from local high schools.
During the symposium, panelists discussed the future of food, focusing on the world's most popular sustainable protein source — insects. They also discussed gluten-free, sugar-free, plant-based and other alternative food options.
Panel One: Using the Whole Beast
"We have a responsibility to this world," said Hugue Dufour, head chef and owner of Michelin-starred Queens restaurant M.Wells Steakhouse. "It's become so easy to waste, and since it is, we do. But you have such an opportunity to change that. You're young, and you have time to decide what path you're going to choose."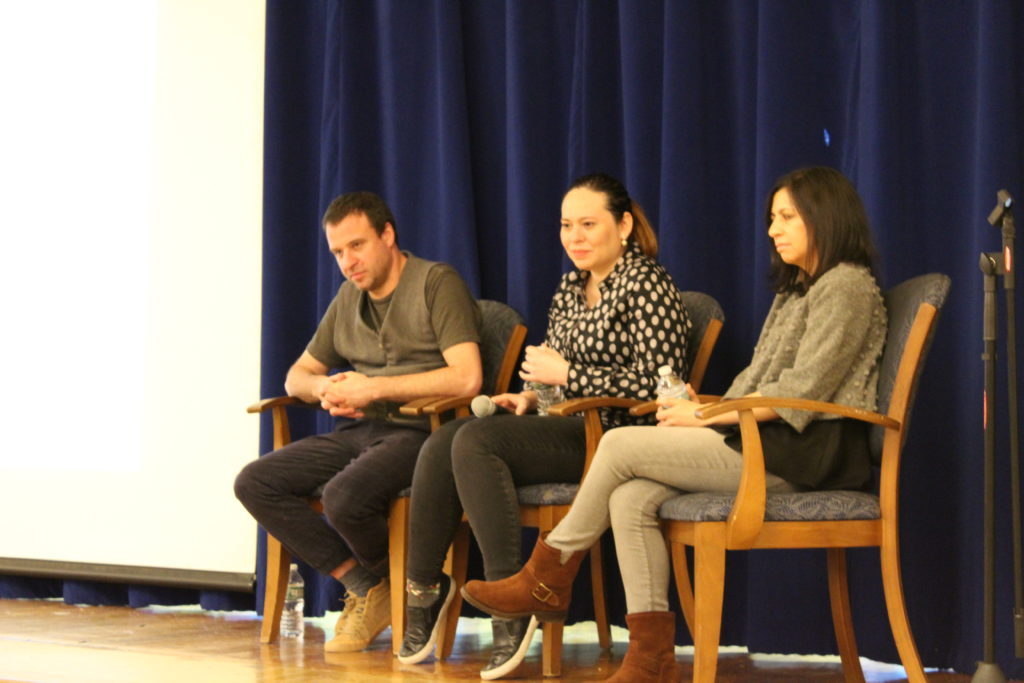 Dufour and his wife Sarah Obraitis, an M.Wells co-owner, work to implement the term "use the whole beast," — a concept that comes from Native Americans, who believed in using every part of the animals they hunted — in order to prevent any waste in their restaurant.
Bertha Jimenez, Ph.D., CEO of RISE Products, and Jessica Aguirre, who works in Rise's marketing department, also "use the whole beast" — but in a much different way.
"Our proprietary process creates zero waste in the beer brewing process by upcycling microbrewers' spent grain into organic, sustainable and highly nutritious flour," Aguirre said. 
Breweries in rural areas sell their used barley to farms to help feed animals. But breweries in the city don't really have that option. Rise buys the barley from Brooklyn breweries, helping eliminate waste. 
"Waste exists because we have not found the right application for it yet," Jimenez said.
Fearsome Feast
After the first panel, students tried a few different kinds of sustainable food sources. Dufour and Obraitis prepared a dish that included snails and chunks of apples, which disappeared almost instantly. Jimenez and Aguirre brought in brownies made out of the flour they make and sell, and students devoured them.
A representative from Merci Mercado, a food ingredients manufacturer that incorporates insects into its products, let students sample chapulines — grasshoppers that have been an important part of the Mexican diet for centuries. The chapulines were coated in various spices, such as chipotle or adobo.
Chef Joseph Yoon, owner of Yummy Eats and Dinner Echo, as well as chef for Brooklyn Bugs — a company that celebrates edible insects and raises awareness through events — offered students two sample dishes. He had shrimp with black ants, and pound cake topped with chocolate mousse and chapulines. 
Robyn Shapiro, owner of Seek — a brand that offers healthy, delicious and protein-packed snacks made with cricket flour — brought along some granola and and snack bites for people to try. Some of the snack bites' flavors included honey and seeds, coconut cashew and banana peanut butter and jelly. 
"It was really nice trying the Seek food bars," SJC freshman Tatyana Simmons, an HTM major, said. "You wouldn't know that there's cricket flour in them. It really tasted like a normal granola bar."  
Louis Sorkin, the entomologist at the American Museum of Natural History since 1978, also set up a table for people to check out — but not to eat! He brought along a tarantula, tobacco hornworms, a millipede and more. Students got to hold these insects, which elicited a mix of fascination and disgust. 
Panel Two: Using Insects in Food
Eighty percent of the world's population already eat insects, either as part of their main courses or as snacks. Yoon, Shapiro and Sorkin are working to increase that number, teaching people why insects are such a good option for protein.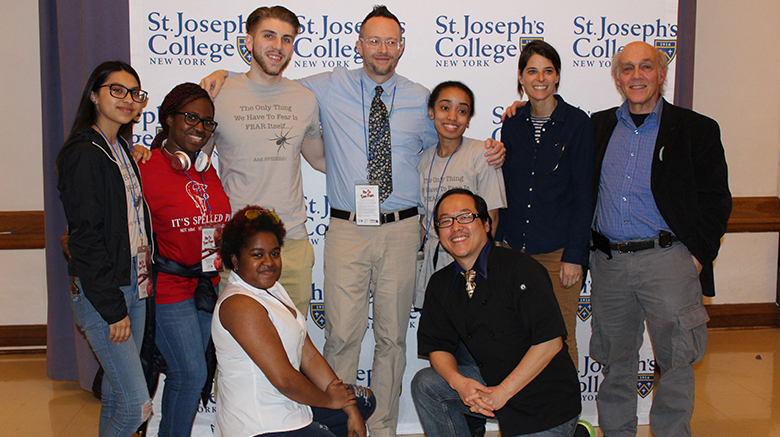 "I think crickets and other insects represent the best way to solve this inevitable crisis we're facing," Shapiro said, referencing the scientific prediction that we'll run out of meat (and other food) by 2050 if we don't change our diet soon. "Crickets are the oldest source of food. Insects are essential for human survival," Shapiro continued. She explained that they do more than just act as another source of protein for us; they also help pollinate our food. 
"The bugs people eat are harvested and farmed for consumption — they're not the ones crawling around your house that you want to kill," Yoon specified, knowing that that's part of the reason so many people won't eat insects. 
Sorkin originally got involved in the topic of insects as a source of food because he noticed people sharing incorrect information about insects, and he wanted to help educate people.
Shapiro and Yoon compared eating bugs to eating sushi. Thirty years ago, Shapiro said, hardly anyone in the United States ate sushi. The idea of eating raw fish simply did not appeal to people here. But now, sushi is very popular. Both Shapiro and Yoon believe the same thing will happen with bugs.
All three panelists expect food made with insects to be available in most grocery stores within a few years.
Feedback
Stephen Eddy, a sophomore majoring in HTM, volunteered at the event, enjoying the opportunity to learn about the topic.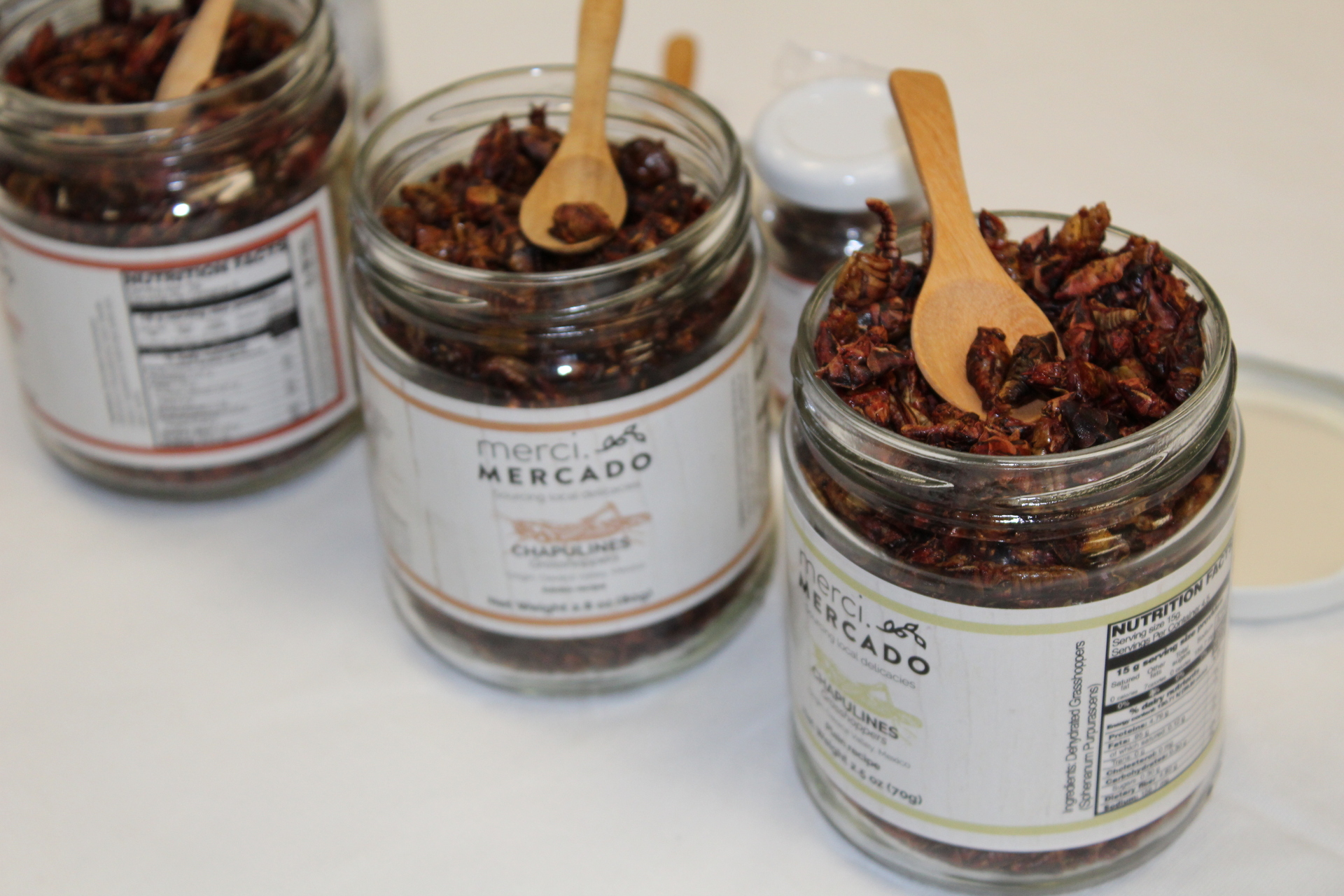 "Each panelist spoke about unique information that gave the audience a great sense of the various ways bugs can be used," he said. 
"I learned that bugs don't taste that bad, and it is exciting to see how you can incorporate them into your diet," Claudia Velis, a freshman HTM major, said. 
Damien Duchamp, associate chair and professor of HTM at SJC, was thrilled with the event's turnout. He was glad to see so many students interested in the topic and outgoing enough to try foods they never considered before. 
"We pride ourselves in providing programming that is a little bit different than the norm," he said. "I'm thankful for our great relationships with New York City high schools, and I hope that the students gained a lot. And I'm really proud of our HTM students for taking on such events. They are the lifeblood of the program."
---
For a closer look at the event, check out the photos below.
Scrawl at your own risk!