St. Joseph's University, New York President Donald R. Boomgaarden, Ph. D., performed music of the great Austrian composer Franz Schubert at the Long Island Campus on Thursday, April 20, and at the Brooklyn Campus on Tuesday, April 25.
"In Schubert's music, often there's a kind of binary quality to it in terms of the use of two completely different ideas or modes of thought," Dr. Boomgaarden, a classically trained pianist, explained during the events. "And that complexity is what makes his music so special and so remarkable."
On Long Island, "Waltzes and Songs from the City of Dreams: Franz Schubert's Vienna" featured two guest soloists, student Gabriel Ross '26 and Anna Malzone, director of the Council for the Arts and a senior lecturer of music. At the president's Brooklyn recital, Veronica Kaninska, an assistant teaching professor of recreation and leisure studies, served as a guest soloist.
President Boomgaarden Discusses the Power of Music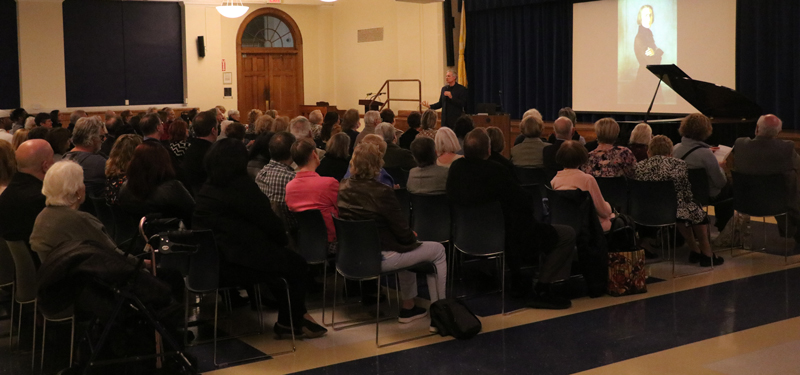 Dr. Boomgaarden performed two famous Impromptus (Op. 142, No. 2 in A-flat and Op. 90, No. 2 in E-flat) by Franz Schubert, as well as Franz Liszt's Soirées de Vienne – a virtuosic transcription of several of Schubert's most beloved waltzes for piano.
"Being able to play this music for you is a real gift for me," Dr. Boomgaarden said during the Long Island recital. "I love to have a chance to express that world here at the University. I've always felt we can all disagree and have all kinds of issues about many things, but there's one thing you really can't argue with, and that's just sheer beauty. The beauty of music can bring everyone together."
Dr. Boomgaarden also discussed the historical context of Schubert's works and musical style, and he spoke about his time in Vienna as a Fulbright scholar and guest professor at the University of Salzburg.
He shared that while in Vienna, he had the chance every Sunday to play the same organ Mozart and his father played at the church where they worked.
"I felt really honored," Dr. Boomgaarden said. "I was channeling them all the time, and so it was a really important part of my life, to be a part of all of that."