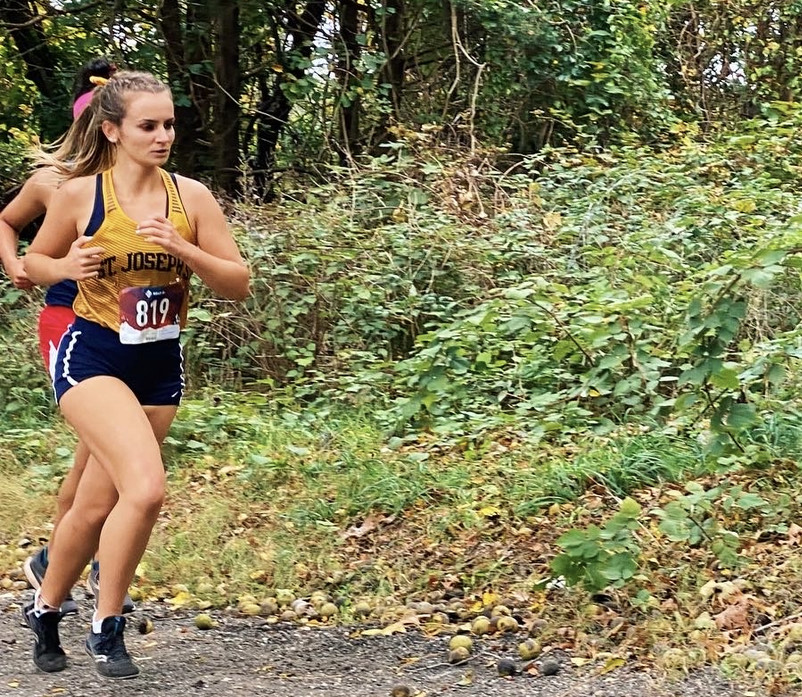 After excelling both academically and athletically at the Long Island Campus of St. Joseph's University, New York, Caleigh Capek feels well prepared for her next journey in life — grad school.
"I sought to fully invest in my education at the College — now University," said Capek, 22, of Wading River. "To me, that was learning far beyond the four walls of the classroom. I attempted to engage in as many academic and extracurricular pursuits that St. Joseph's could render."
And that she did.
Capek, a Golden Eagle student-athlete who participated in the University's running programs, graduates this month with a bachelor's in psychology and dual minors in religious studies and mindfulness and contemplative living.
Throughout her time at St. Joseph's, she's served as captain of the women's cross country team (with all-conference and scholar athlete accolades); member of the women's track and field team; vice president of the International Honor Society of Psychology, Psi Chi; Orientation Team Leader; member of the Student-Athlete Advisory Committee; member of The International English Honor Society, Sigma Tau Delta; member of Theta Alpha Kappa, the National Honor Society of Religious Studies and Theology; and member of St. Joseph's Delta Epsilon Sigma and Kappa Delta Pi honor societies.
Following Her Path at St. Joseph's
Although she originally planned to go away for college, Capek found another path was set for her at St. Joseph's — where her maternal grandmother Anne Marie Davis '76 and aunts Monica Davis (now Dole) '81 and Jonilyn Davis Nelson '87 got their degrees.
"I felt as though (studying away from home) would grant me the opportunity to cultivate new perspectives, meet new people and live independently," Capek said. "When that did not come to fruition, I was rather disappointed. Little did I know at the time, St. Joseph's would afford me something even greater."
In addition to thriving as a scholar and an athlete, Capek found her passion in the classrooms of St. Joseph's.
"I found myself immediately drawn to the concept of mindfulness and the immeasurable benefits that stem from its practice," she said. "Meditation and breath work, in conjunction with my schoolwork, made a world of a difference for me; they served as a catharsis for the stress and anxiety I was facing. Through these experiences, I was taught the significance of acceptance, patience, compassion, kindness and empathy — for not only others, but for myself."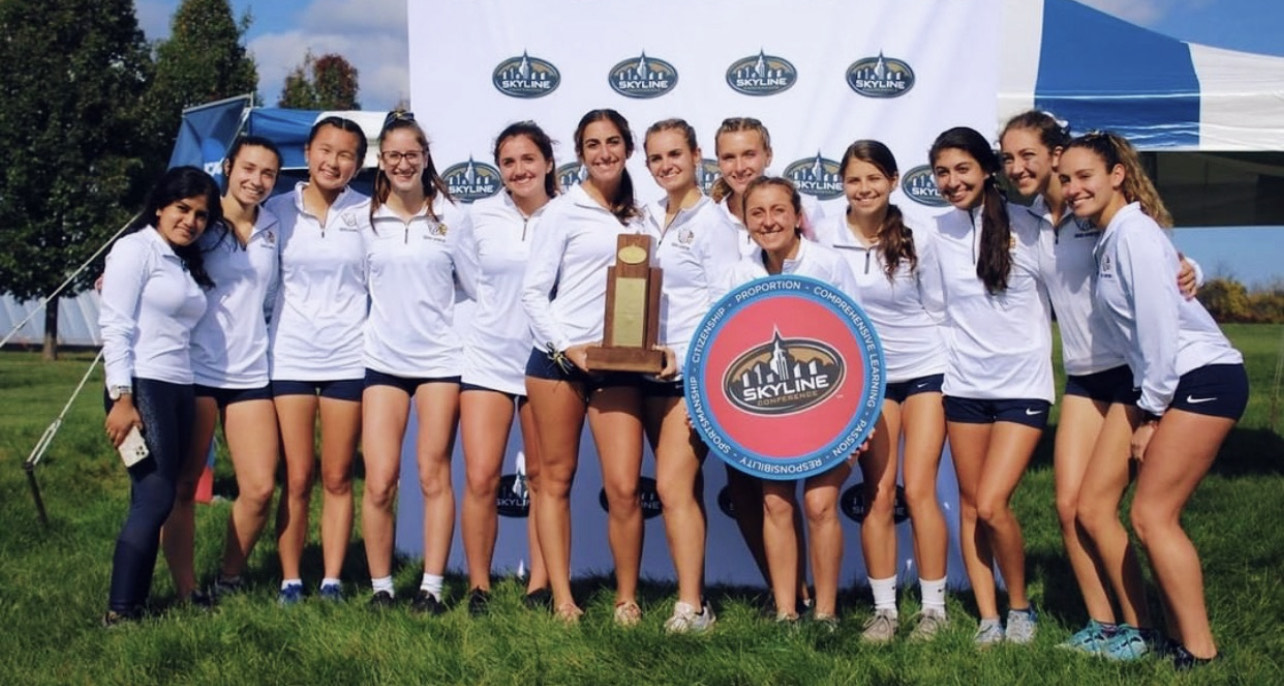 Capek found the same joy in her religious studies classes.
"Earning a minor in religious studies was not only a privilege, but a fulfilling experience that fostered new perspectives," said Capek, who noted that the University's spiritual depth pillar resonates with her most. "During my junior year, I had the fortunate opportunity to take a buddhism course, which not only kindled my interest in mindfulness and wellness practices, but highlighted the merit of service. By helping other people, we in essence help ourselves."
Her draw to service led to a personal project called "Today's HOPE 5K," through which she raised money for the nonprofit Hope for Depression Research Foundation.
Capek, who began running in seventh grade, said her favorite memories from her time at St. Joseph's involve the University's running programs.
"Winning the ECAC championship meet for two consecutive years on cross country, as well as claiming the status as the Skyline Conference Champions in my final season — the first time in program history," said Capek, whose grandfather was one of her biggest supporters before his death in 2016. "It was a very fulfilling way to close out a pivotal chapter in my life. I am so proud of each and every single teammate I've had, and I'm beyond grateful for the unconditional support and encouragement from my coaches."
A Desire to Help Others
Although she originally planned on becoming a teacher when she started at St. Joseph's, Capek sensed a calling to the field of psychology.
"Both of my parents were educators for over thirty years, which definitely inspired that choice of field," Capek explained. "And my grandmother was previously an English educator in the South Country (school) district. I loved the environment of a school, as it would give me free rein to reach as many students as possible. But there was a subconscious part of me that wanted more — I had a vivid urge to help others."
While studying at St. Joseph's, Capek realized the field of psychology would offer her that opportunity.
"It would fortify a platform that could enable me to be proactive as well as an advocate," she said. "I feel as though as a collective, we are improving in terms of accepting the concept of mental health. While we are ameliorating our connection to not only the array of ailments that are evident, but the importance of seeking treatment, there is definitely more that we can do, and I seek to be a part of that movement, that evolution."
Her Next Chapter
After graduating from St. Josephs, Capek plans to pursue a graduate degree in school counseling. But she's looking forward to her summer break, first.
"I hope to continue my soul-seeking journey through travel, writing and learning (this summer)," Capek said. "As someone who is rather co-dependent on the sun, I plan to spend time fully immersed in nature and the environment around me — I find that it's a very grounding resource for me. Overall, I plan to prepare for the next chapter."
In the meantime, she's offering some advice to students who haven't yet finished their undergraduate journeys at St. Joseph's.
"I think the greatest takeaway from my voyage through undergraduate work was to trust — and that is not only placing faith in the process but myself," said Capek, who mentioned that her mom is her biggest inspiration in life. "Everything that we endure is for our highest good, as a way to bolster awareness and spiritual insight. It is a testament to the statement that everything happens for a specific purpose, whether the merit of the lesson is evident instantaneously or in the future.
"Part of this is also acceptance; understanding that things do not always unfold the way we wish to," she continued. "We could find ourselves losing a friend or boyfriend or even changing programs (a more academic circumstance) only to learn that this decision will change our lives forever — in the best way possible. With that being said, it is ok to not know — to let go of control and replace it with trust, patience and promise that it will all work itself out."