Less than one year after graduating from St. Joseph's University, New York, Nazerke Akilova '22 presented at the prestigious Society for the Exploration of Psychotherapy Integration's (SEPI) 39th Annual Conference in Vancouver, British Columbia, Canada this May. 
Akilova, a Brooklyn Campus graduate with a B.A. in Psychology and a minor in mindfulness and contemplative living, presented her senior thesis to peers from around the world. 
Akilova's thesis, "Like Space and Warmth: The Relationship between Mindfulness and Self-Compassion," sought to discover the mindfulness trait that best predicts self-compassion levels.
"It was a great experience to be part of a lineup alongside seasoned researchers in the industry," said Akilova, who was born and raised in Kazakhstan and moved to the United States at 16. "I was honestly nervous, but the audience was very supportive."
The SEPI bills itself as "an international, interdisciplinary organization whose aim is to promote the exploration and development of approaches to psychotherapy that integrate across theoretical orientations, clinical practices and diverse methods of inquiry."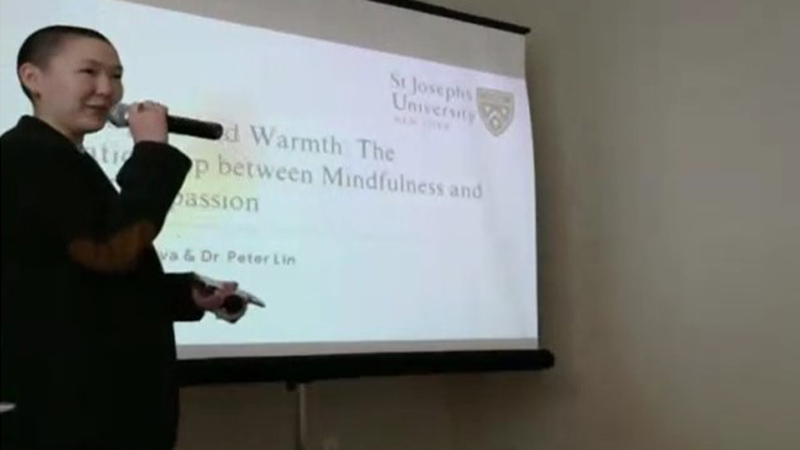 Peter Lin, Ph.D., associate chair, professor and coordinator of the mindfulness and contemplative living minor at SJNY, said SEPI is one of clinical psychology's most prominent societies.
"It is an important achievement for a student to present her study among respected professionals at an important conference," added Lin, who helped guide Akilova in conducting her research. 
A Personal Journey into Mindfulness
Akilova's study sought to investigate relationships between each characteristic of dispositional mindfulness and self-compassion among SJNY students.
"I  found that mindfulness practices that focus on developing a non-judgmental attitude – allowing individuals to label their emotions and providing the space for relaxation and reflection to avoid reactivity – to be most useful in developing compassionate relations towards self," she said.
Akilova was inspired to explore mindfulness during the COVID-19 pandemic, during which she felt isolated from her loved ones in Kazakhstan. Her discoveries helped her build a supportive, loving and non-judgmental relationship with herself.
In addition to presenting at the conference, Akilova used lengthy breaks between sessions to network with fellow researchers from Turkey, China, Canada, Japan and the United Kingdom. The overall experience was enlightening and has given her a clearer vision of her professional future, she said. 
"I plan to pursue drama therapy with mindfulness and meditation practice in a clinical and research setting," she said. "I want to build a sustainable business with a purposeful foundation in the future."