Shinnecock Bay was recently named a "Hope Spot," or a space critical to the heath of the ocean, by Mission Blue, a global nonprofit organization that aims to explore and protect the ocean. It ranks among 147 places as of December, with the growing list including such locations as the Great Barrier Reef and the Galápagos Islands. 
Konstantine Rountos, Ph.D., associate professor of biology and coordinator of the environmental studies minor at St. Joseph's University, served as lead fisheries field scientist from 2012 to 2016 during a restoration project of Shinnecock Bay.
"In our world today, we are constantly being bombarded with bad news when it comes to how we humans impact our environment," said Dr. Rountos, head of the Sustainability Committee at St. Joseph's. "In Shinnecock Bay, however, we see how a science-based restoration approach, along with the galvanized resolve of scientists, community volunteers and supporters, and government officials, can completely switch the script and bring a bay back from the brink."
To date, Shinnecock Bay is the only Hope Spot in New York, as well as the only one near a major city.
Saving Shinnecock Bay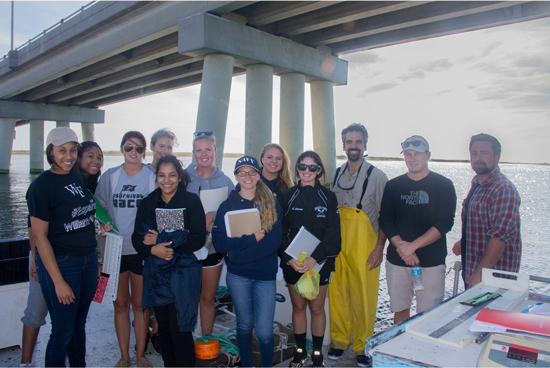 Dr. Rountos led this research component of the Shinnecock Bay Restoration Program (ShiRP) while pursuing a doctorate and completing a postdoctoral appointment in marine and atmospheric sciences at Stony Brook University. Through his role, he designed, organized and executed a fisheries survey for the project, helping to establish a baseline of the diverse abundance of fish and invertebrates in order to better understand how the bay responded to their restoration activities.
"I am extremely proud of all the hard work and effort that I contributed to this project," said Dr. Rountos, who recently was named as co-principal investigator of a three-year, $1 million NOAA grant among collaborators from Stony Brook and Adelphi universities. He will be joined by Kestrel Perez, Ph.D., associate professor of biology at St. Joseph's, as well as students from both campuses, while examining the effects of ocean acidification and harmful algal blooms on marine fish. 
"I am beyond thrilled that this work has made a true difference in our world, but I am more excited about the message this sends to our world: We can actually heal the Earth," continued Dr. Rountos. "This is also an important message that I hope will inspire my students."