SJC Brooklyn students had a busy December embracing the season of giving and the joys of the holiday season.
From toys drives, and making cards for residents at children's hospitals, to creatively decorating doors at the St. George Residence Hall and ice skating and sipping hot chocolate on campus there was no shortage of holiday spirit in the air.
See how SJC Brooklyn students are enjoying the holidays:
'Sharing is Caring'
The Child Study club held a "Sharing is Caring" event, where students made cards and gift bags for the children at St. Jude Children's Research Hospital and Shriners Children's.
View this post on Instagram
Toy Drives
SJC Brooklyn's Pride Club hosted a toy drive benefitting children at Mount Sinai Hospital. Students purchased items from the hospital's Amazon wish list and submitted a confirmation to club leaders to take part in a special holiday raffle.
Meanwhile, Campus Ministry and the Student Government Association held a toy drive with Catholic Charities of Brooklyn and Queens to provide gifts to families displaced by natural disasters.
Cards for Rehab and Nursing Home Residents
SJC Brooklyn's chapter of the National Student Speech Language Hearing Association made cards for 50 rehab home residents and workers at the Susan Smith McKinney Rehabilitation and Nursing Home in Brooklyn.
The sorority Beta Upsilon Delta also got in on the card-making fun and sent holiday cards to the Bushwick Center nursing home in Brooklyn.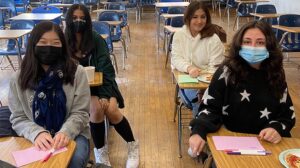 End of the Year Meetings — Holiday Style
Many student clubs and organizations celebrated the holidays during their final meeting of the semester.
The Women's Empowerment Club celebrated by painting, listening to music and getting festive at their holiday party during their last meeting. Paesani rang in the Christmas season with a screening of "It's A Wonderful Life" — and served hot chocolate and Italian panettone — in recognition of the classic movie's 75th anniversary. And Residence Life held a holiday door decorating contest.
Frosty Fest
Students took a break from studying for finals to bundle up, sip hot chocolate and ice skate with friends in the Convent Parking Lot on Vanderbilt Avenue Dec. 9.