St. Joseph's College graduates are well-prepared to live a life rooted in integrity and to empower others to reach their full potential, SJC Long Island's undergraduate commencement speaker Courtney Cowie-Sladky said Wednesday at the campus' graduation ceremony in Nassau Veterans Memorial Coliseum.
"As new and future teachers, nurses, business owners, math professionals, science professionals, artists and everything in between, we embrace integrity," said Cowie-Sladky, 23, a transfer student who earned a bachelor's degree in English with a concentration in adolescence education. "As a graduate from St. Joseph's College, we have been equipped with a quality education that empowers us to shape a world that works for every person now and into the future."
Integrity was the theme of an inspiring and emotional ceremony, where St. Joseph's President Donald R. Boomgaarden, Ph.D., conferred degrees on more than 1,200 graduates.  
In his energizing commencement address, Father Francis Pizzarelli, S.M.M., DCSW, implored the graduates to use their degrees to make the world a better place.
"If we were ever in need to give voice to integrity, it is this moment," said Pizzarelli, a longtime instructor at SJC Long Island who received an honorary Doctorate of Humane Letters. "I feel honored to have had you in class, and honored to have shared time with you these past four years."
Pizzarelli, the founder of Hope House Ministries in Port Jefferson, New York, concluded his speech by playing a recording of the empowering "You Will Be Found" from the Broadway play "Dear Evan Hansen."
Students, faculty, parents and friends smiled, cried, swayed and waved their cell phones — with flashlights lit — above their heads during the song.
Plenty of Fans
More than 5,000 people — including students, faculty, family members and friends — attended the ceremony, which celebrated the College's 100th class. Degrees were distributed to 887 undergraduates and 350 graduates.
St. Joseph's earlier this month held a commencement at its other campus, SJC Brooklyn, where Dr. Boomgaarden conferred degrees on 324 graduates.
Sisters Walking Together
At the ceremony Wednesday, "appreciation" was chief on the mind of Christina Cimino, 28, who earned a degree in speech pathology and graduated alongside her younger sister Jessica, 24.
"Not that many people have the opportunity to go to school. To have the opportunity to go to school is really important," said Christina Cimino of East Northport. "Education is everything."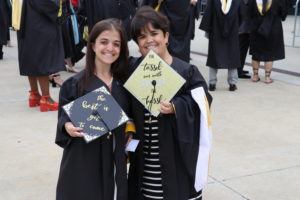 Jessica Cimino, who received a bachelor's degree in recreation, was elated to be graduating on the same day as her older sister. "It's important for my sister and I to walk together. We've done everything together, and now it's like we've finally crossed that line together," she said.
Nursing First
Among the graduates was the first cohort of St. Joseph's students graduating with a four-year B.S. in Nursing.
"I really want to be that voice who helps someone in their time of need," said Danielle Monteverde, 21, a nursing graduate who will work at Mather Hospital in Port Jefferson, New York, splitting time between the telemetry and step down units. Monteverde was joined by her parents and two brothers, along with an aunt, uncle and cousins who flew in from Arizona for her graduation.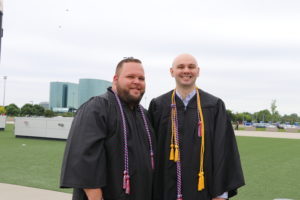 Coast guard veteran Steven Worthington, 30, of Farmingville said receiving his English degree with a concentration in adolescence education was a longtime goal "that's finally accomplished."
"It's great to have that weight off of my back," he said. "And now I'm filled with anticipation and uncertainty for what comes next… Because of the faculty at St. Joseph's, I'm very prepared."
Inspired by Her Brother
Kimberly Allgor, who received a master's in special education, used the top of her graduation cap to proudly share who inspired her to become a special education teacher: "My brother was my missing (image of a puzzle piece)," it read.
"He's my best friend. He has helped me as much as I have helped him," Allgor, 25, of Ronkonkoma, New York, said, explaining that her adopted brother Dylan lives with autism. "My parents adopted my brother when I was 5 — he was the missing piece of my puzzle."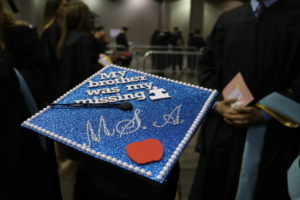 Allgor's mother is also a special education teacher, and her father is a college professor. "I guess teaching is in my blood," she said, smiling widely.
Ready for the Future
Julia Sexton, 22, an Honors Program student from Miller Place, graduates feeling extremely ready for what lies ahead.
"I feel very prepared for my future career. I've made a lot of very good connections, especially through student teaching," said Sexton, who earned a bachelor's in child study and speech. "I've had a lot of good experiences. I studied abroad in Australia for a semester. And I traveled to Iceland with the Honors Program."
Sexton's friend, Kaitlyn Rodriguez, 22, of Kings Park will begin a permanent substitute teaching position in Kings Park schools this fall.
"I'm nervous. But it's exciting nerves," Rodriguez, the SGA president at SJC Long Island during her senior year, said before the ceremony. "We're on our way to start a new chapter of our lives."  
The ceremony included a special tribute to Francis William Antonawich, who was awarded a posthumous bachelor of science degree in nursing "for his outstanding academic accomplishments and generous spirit in serving others, especially those most vulnerable." Antonawich's father Francis, Ph.D., is chair of the biology department at SJC Long Island. Antonawich's brother Daniel graduated with a bachelor's degree in history with a concentration in adolescence education.
Sticking to the event's integrity theme, Sarah Erin Griffiths, the graduate speaker, asked her fellow graduates to imagine the many people they could influence positively by leading by example.
"Who could we help, and where could we invest our time, in order to make a difference in other people's lives?" said Griffiths, 28, who earned an M.A. in Literacy and Cognition and teaches fourth grade at the Harbor Country Day School in St. James, New York. "When we live out our integrity, it aids character building, promotes leadership and makes for dependable and trustworthy individuals. Make the commitment, change the world."
– With Samantha Miller