Students have enough to focus on in class. They shouldn't have to be distracted by hunger.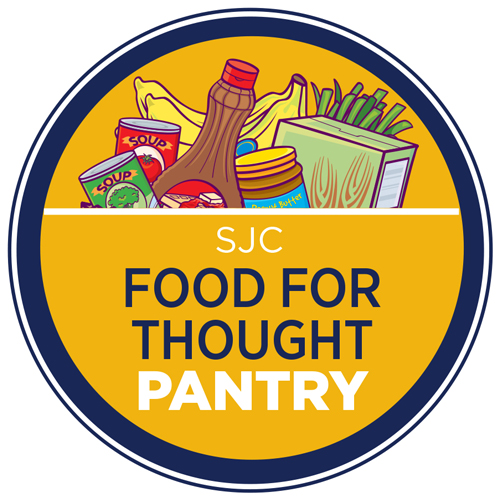 That's why SJC Long Island opened its Food for Thought Pantry in fall 2020, providing members of the College community struggling with food insecurity immediate access to needed items.
"Food insecurity is something that impacts communities all over," said Cristian Murphy, director of Campus Ministry and a member of the Food Insecurity Committee at SJC Long Island. "It's an issue that can surprise us all, and we must take the time to be present to this need. The gift of breaking bread and offering service through a food pantry is something that can make a profound impact, and I am honored to be part of this service."
The Food for Thought Pantry identifies students who are at risk of food insecurity, assists in identifying sources of food assistance, provides food assistance, and creates safe spaces for personal and confidential conversations.
Students are increasingly likely to need a variety of support measures beyond traditional grants, scholarships and financial aid packages to complete their studies. Identifying and providing such assistance represents an investment by the College community in its student body and supports the College's motto, Esse non videri — "To be, not to seem."
"College students face enormous challenges while earning a college degree. Hunger should not be one of them," said Steven Fuchs, Ph.D., professor of history and a member of the Food Insecurity Committee.
Eligibility
Those eligible include currently enrolled students — undergraduate and graduate, full time and part time, regardless of academic performance — who have completed the SJC Food Pantry Application.
Students who are food insecure are encouraged to contact the Food Insecurity Committee at foodforthought.li@sjny.edu.
Donations
Below is a list of the most-needed items. Donations are accepted in O'Connor Hall at the Office of Campus Ministry (Student Hospitality Lounge, Suite 4) or at the Academic Advisement Center (N-302). Damaged, open or expired items will not be accepted for distribution. Please contact foodforthought.li@sjny.edu if you have any questions.
Breakfast
Cereal
Granola
Oatmeal
Pancake mix
Pancake syrup
Shelf-stable milk
Hygienic Items
Deodorant
Toothbrush
Toothpaste
Shampoo
Soap
Feminine hygiene products
Additional Items
Coffee
Tea
Flour
Pepper
Salt
Soy sauce
Gluten-free nonperishable items
Lunch and Dinner
Applesauce
Beans (dried) and black beans
Canned tomatoes
Canned vegetables
Chili
Grains (dried)
Instant potato mix
Mac-n-cheese
Nut butter
Pasta/Spaghetti
Pasta sauce (marina, traditional)
Peanut butter
Quinoa
Ramen noodles
Rice
Soup
Spanish rice
Jam
Taco mix
Taco shells
Tuna fish (canned)
Snacks
Canned fruit
Chips
Crackers
Granola/Protein bars
Nuts
Popcorn
Pretzels
Trail mix