Michael Burke, Ph.D., associate professor and director of the honors program at SJC Brooklyn, was featured last month on C.A.F.E. 229, a public affairs program produced by the Buddhist Tzu Chi Foundation, in conversation with C.A.F.E. 229 host Joanne Chang.
During the interview, Dr. Burke presented strategies he employed during his ethics course to help students engage deeply with different moral concepts, and how to apply them to everyday life, specifically highlighting the use of thought experiments through mapping different scenarios to teach students how to navigate moral dilemmas.
Among the examples he cited during the Jan. 21 talk was the story of Navy SEAL Marcus Luttrell in the movie and book "Last Survivor," where he and his team were presented with the choice of killing local goat herders or releasing them in rural Afghanistan, using the unwinding story to have the students apply moral theory to the situation without arousing their inborn intuitions and biases.
Dr. Burke then went on to pose the "Trolley Problem," featured in the popular television program, "The Good Place." This scenario finds an individual is faced with the decision of either allowing a runaway trolley to run over five people bound to the track or throwing the track switch and diverting the trolley to a different track where only one person would be killed.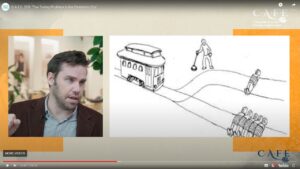 Through these vignettes, he went on to further explore the themes of utilitarianism (the most good for the most people), negative responsibility (i.e. when is an individual morally wrong for their inaction), and where an individual's obligation to others begins.
These concepts were front and center in light of the challenges posed by the ongoing global pandemic, where medical professionals were confronted with their own unique "trolley problem," forced to ration scant supplies, such as ventilators and monoclonal antibodies among the sickest patients they treated.
Check out the full interview below…
With the scope of the pandemic reaching every corner of the world with the most terrible of consequences, Dr. Burke posits that these concepts and exercises are more relevant than ever.
"It's important to expand our moral imagination, consider these moral intuitions and how we reflect on them, how they impact us," Dr. Burke said. "We live in an increasingly connected society, both on an economically fundamental level……through the Internet……we're so interconnected that our actions impact the lives of everyone."