Sometimes, extracurricular involvement at St. Joseph's College leads to so much more than fun activities and memories that will last a lifetime. Sometimes, it even leads to love.
At least that's the case for SJC Sweethearts Andria Onorato '16, M.A. '19 and Christian Falcaro '17, M.A. '19, who met while pursuing undergraduate degrees at SJC Long Island.
"Thanks to SJC Greek Life, Christian and I met each other," said Onorato, who was a member of the Theta Phi Alpha National Women's Fraternity while Falcaro belonged to the Alpha Phi Delta National Fraternity.
"We were both really good friends at first, and our friendship turned into something more," Onorato added.
The Beginning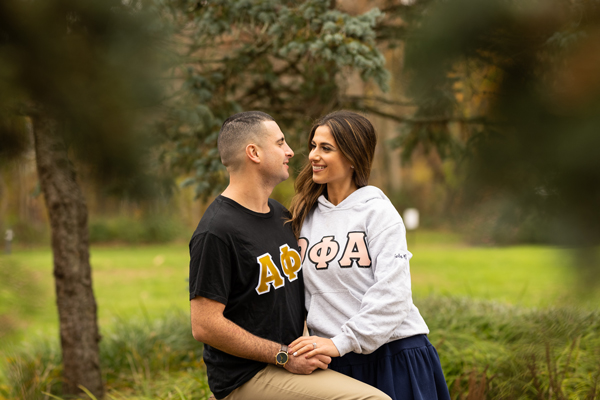 The couple met in October 2014 at a Halloween party, months before going on their first date in April 2015.
"Our first date was at a beach in Sayville," said Onorato, who earned a B.A. in Speech and Child Study before receiving a master's in Infant/Toddler Early Childhood Special Education. "We walked the beach and enjoyed dinner overlooking the Great South Bay."
About a month and a half later, Falcaro, who earned a B.A. in Mathematics with a Concentration in Adolescence Education before pursuing a master's in Mathematics Education, officially asked Onorato to be his girlfriend.
As their relationship grew during their time at the College, they racked up a number of memorable moments together.
"Christian's favorite SJC memory from early on in our relationship was when my sorority held 'Pie a Theta Phi Alpha Gam,' and he pied me in the face," Onorato said. "My favorite SJC memory was when we both got to graduate with our master's degrees together!"
Eventually — on June 28, 2020 — Falcaro popped the big question.
The Proposal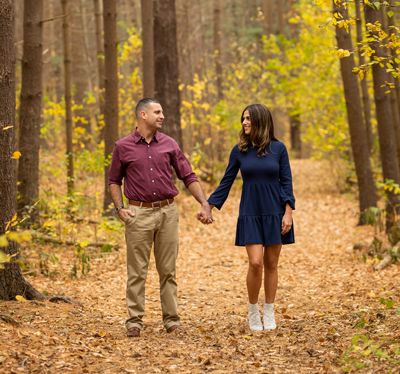 Under an elaborate ruse that they had a luncheon to go to for someone that Falcaro worked with, he brought Onorato to Lands End in Sayville — right next to the beach where they had their first date.
"On the 'invitation,' the luncheon was from 12-4, so we arrived at Lands End at noon, and the gentleman at the counter said we were an hour early but told us we can explore the property," said Onorato, a third grade special education teacher in the Connetquot School District who last November received a "Rising Star" award at the St. Joseph's inaugural Esse Non Videri Gala.
"At this point," Onorato continued, "I was annoyed and told Christian (now a math teacher at Babylon Junior-Senior High School) I was going to go back to the car and put the air conditioning on. Christian insisted that we continue to explore the property, so we did. As we were walking down toward the beach area, I saw a bottle of champagne and two glasses, but had absolutely no thought or idea why that was there. I also saw a woman on a blanket taking pictures, and thought how great of an idea that is."
Little did Onorato realize, the champagne and photographer were there as part of Falcaro's proposal plan.
"I was in absolute shock and awe," she said. "I wish we could relive the day over and over!"
The Perfect Place to Meet
Onorato and Falcaro's wedding is planned for this July.
"We are thrilled to be beginning this next chapter of our lives together, and we are really excited to see what it has in store for us," Onorato said.
But as they look forward to their next chapter, they can't help but look back at their first chapter: meeting at St. Joseph's College.
"SJC is a beautiful place," Onorato said. "Because of its intimate atmosphere, it unites many people that would not have otherwise crossed paths. There is something so special about St. Joseph's College. To us, St. Joseph's has given us the opportunities to work toward the careers we have now, and to meet each other, which is truly priceless."
Their advice to current students at SJC this Valentine's Day? Trust your gut.
"If you think you have found the one in college, trust your gut and live in the moment," Onorato said. "You will hear 'You're still so young' a lot, or 'You have plenty of time, don't rush things.' But trust that fate has a great way of working its magic."