St. Joseph's University, New York welcomed students back to its Brooklyn and Long Island campuses on Wednesday for the first day of the fall 2023 semester. 
Thousands of new and returning learners mingled with classmates at Welcome Back BBQs – Sept. 6 in Brooklyn and Sept. 7 on Long Island – and enjoyed food, music and games. 
The celebrations marked the start of a new chapter in the academic careers of SJNY students – some attending college for the first time, others transitioning into formative junior and senior years.
Excitement for the New School Year
"I'm excited for this year because we are going to be doing our clinicals in the hospital," said Eastport-South Manor High School product Nico Paladino, 20, a junior nursing major who is president of the fraternity Alpha Phi Delta at the Long Island Campus.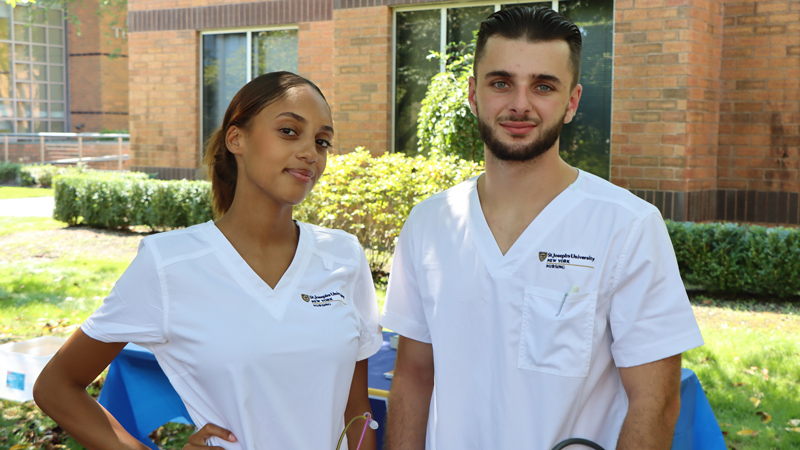 Paladino's friend and classmate Cierra Muñoz, 20, of East Elmhurst, Queens, is president of the sorority Delta Phi Epsilon. She is also happy to be doing clinicals this academic year.
Both nursing students said they're anxious to use the new Student Center on campus.
Sophomore Sofia Monteiro, a criminal justice major and a member of the Brooklyn Campus women's soccer team, is most excited for her political science courses this semester.
"I have family involved in politics, so it will be nice to hear other points of view," she said. A Bedford, New York, resident, Monteiro is set for her second year living at the University's off-campus dorm in St. George Residence. 
Her teammate, Ashley Chimborazo – also a criminal justice major – is a freshman excited for her first semester. She said being a part of a sports team at SJNY has helped her meet new people more easily.
"It's been really fun – the girls are all nice. Everybody gets along with each other, and having teammates from out of state is cool," said Chimborazo, a Queens native from Elmhurst.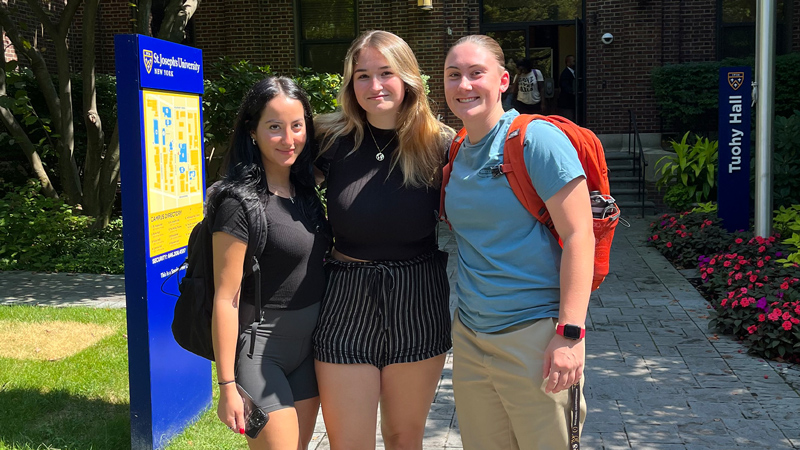 Looking to the Future
Junior Izaak Cajas is studying psychology at the Long Island Campus and aspires to become a neurodoctor or trauma doctor.
"The reason why I am studying psychology is because I have a long list of family members who passed away from different illnesses, including cancer. I wanted to give back to them – and to the community, and see how I can be a positive impact for them," said Cajas, a 2021 graduate of Central Islip High School.
Gabriella Erdmann, a Long Island Campus sophomore majoring in business administration, said she wants to achieve a 4.0 GPA this semester and that she is especially looking forward to diving into her marketing, promotion and advertising class. 
Erdmann's dance team teammate Alexis O'Connell, a child study major starting her sophomore year at the Long Island Campus and an aspiring special education teacher, is looking forward to her child of excellence class.
Samantha, a Brooklyn Campus business major, is excited to be back for her senior year and looks forward to securing an internship. She plans to attend graduate school after graduating in May. 
Check out more pictures from the Welcome Back BBQs below.