It was the summer of 2012 when Kevin Deutsch and Nicole Sabatello (now Deutsch) first met at a Delta Kappa Epsilon event, having been introduced by Kevin's good friend and fraternity brother Chris DeSimone.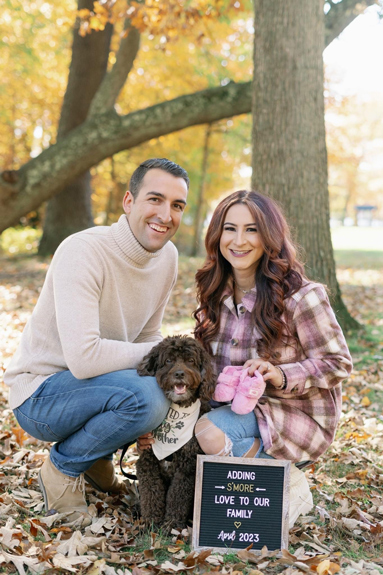 Ten years later — after a first date seeing an awful movie they'd never watch again ("Savages," 2012) — the SJNY Sweethearts are happily married, and have a baby girl on the way.
"We had so many great memories together at St. Joseph's," they said of their experience at the Long Island Campus. "From spending time physically on campus, to fraternity social events, to being president and 'first lady' of Student Government, we truly enjoyed and made the most of our time at the University."
Kevin, who earned a degree in mathematics and computer science in 2014, and Nicole, who earned a B.A. in Spanish with a Concentration in Adolescence Education in 2014 before receiving an M.A. in Literacy and Cognition in 2017, wed on June 30, 2018, with several members of the St. Joseph's community in attendance — including former long-time Student Life administrator Marian Russo and her late husband Ray.
Now a general manager and senior vice president at the healthcare technology company Softheon, Kevin Deutsch also serves on St. Joseph's Student Alumni Association Board and was a guest speaker at an Alumni Conversations event in October. Nicole Deutsch, the owner, licensed esthetician and professional makeup artist of the beauty salon Face Vibes, joined her husband at this year's Esse Non Videri Gala Awards Dinner this year to honor alumni in the field of healthcare.
"We both look forward to continuing to find ways to stay involved in the University, as it has given us so much throughout the years," the Bayport residents said.
---
Valentine's Day Q&A with the SJNY Sweethearts
OnCampus: What was your favorite lunch spot when you were students, and what's your favorite restaurant now?
Kevin and Nicole: Our favorite lunch spot was wherever there was free food on campus. Our favorite restaurant is Tellers in Islip. Such an amazing place to get an excellent steak with phenomenal service.
OC: Do you have any go-to date night ideas?
K&N: We just love spending time together. Our date nights are going to be quite limited in the near future when we welcome our first child to the family in April.
OC: What shows can you not watch without each other?
K&N: We always wait for each other to watch our shows. Although, Nicole isn't upset about missing a sports game on TV every once in a while.
OC: Best vacation you ever went on together?
K&N: Hawaii for our honeymoon. Hawaii is such an amazing place. We spent two weeks doing several fun excursions, like hiking, zip lining, kayaking, attending a luau and simply enjoying our time together as newlyweds.
OC: Any unique shared hobbies?
K&N: We ballroom danced for a few years, but unfortunately haven't had the opportunity to get back into it after taking a hiatus during COVID. For our first dance at our wedding, considering we had a couple of years of ballroom dance experience, we chose to do a Viennese Waltz to "Perfect" by Ed Sheeran.
Although it's much more Kevin's hobby, Nicole has taken a recent interest in golf. We also enjoy our Sunday mornings at our church, St. John's Greek Orthodox Church in Blue Point.
OC: What do you think is the secret to a lasting relationship?
K&N: Communication and being reasonable with each other. We are teammates through and through. It is never me vs. you; it's us. We have followed this for our 10 years together, and it has made all the difference. It's not about agreeing on everything, it is about listening to each other, communicating effectively and supporting each other through anything and everything.