A few weeks before Raymond Morales '12 graduated from St. Joseph's, he met Roseangela Fracchiolla '13 at an end-of-year luncheon event for the Student Leadership Experience program. 
They attended SJNY together for three years but hadn't crossed paths until that day. After hitting it off so well, they went on their first date that evening in late April 2012.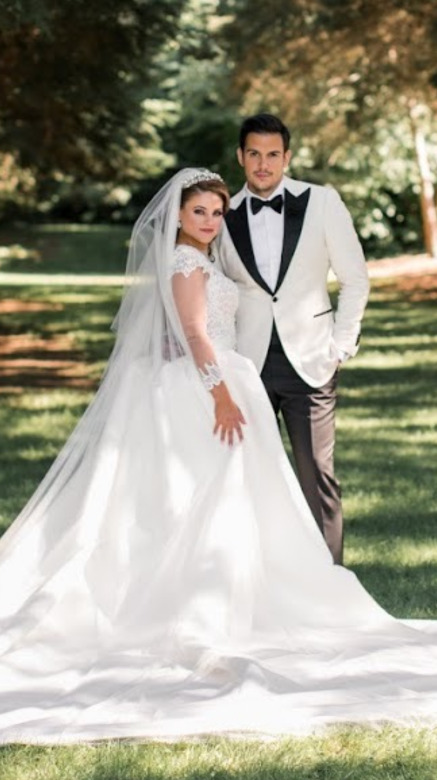 The pair saw a film at a small movie theater in Brooklyn Heights, walked around the neighborhood and then sat by the promenade, getting to know one another.
"It happened so suddenly," the couple said. "We went from practical strangers to exchanging lifelong stories in just one day. It was unforgettable."
In the ensuing weeks, Raymond and Roseangela met around the Brooklyn Campus at spots they had been to many times before, but now they took on new meanings. 
Raymond – today a member of the University's Board of Trustees – graduated with a degree in biology and is a doctor of podiatry, foot and ankle surgery. Roseangela, an English teacher at The Christa McAuliffe School in Dyker Heights, graduated one year after Raymond with a bachelor's in English secondary education.
Six years after their first date, in July 2018, the couple married at the DeSeversky Mansion in Glen Head. They have a 2-year-old son.
Recently, they had an opportunity to return to campus to revisit some of the spots that served as backdrops for their budding relationship in 2012. 
---
Valentine's Day Q&A with the SJNY Sweethearts
OnCampus: Go-to date night ideas?
Raymond and Roseangela: We enjoy exploring different things our city has to offer, whether it's museums, restaurants or, these days, some quiet toddler-free time. 
OC: What shows can you not watch without each other?
R&R: Shows are not our forte these days. With a two-year-old running around, we try to find light-hearted television to relax the mood.
OC: Best vacation you ever went on together?
R&R: We went to the Turks and Caicos a few summers ago and we still talk about it to this day. Absolute paradise. 
OC: Any unique shared hobbies?
R&R: We both love interior design and sharing design ideas with one another. We are always working on a new project! 
OC: What do you think is the secret to a lasting relationship?
R&R: The secret to a lasting relationship is embracing the small moments that sometimes can be the most special and always supporting one another to reach the best version of yourself.