A sea of pink has flowed across St. Joseph's College's two campuses this month as students, faculty and staff work to raise money for breast cancer awareness.
Lauren Quesada, president of SJC Brooklyn's Student Government Association, said the fundraisers this month are a "close cause" because she and many of her peers know someone who has been affected by breast cancer.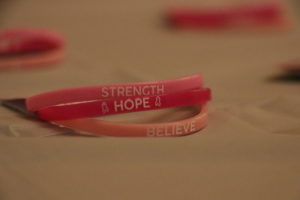 "It's something that really hits home," Quesada said during Tuesday's Fall Festival, one of several SGA-sponsored breast
cancer awareness fundraisers this month. Quesada was manning a table at the front of the Tuohy Hall auditorium, selling pink bracelets for $2, t-shirts for $5 and memorial cards that will hang in the cafeteria for $1 — and the merchandise was moving fast. The fundraiser benefits the American Cancer Society.
"That's why I think the cards are really nice," Quesada  explained. "It shows how many people know someone affected by breast cancer — whether it's a neighbor, friend or family member."
SJC Thinks Pink
The Fall Festival, which also included carnival games, such as a pumpkin ring game and a lime spoon race, is just one example of St. Joseph's students raising money  to beat breast cancer.
Throughout the month of October, nationally recognized as Breast Cancer Awareness Month, students across both campuses put forward their best efforts to fundraise for the cause.
Here's a sampling of some of the ways St. Joseph's College is fighting for a cure:
The SJC Brooklyn women's tennis team donned pink shirts Oct. 2 during their Breast Cancer Awareness game — a

9-0 win over Sarah Lawrence

.

Delta Phi Epsilon held a t-shirt sale Oct. 9, 16 and 18 in SJC Long Island's cafeteria.
The Knock Out Breast Cancer Basketball Tournament was held Oct. 10 – 11 in SJC Brooklyn at the Hill Center.

SJC Brooklyn women's soccer played their Breast Cancer Awareness game Oct. 14 vs. Yeshiva. 

SJC Brooklyn women's volleyball played their Breast Cancer Awareness game Oct. 16 against Centenary College in the Hill Center.
Making Strides Against Cancer
Several St. Joseph's organizations at both campuses participated in the annual Making Strides Breast Cancer Walk-a-
thon at Jones Beach on Oct. 21. SJC Brooklyn carried a pink banner during the walk, provided by the
American Cancer Society, to show off its successful fundraising efforts.
As of Oct. 12, SJC Brooklyn raised nearly $7,000 for the American Cancer Society.
Sean Salomons, a senior on the men's volleyball team, added that he is proud of the fundraising efforts in athletics.
"For the past few years, the Breast Cancer Walk has been one of the most important community events for the St. Joseph's College Athletic department and all of its student-athletes," Salomons said. "Last year, all the teams came together to raise just over $5,000 for the cause. This year, we have already surpassed that number. Our goal is to raise $10,000."