A group of 10 junior and senior nursing students at St. Joseph's College each received a golden ticket that will give them the chance to meet high-level administrators and interact with nurses and other staff at Northwell Health's 2019 Golden Ticket Nursing Showcase.
The showcase will feature more than 25 hospitals and service lines for students to connect with, giving them a golden opportunity to meet experts in their field that can help them in their career pursuits. Students will also participate in an interactive panel discussion with registered nurses from Northwell Health.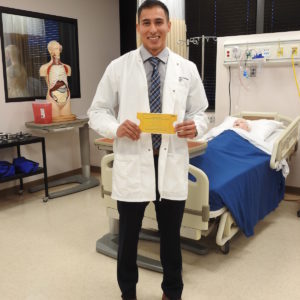 The nursing program selected Bailey Troncoso '19, Mariela Motta-Lopez '19 and Colleen Barone '20 from SJC Brooklyn, and Courtney Campanella '19, Monica Grismer '19, Samantha Mann '19, Kimberly Bellucci '20, Mary Ira Kirsten Gumban '20, Stephanie Surrusco '20, and Christopher Peppe '20 from SJC Long Island.
"When I learned I was getting a Northwell Golden Ticket I felt excited and honored to be selected," Mann said. "Receiving a Golden Ticket provides a great opportunity to explore the nursing field."
Mann said she is drawn to a career that can make a difference in people's lives. She said the connections she makes at the showcase, paired with the training she is receiving inside her St. Joe's nursing classes will make her dream a reality.
"My goal is to be able to connect with my patients and their families and provide them the best possible care," Mann said.  "St. Joseph's College has already provided me with a great foundation for my nursing career, and I am looking forward to completing the program this spring."
Networking at the showcase
Troncoso said she is looking forward to the showcase, where she hopes to make connections that will help her springboard into a successful career when she graduates in May.
"It is an honor to receive the Golden Ticket," Troncoso said. "I hope to meet many wonderful connections and network as much as possible."
Troncoso said witnessing the special care her son received when he had open heart surgery as a newborn inspired her to study nursing at St. Joe's.
"This experience made me want to go back to school for nursing," Troncoso said. "I hope to pay it forward by giving other families that same feeling of compassion and care."
St. Joe's Clinical Placement Coordinator Jamie Papa said this January will be the second time the College sends nursing students to the showcase. The showcase proved to be beneficial to students last year: some St. Joe's students who participated in the showcase later participated in Northwell Health's paid summer nurse externship program.
Campanella added that the sparkling Golden Ticket is proof of the hard work carried out by she and her classmates.
"I couldn't be more grateful to obtain something so valuable," Campanella said. "I am looking forward to attending the Golden Ticket ceremony and representing St.Joseph's College.
"Nursing school is extremely challenging and all of us have worked so hard these past few years," she continued. "I couldn't be happier to have this opportunity."