More than 30 students from different disciplines presented their research Saturday to nearly 100 classmates, family, faculty and staff at SJC Long Island during the eighth annual Student Research Symposium.
"We're so proud of what these students have accomplished," said Teresa Tannazzo, Ph.D., associate professor of psychology and director of undergraduate research, who hosts the event each year. "They've gone above and beyond what's required in the classroom."
Research at St. Joseph's
The day opened with a presentation by Susan Van Scoy, Ph.D., assistant professor of art and recent author of "The Big Duck and Beyond: Eastern Long Island's Duck Farming Industry." Dr. Van Scoy shared what her own research process was like, as well as tips for students' future research endeavors.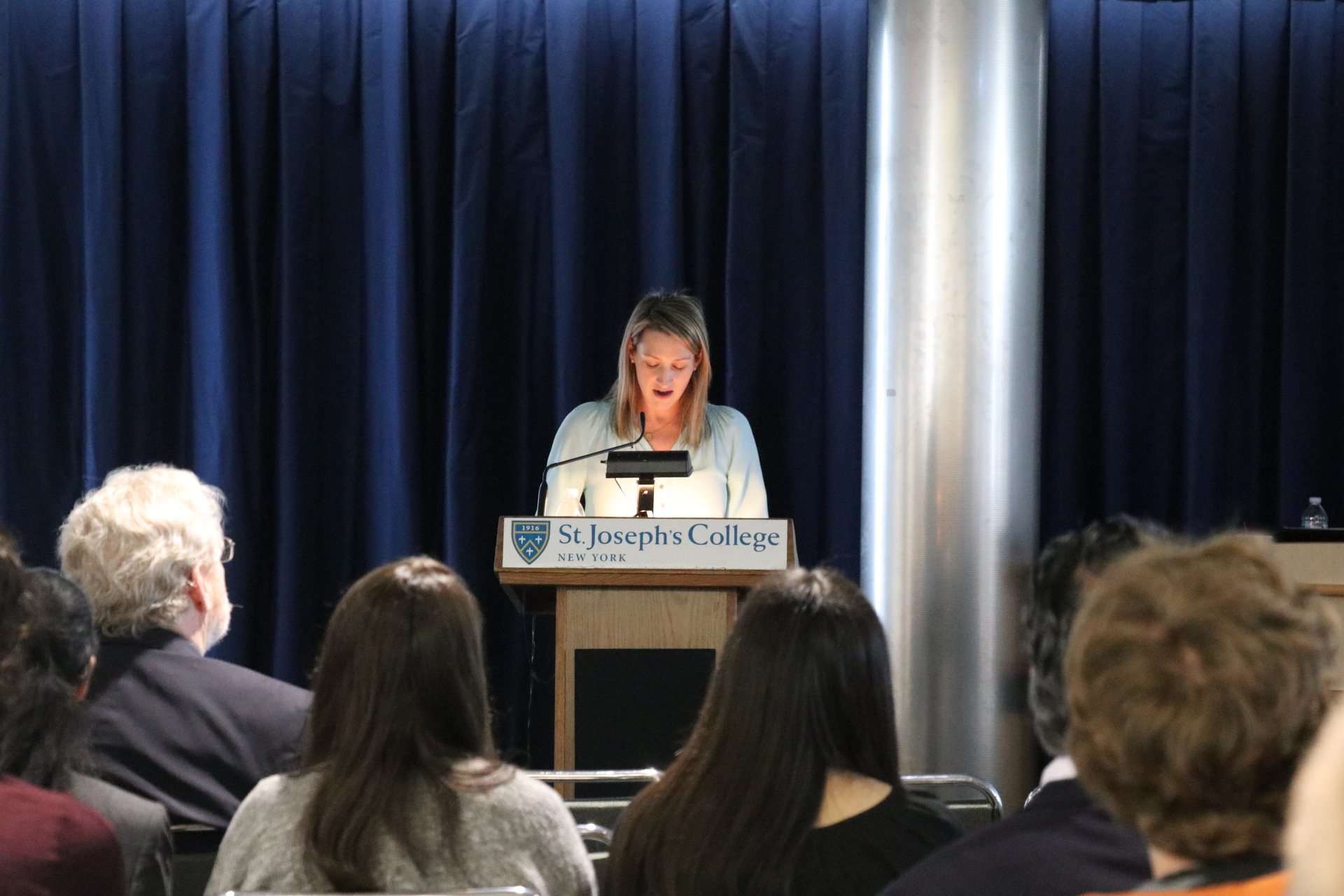 "In this era of fake news, research is important now more than ever," she said. "And research stems from exposure to new ideas and interests. Which is why at St. Joseph's College, students take core curricular classes that are outside of their majors to expose them to varying topics."
After hearing from Dr. Van Scoy, students began their poster and paper presentations in the McGann Conference Center and the surrounding classrooms. Research ranged from such academic disciplines as physical science, psychology, biology, art, sociology, mathematics, computer science, human relations and English.
Comparing Texts
Amber Barney, a graduating English major, presented a selection from her senior thesis titled "A Different Kind of the Same Thing: The Female Experience as Explored in 'Trifles' and 'The Awakening.'"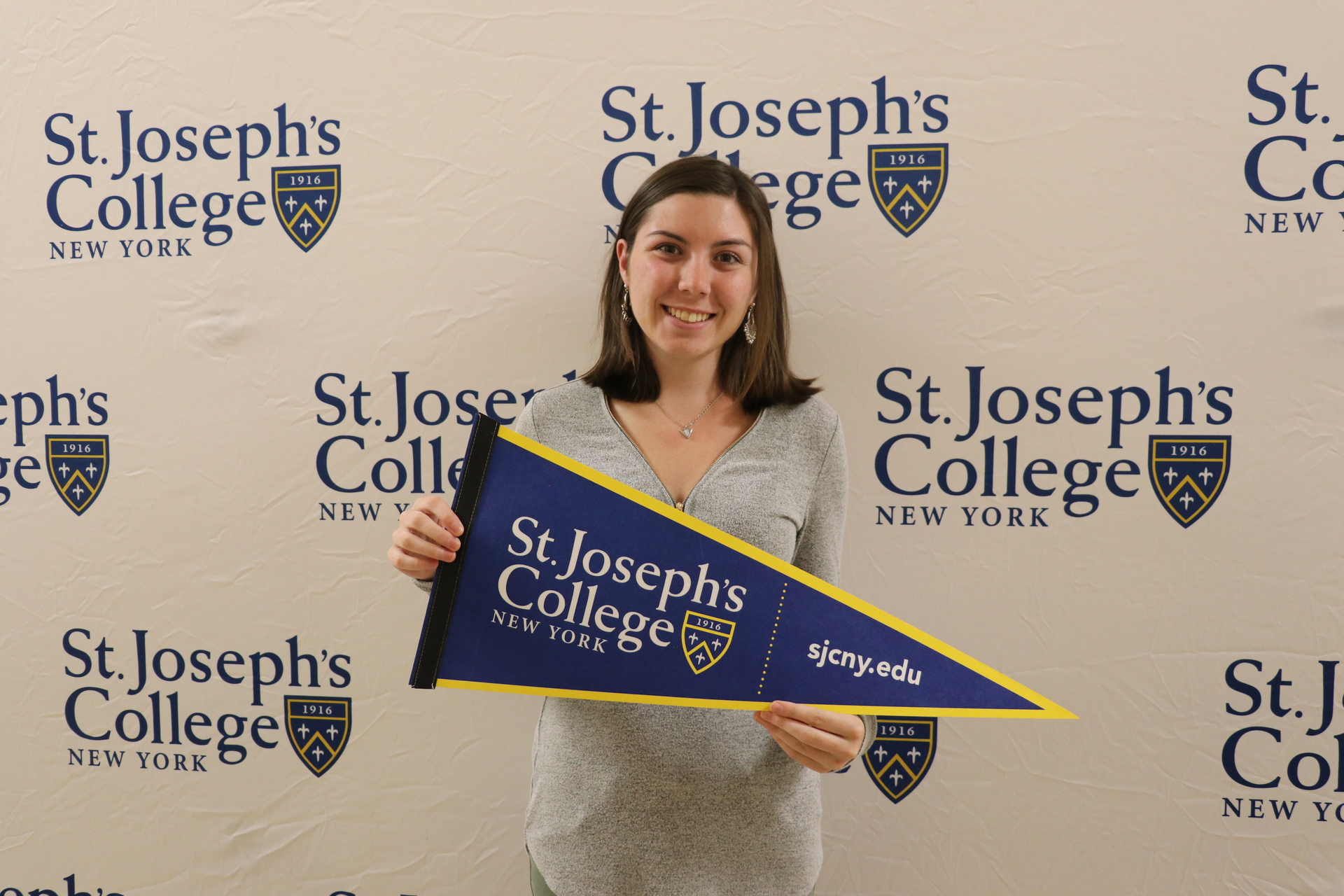 "I analyzed the universality between the primary women of the texts, really showing how — even though there are two starkly different circumstances which these women are living in — their experiences are generally the same," Barney said. "They're suffering at the hands of a patriarchal society, and they're just trying to find ways to exist and combat that."
Barney, who read "The Awakening" as a sophomore and "Trifles" as a junior, and loved both texts, was thankful when one of the options for thesis was a comparison of the two.
"It was a dream come true," said Barney, who plans on pursuing a master's degree in either English or library science after she graduates. "That topic was absolutely for me. It took eight months of research. It was very fun, and I really enjoyed. It's something I still think about, even though I submitted it in December."
Gender Effects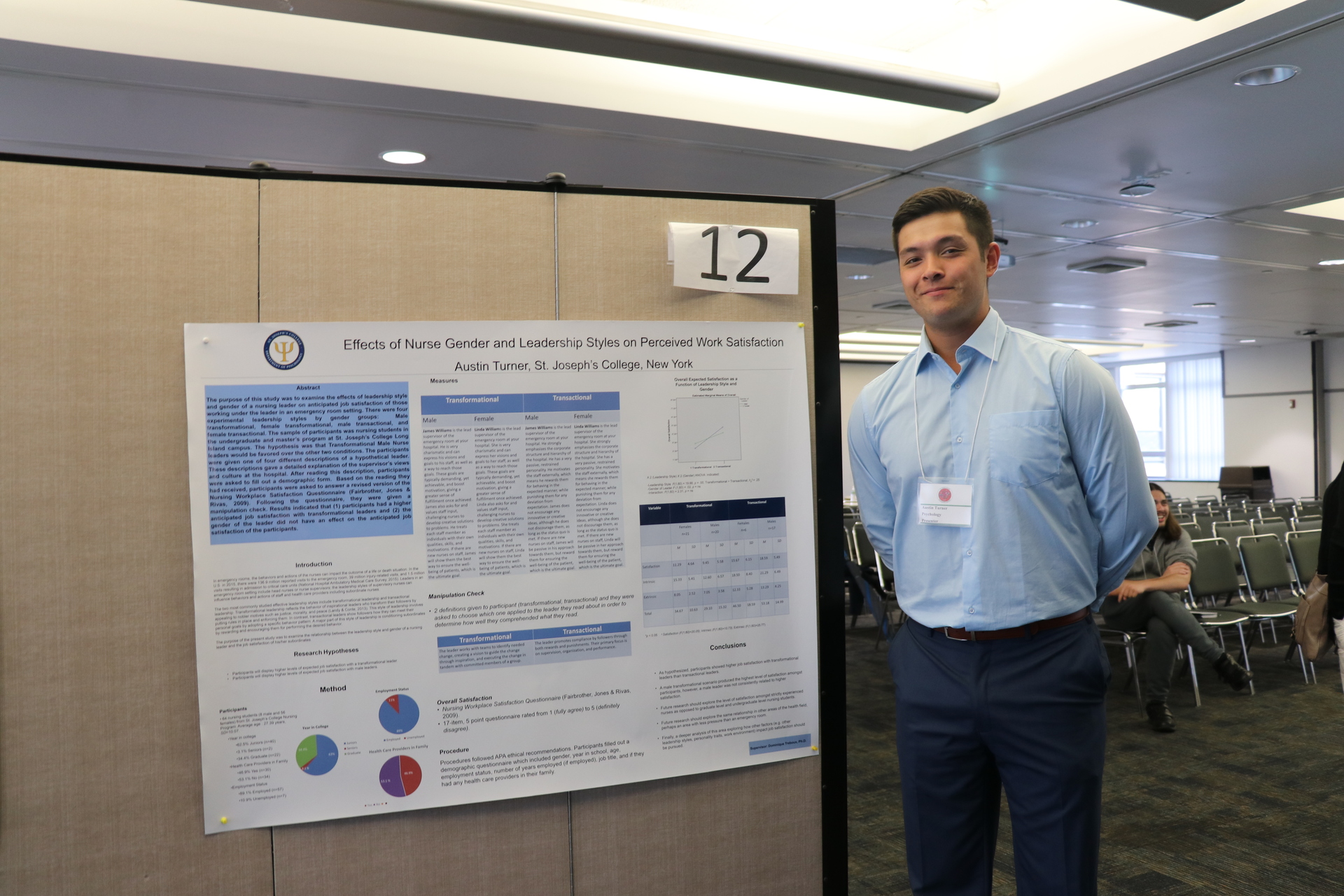 Austin Turner, a senior who majored in industrial-organizational psychology, presented his poster on the "Effects of Gender and Nurse Leadership Styles on Perceived Satisfaction."
"My mom's a nurse, so I thought the nursing field would be interesting," said Turner, who is set to begin pursuing an M.A. in Industrial-Organizational Psychology at Hofstra University this fall. "And industrial-organizational psychology has a lot to do with leadership and the study of the workplace, so I decided to combine the two. I figured before grad school, it would be good to get into the field and do some research."
After receiving his master's, Turner plans on entering the workforce and incorporating this kind of research into career.
Mindfulness and Sleep
Senior psychology major Alicia Fels, who minored in mindfulness and contemplative living, prepared a poster presentation about the "Relationship Between Mindfulness and Sleep Quality on College Students' Concentration on an Attention Task."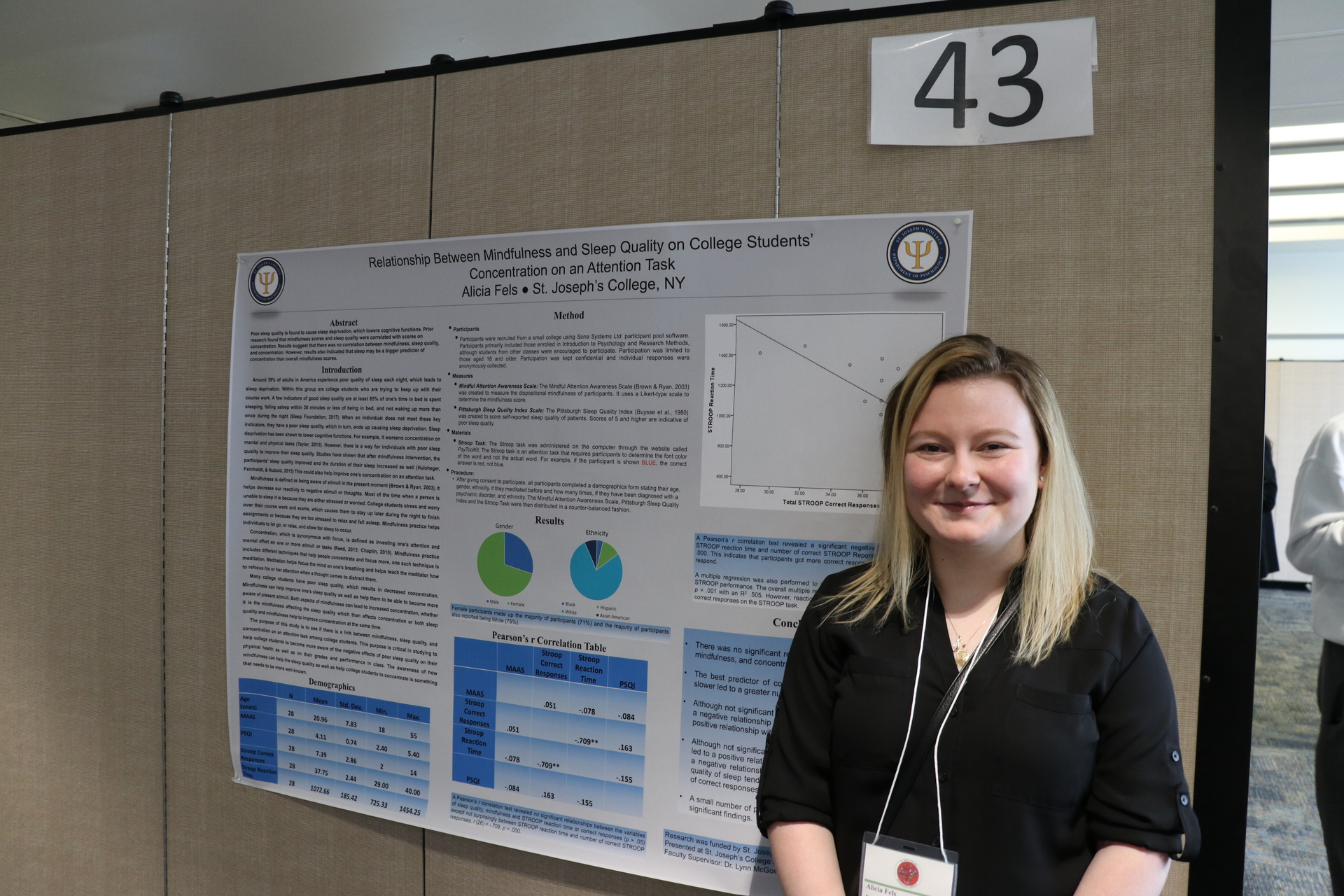 "I tend to be a little more stressed out, so I thought the mindfulness minor would help me," Fels said. "And I'm also not really great at sleeping, so I wanted to combine both mindfulness and sleep quality to find the correlation between them and one's ability to concentrate in class."
While Fels feels like the minor — and especially the yoga class she took through it — has helped her become a little more mindful, she didn't quite find the results she was looking for with her research.
"I didn't find any significance with mindfulness and sleep quality," said Fels, who's attending Seton Hall University in the fall for an M.A. in Experimental Psychology, with plans to later pursue a Ph.D. "It definitely was treading toward what I hypothesized. But I think with a bigger sample size and if I changed things up a little bit, I would have found what I speculated. I might continue this research in the future and make the necessary changes."