The SJC Brooklyn community came together this November, collecting food for Thanksgiving for local families in need. Student clubs held a Packing Party Palooza Friday, Nov. 22, putting together the nearly 115 bags of food to be donated.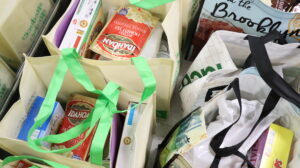 Throughout the month, faculty, staff and students collected nonperishable items for the food drive, benefitting Grandma's Love, Inc., a Brooklyn-based nonprofit that provides food to elementary school children and their families who might otherwise go hungry. Donations included rice, cornbread mix, canned vegetables, boxed mashed potatoes and stuffing, gravy, beans, cranberry sauce and cereal.
Clubs and departments across campus competed against one another, striving to be the group with the most donations.
Students Taking a Role In Positively Empowering Society (S.T.R.I.P.E.S.), the club that sponsored the food drive, collected 82 donations. Other clubs made significant contributions, as well: Paesanos collected 65 items, Child Study Club had 43, Secret Steppers received 41 and Asian Awareness had 36.
The Information Technology Department was among the largest donors, according to Michele Corsetti, coordinator of residence life and community service. "Their department goes above and beyond every year," she noted.
Serving the Community
Andrew Wenzler, president of S.T.R.I.P.E.S., said it was exciting to watch the donations roll in over the course of the month. He and his peers kept tallies of the donations on a whiteboard in the Student Government office in Tuohy Hall.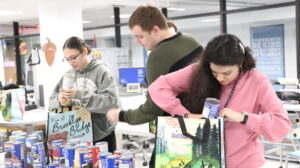 "It was fun because there were a lot of people I didn't know helping us out," Wenzler said. "We really felt like a united St. Joseph's College community together for the afternoon. We managed to pack 111 bags, which is crazy because we didn't realize how our small donations could impact so many different families."
Theresa Monforte-Caraballo, founder and executive director of Grandma's Love, and Lisa Lynch, project coordinator of the nonprofit, helped the students bag the donations. Their collaboration with St. Joseph's is a five-year tradition.
"It was a lot of fun," Monforte-Caraballo said. "People don't realize how amazing college kids are. They do a lot more than just go to school. The conversations that go on, the comradery and asking where the donations are going, who are the kids (receiving the food) — it's really heartwarming. I look forward to it every single year."
Monforte-Caraballo said she fields calls from families every fall, anticipating the generous donations.
"Every child should have a Thanksgiving meal to share with friends or family," Monforte-Caraballo said. "They should all be able to come back to school on Monday saying they had turkey and stuffing, just like every other child. When a child doesn't, they are forced to make up a story, and no child should have to do that.
"Because of St. Joseph's College and all of their students and staff that do this for us, none of our children ever have to make up a story, because they have Thanksgiving meals for Thanksgiving Day."