The Long Island Campus' Project Sunshine and the Educators Club at St. Joseph's University, New York are hosting a school supply drive now through the end of the semester for the Rachel Quinn Children's Foundation, in honor of alumna Rachel (Battaglia) Quinn.
Quinn, who earned a B.A. in Child Study in 2016 and M.A. in Literacy and Cognition in 2018 at the Long Island Campus, died suddenly of a heart abnormality in June 2021. An expectant mother at the time, Quinn's first child, Ellie Anne Quinn, who was due within weeks, also died.
Quinn spent three years prior to her death teaching fourth-grade special education and fifth-grade students at Bretton Woods Elementary School in Hauppauge.
Spreading Kindness
As a student at St. Joseph's, Quinn was an active member of the SJC community and president of Project Sunshine, where she helped spread kindness to local children. As a teacher, she looked to do the same.
"Rachel was an incredible teacher and a beautiful person," said her husband Nathan Quinn, founder of the Rachel Quinn Children's Foundation. "Students always felt like they were the lucky ones when they had her as a teacher, but we as professionals were even luckier.
"Rachel's motto was 'to always be kind,'" Quinn continued. "She fostered that daily in the classroom. Rachel loved all her students, and it was evident by her calm, sweet and genuine disposition. Anyone who knew Rachel became a better person because of her."
The mission of the Rachel Quinn Children's Foundation, which began in January, is to provide backpacks filled with school supplies to local children who cannot afford them. Members of the SJC Long Island community can continue to honor Quinn's life and mission by donating school supplies for students in grades K-12.
"Our goal is to eventually help all school districts on Long Island," Quinn said. "We plan to start with the Hauppauge school district, where Rachel taught, and Patchogue-Medford, the district where Rachel and I lived, with the goal of adding at least one school district every year."
Supporting Rachel's Mission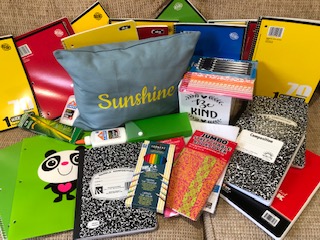 "We will be collecting donations, such as backpacks, notebooks, pencils, crayons, colored pencils, pencil cases and binders," said current Project Sunshine president Taylor Hanscom, a senior Nursing major. "We are excited to work with the Educators Club to support such a wonderful cause. We hope to spread kindness and support numerous students."
School supply items can be dropped off at boxes located in the student lounge, the cafeteria and by the auditorium in O'Connor Hall.
"We're excited to partner with SJC because my wife loved her college experience there and had nothing but positive things to say about the College," Quinn said. "In addition to being president of Project Sunshine her senior year, she was also a sister of the SJC chapter of Theta Phi Alpha, through which she met some of her best friends. I know it would mean a lot to her that her name is still involved at the [University] and in an organization that she loved."
The Rachel Quinn Children's Foundation is also hosting a cocktail benefit and silent auction on Tuesday, June 14, from 5:30-9: 30 p.m. at The Better Man Distillery Co. in Patchogue, which will kickoff their fundraising endeavors.