WHEN GIANNA PIZZARIELLA'S HOME WAS DESTROYED BY SUPERSTORM Sandy in 2012, the teen refused to let sadness and fear consume her. Instead, she grew inspired by the heroes who helped her family.
"Ever since my hometown was devastated by Sandy, I wanted to do nothing more than pay it forward as a way of thanking all those who came to our rescue," said Ms. Pizzariella of Howard Beach, Queens.
An SJC Brooklyn junior, Ms. Pizzariella is a regular among St. Joseph's students who participate in special service trips to areas of the country recovering from natural disasters.
Last year during spring break, Ms. Pizzariella was part of a group of St. Joseph's students and staffers who assisted Houston, Texas, residents still reeling from the damage wreaked by Hurricane Harvey. She spent the week working on one woman's home.
"She was the sweetest thing, and she made me realize that service comes in more forms than just physical work," Ms. Pizzariella said. "All she needed was someone to talk to and someone to be there to listen."
During the trips, I grew in my faith and stepped out of my comfort zone in many areas — from construction to even just opening up to others." —SJC Long Island senior Rebecca Vasquez
Alternative Breaks
As one of SJC's largest community service efforts, alternative breaks encourage students to live out three of the College's five pillars — service, social responsibility and spiritual values.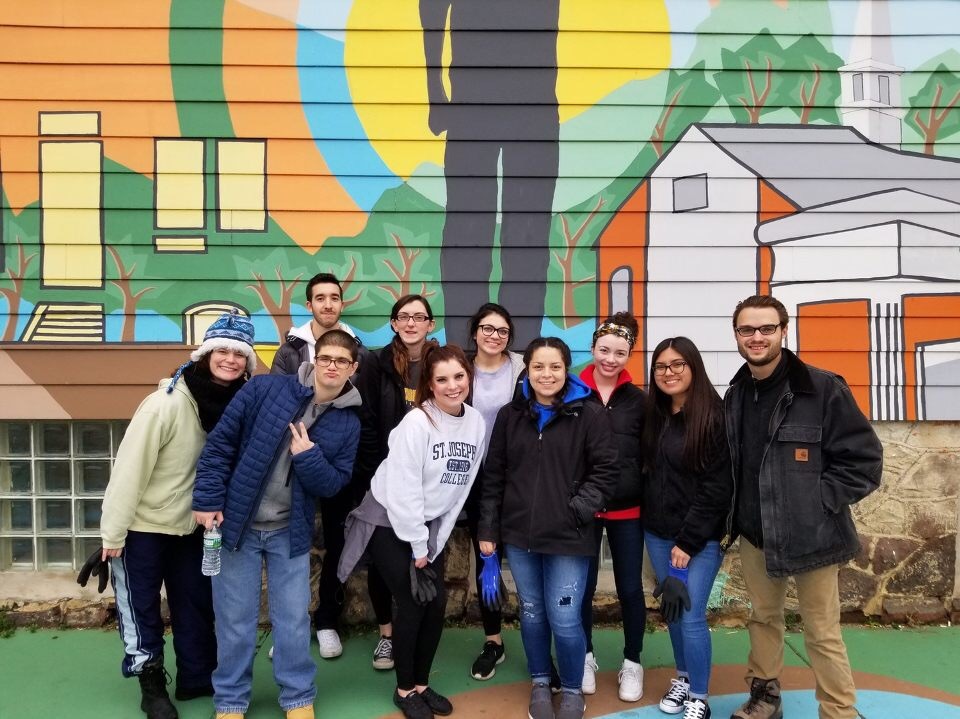 Alternative Winter Break affords SJC Long Island students opportunities to immerse themselves in the College's goal to serve and make the world a better place. Students from SJC Long Island and SJC Brooklyn participate in Alternative Spring Break, working in areas of need across the United States.
"A trip like this requires a student who feels called to something greater than the self," said Cristian Murphy '14, SJC Long Island's campus ministry director. "I have found that the students who succeed most during these trips are the ones who are embracing all the gifts of life and are aspiring to live a life of common good."
In January, eight SJC Long Island students spent part of their winter break taking on service projects in Camden, New Jersey, with Mr. Murphy and Linda Lubranski, St. Joseph's director of global studies. A second group of six students visited Agape, Massachusetts, to strengthen their spiritual values.
"I think it is so important for students to be involved in these trips in order for them to gain new experiences that push their limits," said SJC Long Island senior Rebecca Vasquez, who attended both alternative break trips this year. "During the trips, I grew in my faith and stepped out of my comfort zone in many areas — from construction to even just opening up to others."
Serving in Spring
Twenty St. Joseph's College students — 10 each from SJC Long Island and SJC Brooklyn — spent spring break 2019 in Kure Beach, North Carolina, helping people whose homes were damaged by Hurricane Florence last September.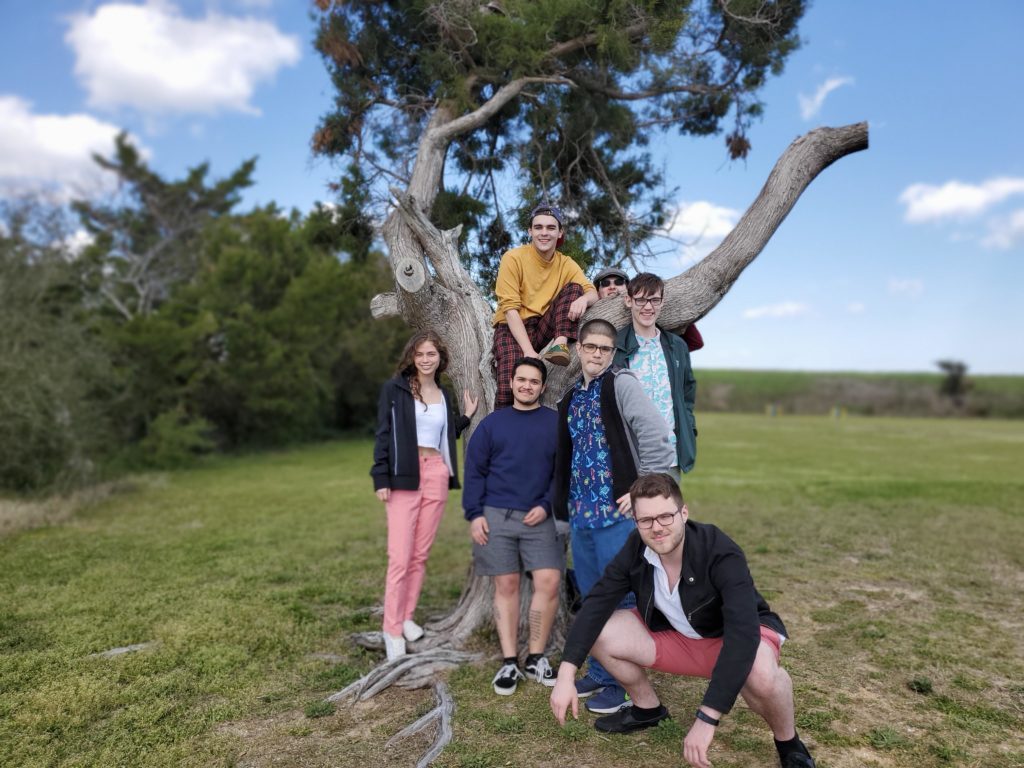 "I believe it is important for all students to experience a trip like Alternative Spring Break because it is so mentally refreshing," Ms. Pizzariella, a child study major, said. "Participating in service is so important, not only on trips like this, but in life as a whole."
The students were joined by Mr. Murphy and SJC Brooklyn's Coordinator of Community Service Michele Corsetti. They worked with Community Collaborations — a nonprofit organization that provides supervision and training for students on service trips — to help demolish homes and pave the way for rebuilding.
"As cliche as it sounds, the most important thing a student can learn on spring break is humility," Ms. Corsetti said. "It is very humbling to realize that, no matter how bad one's situation is, there are always people who have it worse."
Past alternative breaks included trips to Georgetown, South Carolina, to help build a shelter; staying in New York to repair residual damage from Superstorm Sandy; going to Moore, Oklahoma, to help rebuild property damaged by flooding, winter storms and a deadly tornado; and traveling to Joplin, Missouri, to restore homes wrecked by tornadoes.
"One thing I love about these trips is the fact that I am able to make a difference in someone's life," said SJC Long Island senior Stephen Silver, who participated in both trips this year.