The St. Joseph's University, New York community celebrated all who served and who continue to serve, including the many students who are active military and veterans, during annual Veterans Day Celebrations at the Long Island and Brooklyn campuses.
"We're acknowledged nationally as a school that focuses very much on our veterans," St. Joseph's President Donald R. Boomgaarden, Ph.D., said. "We have many, many programs to support them to make sure that they have the best possible experience. They enrich our lives, and they make the classroom experience so much more powerful."
Proof of St. Joseph's commitment to student veterans can be found in the more than $559,000 grant awarded to the University by the U.S. Department of Education's Centers of Excellence for Veteran Student Success Grant Program. With the grant funding, the University aims to increase student veterans' recruitment and ensure their academic success by coordinating services to address their financial, health and wellness, academic, career and social needs.
Celebrating Those Who Served
The Long Island Campus event, hosted by the Office of Military and Veteran Services and the Student Veterans of America, took place Thursday, Nov. 10, during Common Hour in the McGann Conference Center. All service members and veterans in attendance received the Student Veterans of America 2022 Challenge Coin.
"We all have different stories … and different experiences, but we all share a common decision in life: We all signed our body, including up to our life, to serve and protect our great freedoms and people we have here in the United States," said Eric D'Arce, president of Student Veterans of America and a U.S. Marine Corps veteran. "For that courage, I thank you.
"We are here today leading, spreading awareness and remembering those we have lost along the way," he continued. "I am here because of you. If it were not for all of you and your motivation to do more and be better, there would be no mission and no purpose. Thank you for being that purpose."
U.S. Air Force Veteran Kevin Hertell — the founder, president, executive director and creator of the Suicide Awareness and Remembrance (SAR) Flag — served as the guest speaker.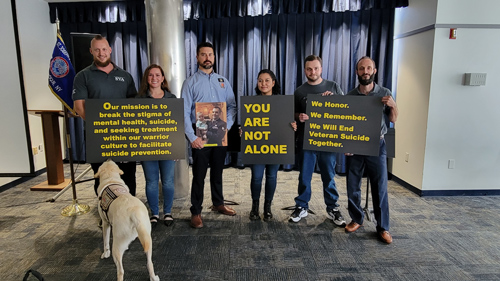 "Suicide has a terrible ripple effect," said Hertell, who lost two cousins to suicide and whose father is a suicide survivor. "I live in a headspace of grief and pain and loss for my two cousins and for those veterans and military lost — and for those we continue to lose to suicide each and every day.
"It feels like infinite sadness and I feel defeated, but then I remember who I am, and I think about what one person can do to effect change," he continued. "And then I feel hope. We must turn our pain and grief into action, to speak for those lost with the goal to save others from death by suicide. That's what we do with SAR."
In addition to creating the SAR flag, Hertell hopes to create a national holiday, making Sept. 22 Veterans Suicide Awareness and Remembrance Day. The reason he chose that date is twofold: Because September is Suicide Awareness Prevention Month, and because 22 veterans are lost daily to suicide.
The Brooklyn Campus' Veterans Day event was held Monday, Nov. 14, during Common Hour in the Tuohy Hall Auditorium. It was hosted by the Office of Military and Veteran Services; the Student Veterans of America; and the Office of Student Involvement, Leadership and Intercultural Engagement.