St. Joseph's University, New York is set to host Pulitzer Prize-winning novelist Viet Thanh Nguyen at its next Brooklyn Voices event on Wednesday, Oct. 18, at 7:30 p.m.
Nguyen will present his much-anticipated work, "A Man of Two Faces: A Memoir, a History, a Memorial," in an engaging discussion with Brooklyn-based writer Lisa Hsiao Chen, who is a former writing classmate of Nguyen. The event is a collaboration between Greenlight Bookstores and St. Joseph's.
"A Man of Two Faces" takes readers on a deeply personal journey through the life of Viet Thanh Nguyen. In this memoir, he not only shares his own story but also weaves in larger narratives of refuggeehood and colonization and profound reflections on the interconnected histories of Vietnam and America.
General admission to the Brooklyn Voices event is $5. Attendees also have the option of purchasing a "book bundled ticket," which includes a signed copy of "A Man of Two Faces," to be picked up at the event.
Click here to puchase tickets to the Oct. 18 Brooklyn Voices event.
A limited number of complimentary tickets are available to members of the St. Joseph's University community. SJNY community members who would like to attend should email gmoran@sjny.edu by Wednesday (Oct. 18.) morning.
Sardonic Wit, Incisive Analysis and Openness
Nguyen's distinctive narrative style combines sardonic wit with incisive analysis, alongside a profound emotional openness, as he delves into his experiences as a father and a son.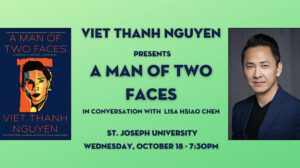 His memoir examines the complex interplay between forgetting and remembering, exploring the promises and disappointments of America and his extraordinary life.
Nguyen's visit to St. Joseph's University is part of a book tour that has taken the author to stops across the country.